London killings to hit 10-year high after 2018 total exceeds whole of 2017
Spate of bloodshed intensified after Met Police chief claimed stabbings were 'levelling off'
Lizzie Dearden
Home Affairs Correspondent
Tuesday 13 November 2018 15:01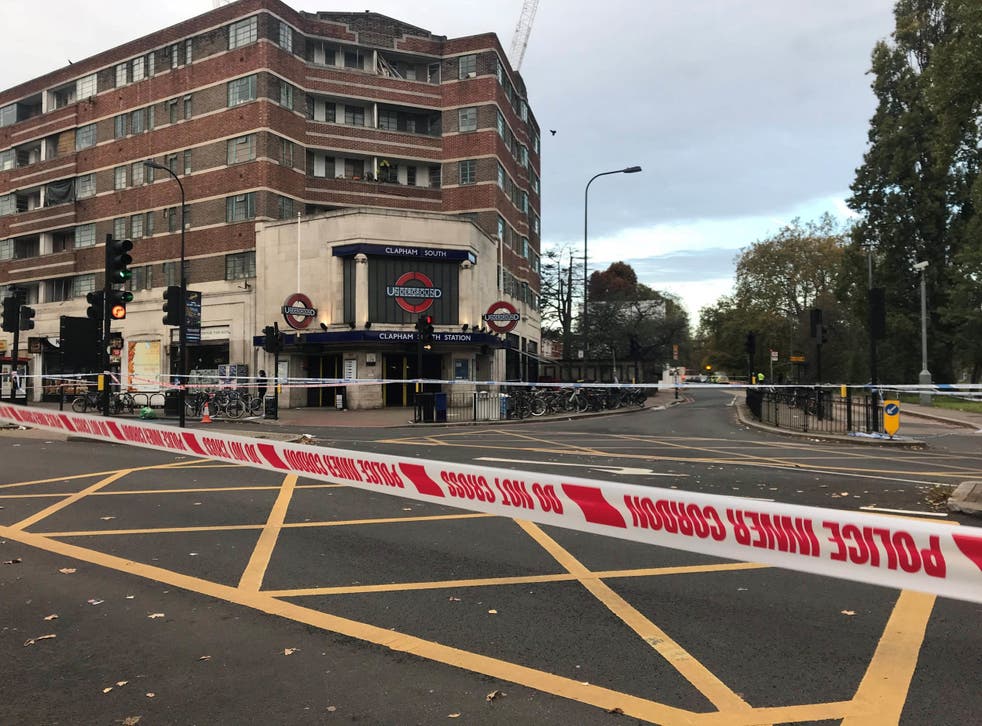 London is on course for the highest number of killings in a decade after the total this year surpassed the figure for the whole of 2017.
Two domestic attacks on Monday brought the number of homicides – which includes murder and manslaughter – so far this year to 121. The figure for 2017 was 118, excluding the victims of terror attacks.
If killings continue at the current rate, the total will stand at 140 by the end of the year, which would be the highest since 2008.
The capital has been gripped in a spate of bloodshed since 31 October, with the murder of father Rocky Djelal in Southwark park, in the southeast, as the first of a string of fatal stabbings.
The following day, 15-year-old Jay Hughes was killed outside a chicken shop in Bellingham in the southeast, and the day after that 17-year-old Malcolm Mide-Madariola was knifed outside Clapham South Tube station, in the southwest.
On 4 November, Ayodeji Habeeb Azeez, 22, was stabbed to death in Anerley, southeast London, and the following day 16-year-old John Ogunjobi died in front of his parents in Tulse Hill, in the south of the city.
Two women died in unrelated domestic incidents on Monday.
At around 7.30am, police were called to a disturbance at a home in Ilford, east of the city, and found 35-year-old Devi Unmathallegadoo with an abdominal injury.
She died hours later and Ramanodge Unmathallegadoo, 50, has been charged with murder.
The teenagers murdered in London in 2018

Show all 21
Then shortly before midnight, a 62-year-old woman was found dead at a home in Balham after being assaulted. A man aged 66 has been arrested on suspicion of murder.
The Metropolitan Police has seen a sharp rise in alleged domestic homicides in the past year, although 2017 was a record low, and the force's murder squad is looking into why the number may have risen.
In London, there have been 26 so far this year not including the two deaths on Monday, compared to a record low of nine last year. There were 16 in 2016, 27 in 2015, 16 in 2014 and 31 in 2013.
Among the 119 homicides in 2018, there have been 68 stabbings, 12 shootings and two deaths involving a knife and a gun.
A third of the cases involved victims aged 16 to 24. Of these, 30 were stabbed, nine were shot, two died in attacks involving a knife and a gun, and one died in a fall.
For the teenagers aged 15 to 19, six were shot and 14 were stabbed.
Police say London's situation is not unique in England and Wales, and have warned of "Wild West" violence sweeping the country as children as young as nine are found carrying knives.
17-year-old boy killed stabbed to death outside Clapham South tube station
The capital's current spate of murders started shortly after Britain's most senior police officer claimed that levels of violence were starting to stabilise.
On 2 November, Metropolitan Police Commissioner Cressida Dick said: "I'm glad to say the figures have stopped going up and up as they have done in the last three years, they have plateaued and they are starting to come down."
She told BBC Radio 4's Today programme that violent crime, including terrorism, was her "number one priority".
Ms Dick claimed stabbings were "levelling off" after a rise in the number of under-25s being attacked, but warned of "changes in society".
She added: "Some young people are carrying a knife because they feel frightened of young people, and then when they are angry or feel threatened they use the knife."
"My intention is that knife crime, particularly affecting young people, will go down considerably."
Levels of violent crime in the capital have remained a concern throughout the year, with monthly highs in February and March, when 18 homicides were recorded each month.
These were the second highest monthly totals recorded since April 2010.
The Metropolitan Police Violent Crime Task Force, which was set up in response to violence that broke out in spring, seized 340 knives, 40 guns and 258 other offensive weapons in its first six months of operation. It also made more than 1,350 arrests.
Mayor Sadiq Khan announced plans for a violence reduction unit that would adopt the public health approach successfully used in Glasgow, but warned that the trend could take a generation to overcome.
Steve O'Connell, chair of the London Assembly Police and Crime Committee, said the grim 2018 death toll was "a tragedy not only for those most affected, the family and friends of the victims, but for all Londoners".
He added: "Violent crime now has to be the top priority for the capital and it is time that more action was taken by the mayor, alongside the Met, and by central government to stem the tide of lawlessness. Londoners are crying out for urgent solutions now – not 10 years in the future."
Police have pointed to links between violence and so-called county lines drug networks, where urban dealers force children and other vulnerable people to courier illegal substances to customers in more rural areas.
Figures show that cocaine production, purity and supply is up, while the price has fallen. In the same period, the number of drug-related deaths and people being treated for addiction has risen.
Middle class cocaine users have come under fire from a number of public figures pointing to the misery caused by the drugs trade.
Drill music, where rappers taunt rivals with lyrics threatening violence, and the role of social media in escalating disputes have also come under the microscope, as have cuts to youth services and the police.
On Monday, the home secretary admitted that police officer numbers were "an important part" of the fight against violent crime amid mounting calls to reverse years of funding cuts that have led to the loss of 20,000 police officers since 2010.
Senior police officers have also called for funding increases to other public services, including mental health, youth centres and social services, to boost crime prevention work.
Additional reporting by PA