Rhyhiem Ainsworth Barton: Mother of teenager shot dead in London says 'please let my son be the last'
Mother pleads for violence to end as her son lies dead and two other teenaged boys suffer gunshot wounds to the head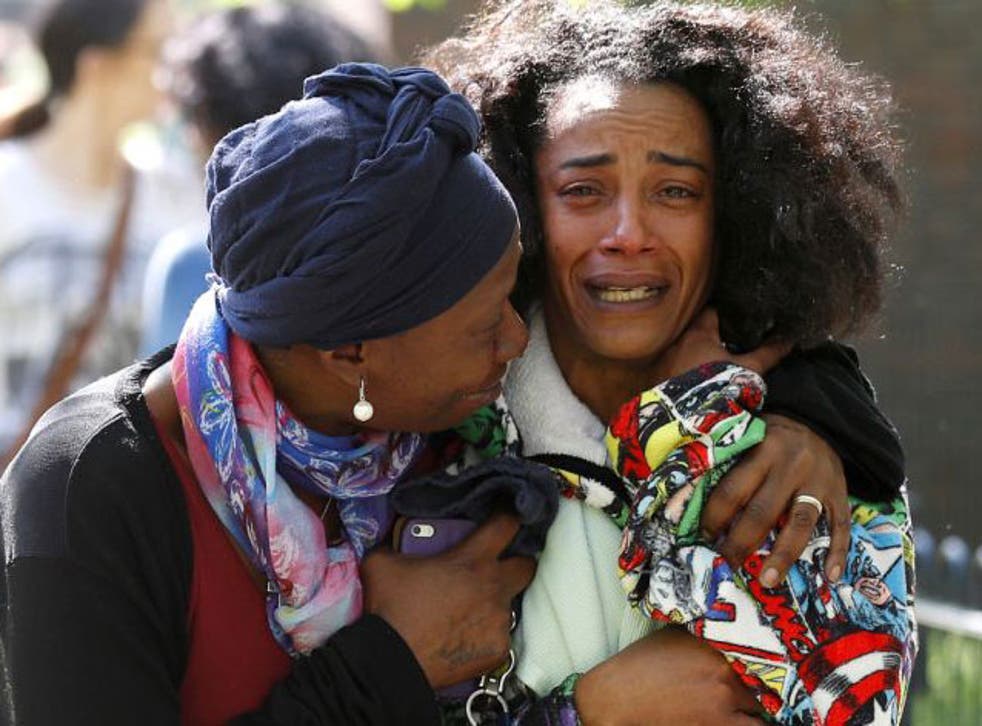 A mother has pleaded for her son's killing to be the last fatal shooting, amid a wave of violence in London that has left two other teenage boys in hospital after they were shot in broad daylight in the capital.
After 17-year-old Rhyhiem Ainsworth Barton was shot and killed on Saturday, his mother Pretana Morgan pleaded for the violence to stop.
"Children," she said, "Please let my son be the last."
​Rhyhiem's death comes amid mounting concern about violence in London. Official statistics released in April showed the number of homicides in London had surged by 44% in the last year.
At the start of April it was reported that the murder rate for London was worse than that of New York in February and March.
Donald Trump also appears to have sought to make political capital out of the violence, telling a rally of the pro-gun National Rifle Association that "in London, which has unbelievably tough gun laws, a once very prestigious hospital is like a war zone for horrible stabbing wounds."
The US president appears to have been referring to the comments of a London trauma surgeon who had mentioned gun, as well as knife wounds.
The most recent casualties this weekend have been inflicted by guns.
Rhyhiem was shot just after 6pm on Sunday.
Paramedics and police were called to reports of gunshots on Cooks Road in Southwark, and found Rhyhiem on nearby Warham Street.
Following the death, Labour MP David Lammy tweeted: "Enough. Enough. My heart goes out to families grieving children and teenagers. So many shattered lives, families and communities."
Police have now revealed that extra patrols will be working on bank holiday Monday to keep the capital's streets safe.
Rhyhiem's death means that with less than half the year gone, police have investigated more than 60 murders in London so far in 2018. This compares with 116 murders in the capital for the whole of 2017.
The Metropolitan Police said officers had not yet made any arrests in connection with Rhyhiem's shooting.
Ms Morgan told reporters she "couldn't have asked for a better son".
She revealed that Rhyhiem had been an aspiring architect who was "trying to make a difference" by learning to work with children.
"My son was a very handsome boy. He's got so much potential," said Ms Morgan. "My son's a good boy."
"Let my son be the last and be an example to everyone," she added. "Just let it stop. What must be, must be."
She added: "It's not about race, it's not about nation, it's not about culture. Nothing. It's just a human race.
"Just one human race. So children, please let my son be the last."
UK news in pictures

Show all 50
About 18 hours after Rhyhiem was shot dead, police were called after two boys, one aged 13 and the other 15, were shot in the head near Wealdstone High Street in north London around Sunday lunchtime.
The shootings occurred minutes apart in streets close to each other at about 1.15pm. The 13-year-old boy suffered a shotgun pellet wound to the head, and the 15-year-old also sustained a head wound.
A Scotland Yard spokeswoman said their injuries were not thought to be life threatening. Police are investigating whether the two shootings were linked.
Shortly after the Wealdstone shootings, police on the other side of the capital, in New Cross Road, south east London, were flagged down by a member of the public seeking help for a 22-year-old who was suffering from gunshot wounds.
The injured man was taken by ambulance to a central London hospital where his condition is not life-threatening.
In further outbreaks of violence in London, a 43-year-old was stabbed in Perivale, north-west London on Sunday night, after a dispute about driving.
Police said the man was attacked on Buckingham Avenue at around 9pm on Sunday after a number of residents questioned a man driving a blue car about the nature of his driving in the small residential street.
Meanwhile, three people were injured in a "noxious substance" assault following an altercation between two groups in east London at around 5.20am on Sunday.
Police are investigating whether the men, aged 22 and 27, and a 17-year-old boy, suffered life-changing injuries in the incident, at Shacklewell Lane in Hackney.
Appealing for help to catch Rhyhiem's killer Detective Chief Superintendent Simon Messinger, who is in charge of policing in Southwark, said: "My thoughts are with Rhyhiem's family, friends and the wider community at this devastating time.
"This investigation is fast paced and progressing all the time. We are urging anyone who can assist us or any witnesses who have not yet come forward to contact the incident room on 020 8721 4005, or anonymously via the independent charity Crimestoppers 0800 555 111. Alternatively they can ring 101 quoting reference cad 6414/5May."
He added: "The violence used has rightly caused concern and we are doing all we can to address this. Over the Bank Holiday weekend, additional officers are on the streets across the capital, working hard to keep London safe. They are using highly visible local patrols supported by armed response, traffic motorcycles, dog units, and air support - alongside plain clothes intelligence-led operations."
Mr Messinger also signalled that police would be making full use of their search powers.
He said: "Locally we are also employing intelligence-led search powers under Section 60 - my colleagues on the streets are using this power really effectively, seizing knives, stopping cars of individuals carrying weapons and making arrests.
"Violence has no place on our streets. If you are carrying a weapon in Southwark linked to gang activity, you need to know that we can and will take action against you.
"I want the community to help us tackle this problem. As a father, community member and a police officer, I will do absolutely all I can to keep young people and the wider community safe. We can only achieve this if we work together."
Register for free to continue reading
Registration is a free and easy way to support our truly independent journalism
By registering, you will also enjoy limited access to Premium articles, exclusive newsletters, commenting, and virtual events with our leading journalists
Already have an account? sign in
Register for free to continue reading
Registration is a free and easy way to support our truly independent journalism
By registering, you will also enjoy limited access to Premium articles, exclusive newsletters, commenting, and virtual events with our leading journalists
Already have an account? sign in