Passenger stabs himself to death at busy LondonTube station
Police remain on the scene and the station was closed but has since reopened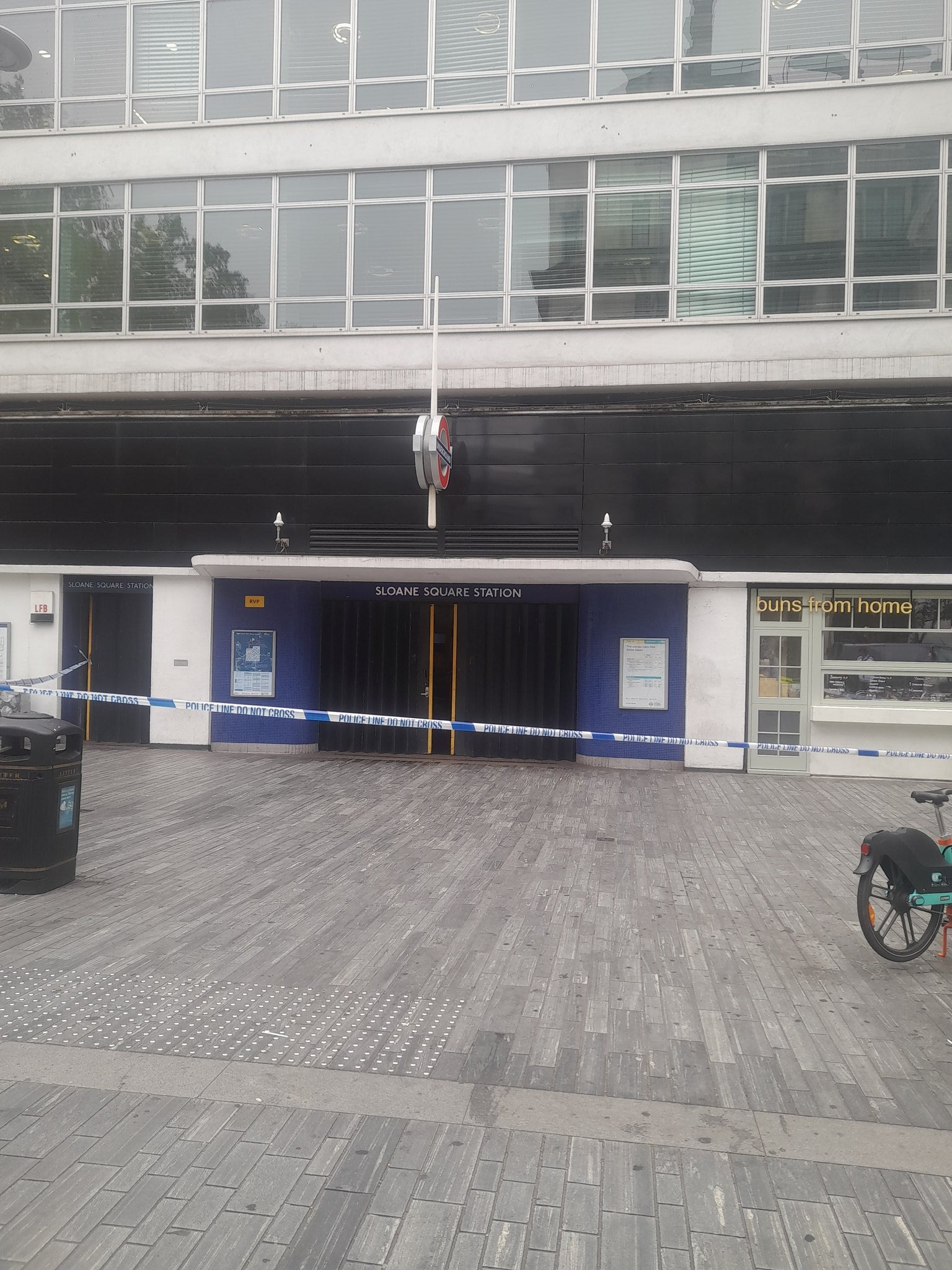 A passenger is believed to have stabbed himself to death in front of horrified onlookers at Sloane Square Tube station.
Police and paramedics were called to the station at 10.26am on Wednesday to reports a man was suffering from "serious, self-inflicted injuries".
A shocked witness described a "very distressing scene", with "lots of blood on the platform" as police covered the body in a white sheet.
Jake, who asked only be referred to by his first name, told The Independent he was on his way to a job interview on a southbound District line train when he went past the scene around 10 minutes after the incident.
"There was lots of blood on the platform and what looked like gauze that had been used to try to stop the bleeding," he said.
"It was rather shocking, and I could see other passengers were shocked too by the scenes as no one had told us what had happened, just [that there had been] a situation."
Other witnesses recalled a woman repeatedly screaming "run" as people rushed out of the station panicking. A man claimed his frightened partner sought refuge in a local shop and is now afraid of travelling home on the Tube later.
A spokesperson for British Transport Police confirmed a knife was involved in the incident and said the man died at the scene.
"The incident is not being treated as suspicious," added the force.
The station reopened just after midday, according to Transport for London.
Photos posted on social media showed the station cordoned off, while passersby claimed six police cars and the same number of ambulances were on the scene.
Greg Hands, MP for Chelsea and Fulham, said he was "shocked and saddened" by the news.
In another later post on social media, he wrote: "Terrible news at Sloane Square station.
"Thoughts are with the man's family and all the emergency responders in what must have been a very distressing scene."
Josh Rendall, councillor for Stanley Ward in the Royal Borough of Kensington and Chelsea, also said his thoughts are with the man's family.
He wrote on social media: "An awfully tragic morning at Sloane Square. Thanks to the Police, Paramedics and TfL staff for all they do. Thoughts with the family of the man and those who may have witnessed the event."