Gang armed with knives and samurai sword raid central London watch shop
Staff forced to run for cover as gang smash through glass door of store on Fleet Street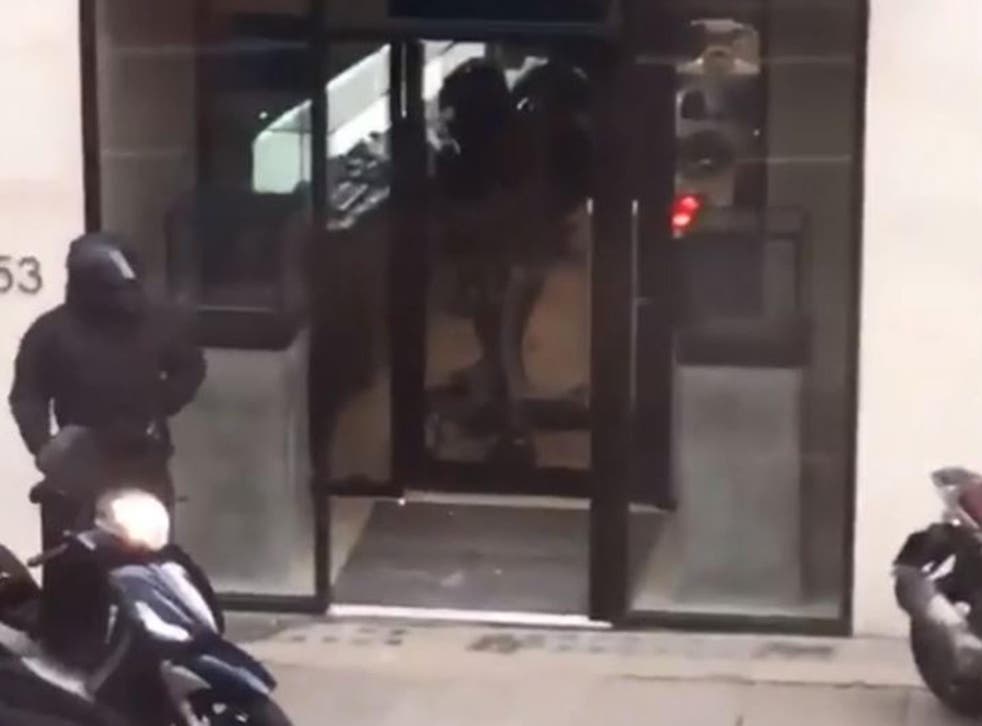 A moped gang snatched thousands of pounds worth of luxury watches after storming a London shop armed with a samurai sword.
The gang smashed through the glass front door of the Chronext watch shop in Fleet Street shortly before 11am on Monday.
Staff were forced to run for cover as the gang burst in with one wielding a Japanese samurai sword while others held knives and iron bars.
In a raid that last just minutes, the gang, wearing black helmets and dark clothing, seized thousands of pounds worth of merchandise before fleeing.
One witness told the Evening Standard: "There was a Vespa inside the shop because they drove it through the front door.
"I saw about five mopeds parked up on the pavement and the street outside and there were three guys walking up and down, one with a machete and two others with what looked like long sticks.
"There were others inside the store smashing the cabinets and grabbing loads of watches and stuffing them into bags."
The witness said they saw someone from another shop attempt to confront them but he was frightened off by the man with the samurai sword.
UK news in pictures

Show all 50
"They all jumped on their scooters and punched the air with their fists in a victory punch before driving off towards the Law Courts. It was seriously organised", they added.
Another witness said: "A man came out of a shop, looking as if he was going to try to intervene, and one of the guys came out and raised a knife and tried to intimidate him. He was waving his hand over his head, going towards him.
"They came outside with bags.
"Then they made off towards the Royal Courts of Justice, pumping their fists in the air like some kind of victory.
"There are about 40 people here in my office. It was very frightening – people were crying in the office.
"It was like something you see on Netflix or in the movies."
A spokeswoman for City of London Police said: "City of London Police were called at 10.52am on Monday 4 December to reports of suspects on mopeds entering a jewellers on Fleet Street. "The suspects smashed their way into the jewellers brandishing weapons, including knives, before making off on mopeds.
"Officers are on scene. No one was injured during the incident."
Register for free to continue reading
Registration is a free and easy way to support our truly independent journalism
By registering, you will also enjoy limited access to Premium articles, exclusive newsletters, commenting, and virtual events with our leading journalists
Already have an account? sign in