Hero London window cleaner halts gunman in bank after realising his weapon is fake
James Rowley stopped Andrew Fernandez from robbing a branch of Lloyd's, before chasing him down the street and holding him until police arrived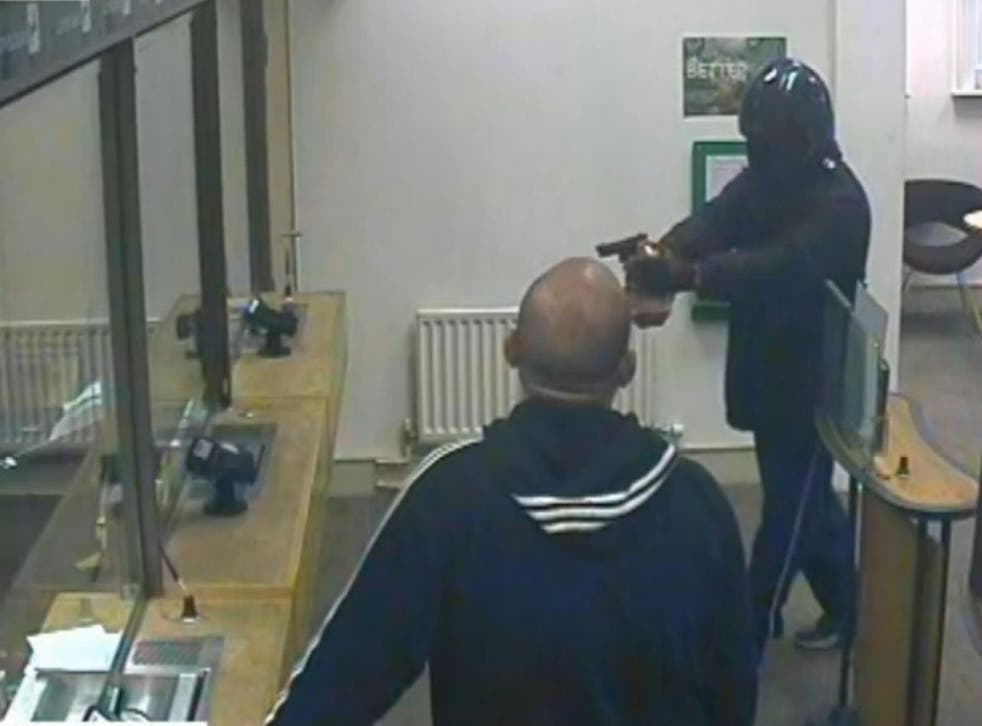 A window cleaner who managed to disarm a bank robber, catch him after he ran down the street and detain him until police arrived said the assailant had simply "got me on the wrong day".
James Rowley stopped Andrew Fernandez in his tracks after he ran into a branch of Lloyd's Bank in Coulsdon, south London, waving an imitation fire arm.
In CCTV footage obtained during the incident, Mr Rowley can be seen paying cheques into an account when Fernandez walks in wearing a motorcycle helmet and brandishing a fake gun, before demanding the cashier serving Mr Rowley hand over cash.
Mr Rowley told The Evening Standard he realised the gun was a fake when he spoke to Fernandez, who he said appeared to hesitate.
He then shouted "a few choice words" at Fernandez before running out of the branch and down the street after him.
"I was in a bad mood," Mr Rowley explained. "I'd been dashing around all morning like a headless chicken trying to get the cheques and money together to pay the bills.
"I was at the counter and I saw this guy walk in with a crash helmet on. I just thought 'here we go'. I knew what was going to happen next and I wasn't in the mood for it.
"I've never been in a situation like that before, I just acted on instinct. I chased him up the road with a fire extinguisher and when I caught up with him he hit me over the head with his crash helmet and knocked me to the floor.
"My friend grabbed him and we both held onto him until the police turned up. By that point he knew he wasn't going anywhere."
He pleaded guilty two counts of robbery and one attempted robbery at Kingston Crown Court on Monday and was sentenced to eight years in prison.
Mr Rowley has been presented with a Commendation for his actions by Assistant Commissioner Mark Rowley and will be awarded a Police Public Bravery Award at the Association of Chief Police Officers annual awards ceremony on Thursday.
Detective Sergeant David Barnfather, from the Met's Flying Squad, said: "The bravery of James Rowley was truly remarkable in confronting what was for all intents and purposes, an armed and extremely dangerous criminal.
"His courage and sense of civic duty are to be applauded and thanks to him Fernandez is behind bars".
Register for free to continue reading
Registration is a free and easy way to support our truly independent journalism
By registering, you will also enjoy limited access to Premium articles, exclusive newsletters, commenting, and virtual events with our leading journalists
Already have an account? sign in