Machine-gun attack on Russian banker in London
Mr Gorbuntsov has been linked to many disputes and scandals, both as a victim and as a suspect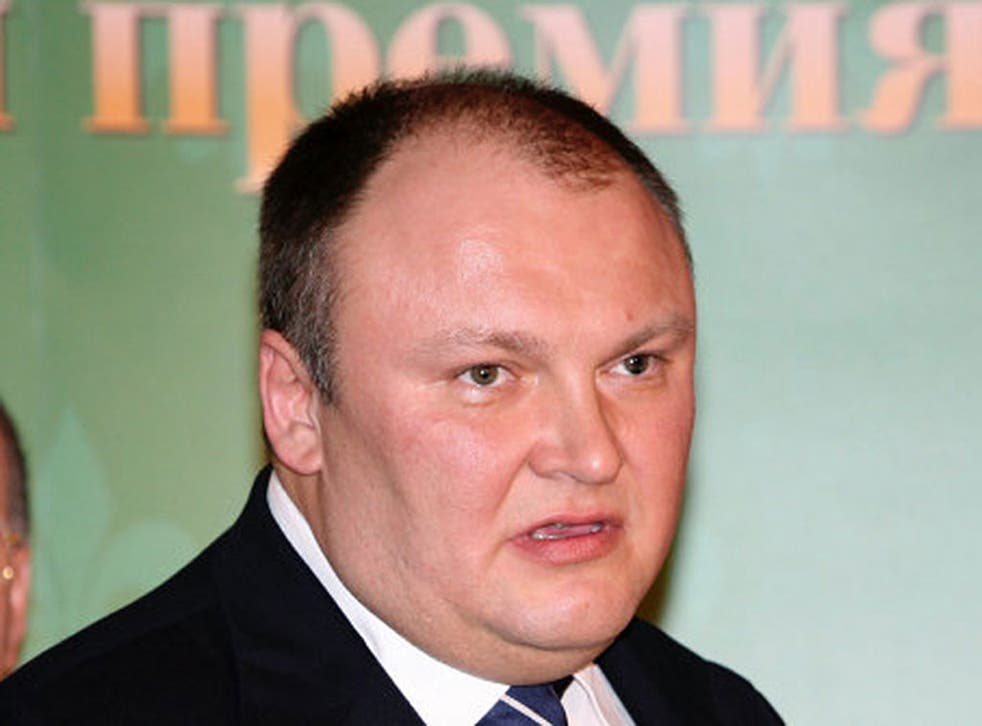 A Russian banker who was gunned down outside his home in London's Docklands in an assassination attempt had fled to Britain seeking safety because he feared he would be killed by rivals in his home country.
German Gorbuntsov was shot several times, possibly with a sub-machine gun, as he entered an exclusive block of serviced flats near Canary Wharf. Last night the businessman was under armed guard in an unnamed London hospital where he was in a critical but stable condition. It was reported that he had been put in a medically induced coma and was receiving treatment for multiple gunshot wounds.
Mr Gorbuntsov, 46, whose business interests are believed to include the Spartak Moscow ice hockey club, recently told his lawyer that he thought he had been under surveillance. However, he said he felt safe in London and did not want to move. Reports from Russia suggested the financier was about to be interviewed by the Russian authorities over the killing of another banker in which he had been both a suspect and a possible witness.
Scotland Yard said the attack was being investigated by officers from Operation Trident, the unit set up to deal with gun crime in the capital. They are treating the attack as attempted murder. Reports claimed Mr Gorbuntsov was jailed for three years in the 1980s for armed robbery. During the 1990s he began his own business and eventually owned about 40 security companies. He also acquired shares in various banks.
He was known at some point as a business partner of Alexei Frenkel, a banker who was convicted in 2008 of the murder of the deputy head of the Russian Central Bank, Andrei Kozlov. According to Russian media, Mr Gorbuntsov has been linked to a series of disputes and scandals, both as a victim and as a suspect.
He moved to London in 2010, accusing his business partners of cheating him out of money, and in February this year Moldovan authorities put an international arrest warrant out for him for reneging on debt repayments.
Mr Gorbuntsov himself claimed he had been a victim of a "raider" attack on his bank causing him to lose hundreds of millions of pounds. The Russian daily Kommersant said Mr Gorbuntsov was involved as both a witness and possibly also a suspect in the attempted killing of another banker, Alexander Antonov, in 2009.
Three Chechens were convicted over the attempted murder, but the mastermind was never found. Mr Gorbuntsov and Mr Antonov had had a number of business disputes. The three men found guilty of the attempted assassination of Mr Antonov were also found guilty of the fatal shooting of Ruslan Yamadayev, a powerful Chechen clan leader, who was shot in his car in central Moscow.
According to the Russian agency Rosbalt, Mr Gorbuntsov had recently told Russian law enforcement officials that he had information about who had ordered the two attacks, and that a team from Russia's Investigative Committee was due to have travelled to London recently to interview him, as Mr Gorbuntsov was scared to fly to Moscow.
His family said that only a few people knew that he was in London.
Register for free to continue reading
Registration is a free and easy way to support our truly independent journalism
By registering, you will also enjoy limited access to Premium articles, exclusive newsletters, commenting, and virtual events with our leading journalists
Already have an account? sign in
Register for free to continue reading
Registration is a free and easy way to support our truly independent journalism
By registering, you will also enjoy limited access to Premium articles, exclusive newsletters, commenting, and virtual events with our leading journalists
Already have an account? sign in