Carole Waugh murder: 'Mad Indian gambler' Rakesh Bhayani killed rich, lonely escort to pay off his debts
41-year-old convicted of stabbing Ms Waugh and trying to sell her London flat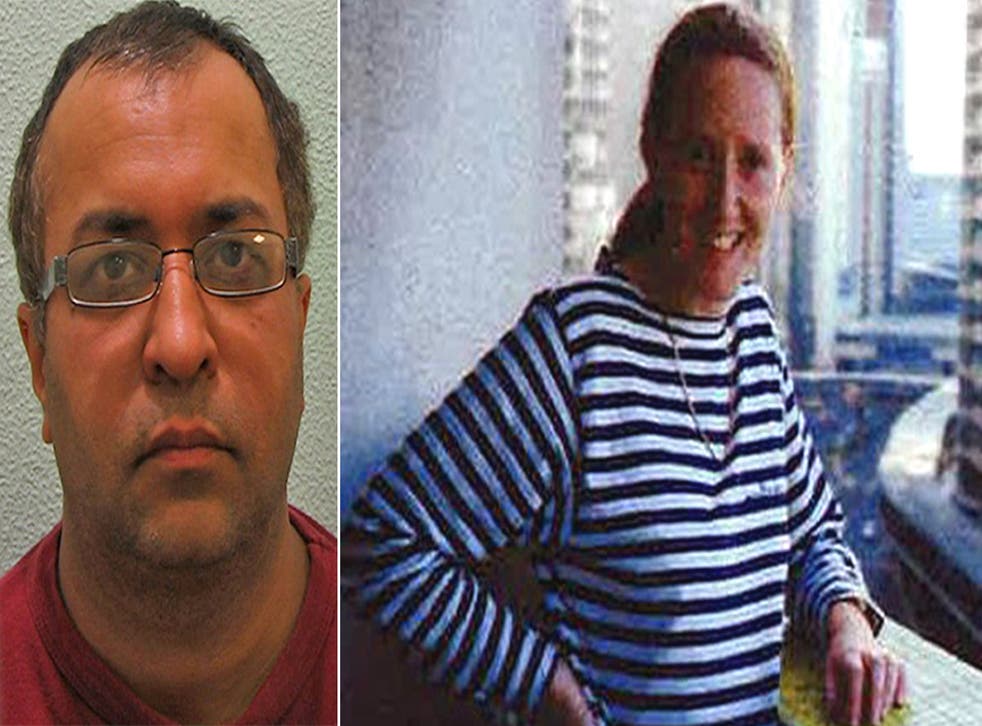 He was known as the "mad Indian gambler" who rolled the dice and invariably lost. With mounting debts and dozens of failed scams behind him, conman Rakesh Bhayani murdered a lonely escort to secure her assets in a desperate attempt to pay off his gambling losses and save his crumbling marriage.
Bhayani, 41, plunged a knife into the neck of his former lover Carole Waugh, 49, in her £600,000 central London flat in April last year, and planned to sell her home, empty her bank accounts and steal her shares, an Old Bailey jury found on Wednesday.
Ms Waugh's body was stuffed into a holdall, dumped in the boot of a car and left in a south London lock-up after Bhayani recruited Nicholas Kutner, 48, a career conman, to join his plot.
While Ms Waugh's family appealed for help to find the former accounts executive, the men recruited women to pretend to be Ms Waugh and siphoned money from her accounts and cards. Her body was finally found three and a half months later – but by then the two men had already been arrested for fraud.
After a life of using charm to ensnare their victims, the pair of conmen turned on each other. In a final desperate gamble, Bhayani and Kutner accused each other of killing Ms Waugh.
But Bhayani faced life in prison on Wednesday night after a jury found him guilty of the murder. Kutner, a swindler who specialised in stealing jewellery and fine wine, was cleared of murder but found guilty of perverting the course of justice over the disposal of Ms Waugh's body. He had earlier admitted fraud.
The scam was just the latest in a long list for the two men, who between them have racked up 27 court appearances and nearly 200 offences.Bhayani, who has a young daughter, groomed Ms Waugh after making contact online; she had been operating under the name "poshtottyfun" and using the name Sarah. She had returned to live in London from Libya where she had worked for an oil company, but lived on the proceeds of her sex work.
They embarked on an affair and the conman was so successful at making her believe he was "one of the good guys" that she lent him large sums and supported him even when he was sent to prison.
When Ms Waugh demanded her loans back and threatened to expose his double life to his family, his crimes tipped into murderous action.
In the last of a series of stories to explain his role in her death, Bhayani claimed that Kutner was alone in Ms Waugh's flat when she was killed. Meanwhile Kutner claimed that an unnamed "Prisoner X" had witnessed Bhayani re-enacting the killing of Ms Waugh while he was held at Wandsworth jail.
Bhayani had a long history of scams dating back 20 years and claimed that he started gambling from the age of eight, using slot machines at fairgrounds.
He was forced to quit his job at a firm of accountants when he was caught fiddling his expenses. Twice he mortgaged his parents' home and spent the proceeds on gambling. In the grip of a hopeless obsession, he bought a petrol station and started gambling the proceeds until he had no petrol to sell and "the game was up", he told the court.
He tried to persuade the manager of a betting shop to let him lay £100,000 (in fake cash) on the result of a Premiership football match. When the bet was refused, he put all the counterfeit money on the American golfer Phil Mickelson to win in the final round of the 2012 US Masters – and lost the lot.
It can also be revealed today that police and prosecutors are set to review evidence raised in the case after Bhayani claimed that two Barclays Bank employees colluded in a plan to trick Ms Waugh into believing that he was repaying tens of thousands of pounds that he borrowed from her.
Bhayani claimed at his trial that two men at the bank's Kingsland branch in east London were involved a complicated money-swapping and fake documents scam.
Detective Chief Inspector Justin Davies, of Scotland Yard, said: "Carole Waugh's murder was the senseless killing of a woman who put her trust in people she thought were her friends. Both men are compulsive liars who have deceived and defrauded their own families, friends and acquaintances throughout their entire adult lives. They went to extreme lengths to defraud Carole."
Before the sentencing, a statement from Ms Waugh's family was read out in which she was described as "loving, supportive and great fun".
The statement, signed by her brother Christopher Waugh, spoke of the "disbelief, dismay, darkness" as the family had to "face our worst fears" in the wake of the murder.
"Why did the authorities not take her disappearance seriously?" the statement asked.
The court heard that five days after Ms Waugh's funeral, her mother collapsed and later died "broken-hearted", unable to understand how and why the tragic events unfolded.
The statement said the family always looked forward to Ms Waugh's visits, "especially mum".
"She always had great stories to tell," the court heard.
Register for free to continue reading
Registration is a free and easy way to support our truly independent journalism
By registering, you will also enjoy limited access to Premium articles, exclusive newsletters, commenting, and virtual events with our leading journalists
Already have an account? sign in
Register for free to continue reading
Registration is a free and easy way to support our truly independent journalism
By registering, you will also enjoy limited access to Premium articles, exclusive newsletters, commenting, and virtual events with our leading journalists
Already have an account? sign in