Madeleine McCann latest: Police erect tent and begin digging in Portugal scrubland search
British police in Praia da Luz begin third day of search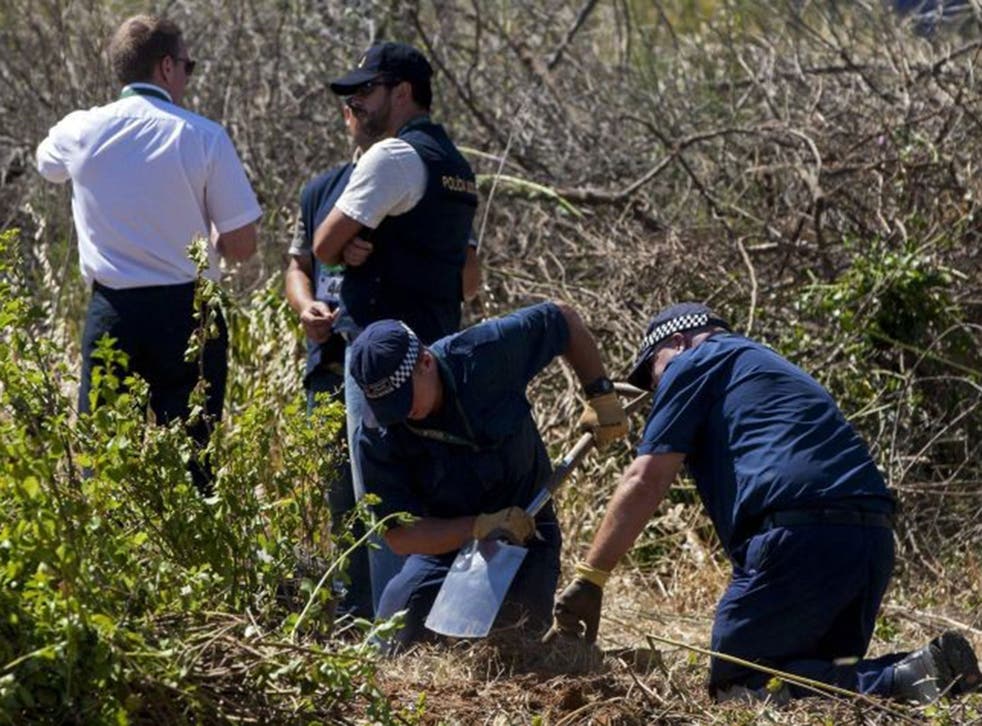 Police investigating the disappearance of Madeleine McCann in Portugal seven years ago have started digging in the cordoned-off scrubland in Praia da Luz that has become the focal point of their search in recent days.
The development came as British officers and their Portuguese counterparts spent a third day investigating the hilly area near the apartment where Madeleine was staying with her family when she went missing in May 2007. She was three years old at the time.
Wednesday also saw the first use of ground-penetrating radar equipment to probe for disturbed earth in the same search area.
The search is being overseen by the Detective Chief Inspector Andy Redwood of the Metropolitan Police, the senior officer investigating the case, who declined to comment to reporters when he arrived at the scene on Wednesday.
On Tuesday officers carried out fingertip searches in the undergrowth, scouring the ground for clues. Sniffer dogs from South Wales Police were also used.
Police have also been granted permission to investigate two others areas of land, it is understood. One of these is believed to be even closer to the McCanns' apartment.
The Madeleine McCann case

Show all 25
But they have been given a deadline of Friday and it is understood that if nothing of significance is found before then, they must stop.
The large section of land is being guarded day and night by armed local police with dogs, and a large yellow-and-white cordon.
Scotland Yard, which is carrying out its own investigation into what happened to the youngster, refused to comment on British officers being at the scene on Tuesday and said the force was "not prepared to give a running commentary" about the case.
Register for free to continue reading
Registration is a free and easy way to support our truly independent journalism
By registering, you will also enjoy limited access to Premium articles, exclusive newsletters, commenting, and virtual events with our leading journalists
Already have an account? sign in