Man tortured for Britain finds asylum – in the US
Guard who refused to be a spy says UK turned its back on him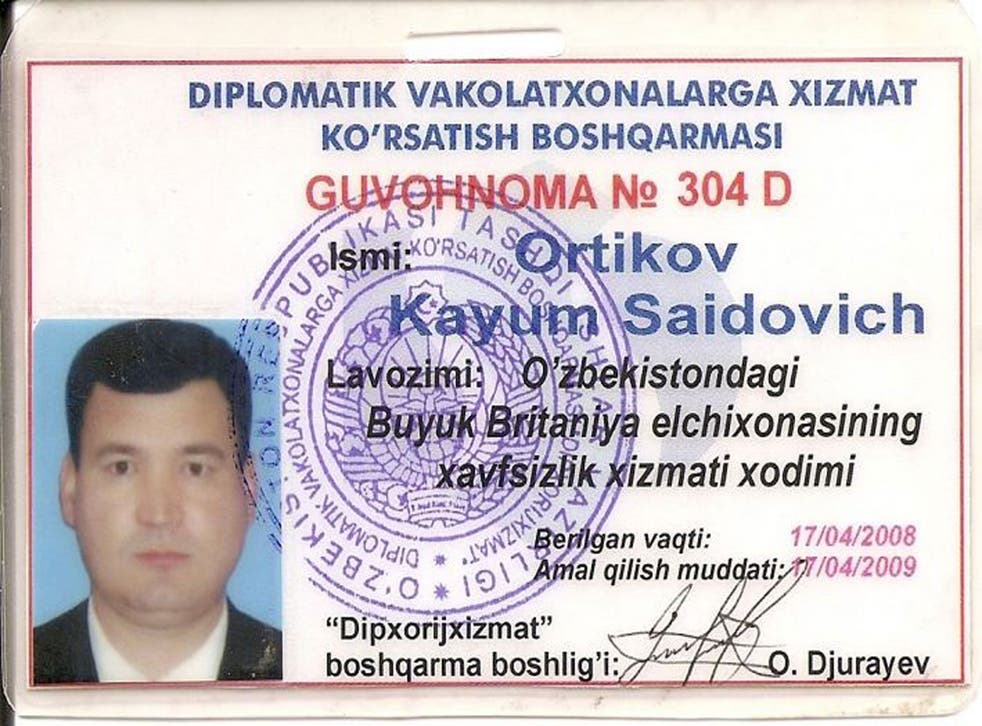 Britain has been attacked by human rights campaigners over its "shameful" failure to aid a British embassy guard who had to flee his home country with his family after he was brutally tortured.
Critics claimed the UK should be "embarrassed" by its failure to protect an employee after it was revealed that the US, not Britain, has offered sanctuary to Kayum Ortikov, his wife, Mohira, and their four children.
Mr Ortikov, 44, worked as a security guard for the British embassy in Tashkent, Uzbekistan, for several years. He was allegedly tortured for refusing to become an informer for the secret police of the dictatorship, which is notorious for its human rights abuses.
Mr Ortikov's ordeal began after he was imprisoned in 2008. Shortly after The IoS raised the issue with the authorities, in 2011, he was suddenly freed from prison. The Ortikov family managed to flee their homeland in 2012 and have lived as refugees in Ukraine ever since.
The United Nations High Commission for Refugees typically approaches countries where asylum-seekers may have relatives or other connections. In Mr Ortikov's case, his service to the British embassy would have provided such a link to the UK. While it is not known whether Britain was approached, it is clear that the US was prepared to take in the family.
They will be resettled in Pennsylvania and their case is being dealt with by the International Organization for Migration.
Mr Ortikov is angry at his treatment. "The country I so loyally served has done nothing but turn its back on us. No offer of political asylum. Not even any aid to help with the physical and psychological effects of my torture," he said.
Mrs Ortikov added: "We wanted to come to Britain so badly, but we would have been waiting for ever if America had not offered to take us in. We are relieved that the US government has taken this step to offer us refuge."
A spokesperson for the Foreign and Commonwealth Office said: "We have long been keen to see a positive outcome for the Ortikov family." The FCO said that its officials "repeatedly intervened with the Uzbek authorities on behalf of Mr Ortikov after we became aware of allegations of mistreatment".
Steve Swerdlow at Human Rights Watch said: "The lack of responsiveness by the Government has been really shocking and shameful."
But Sir Menzies Campbell, of the foreign affairs select committee, said: "It must surely be an embarrassment to the Government that someone who served our interests and was persecuted for it should be welcomed into the US but not into the country to which he was most loyal."
Register for free to continue reading
Registration is a free and easy way to support our truly independent journalism
By registering, you will also enjoy limited access to Premium articles, exclusive newsletters, commenting, and virtual events with our leading journalists
Already have an account? sign in
Register for free to continue reading
Registration is a free and easy way to support our truly independent journalism
By registering, you will also enjoy limited access to Premium articles, exclusive newsletters, commenting, and virtual events with our leading journalists
Already have an account? sign in