Manchester attack: Police arrest 25-year-old man in Old Trafford area
A search is also being carried out an address in Moss Side, in the south of the city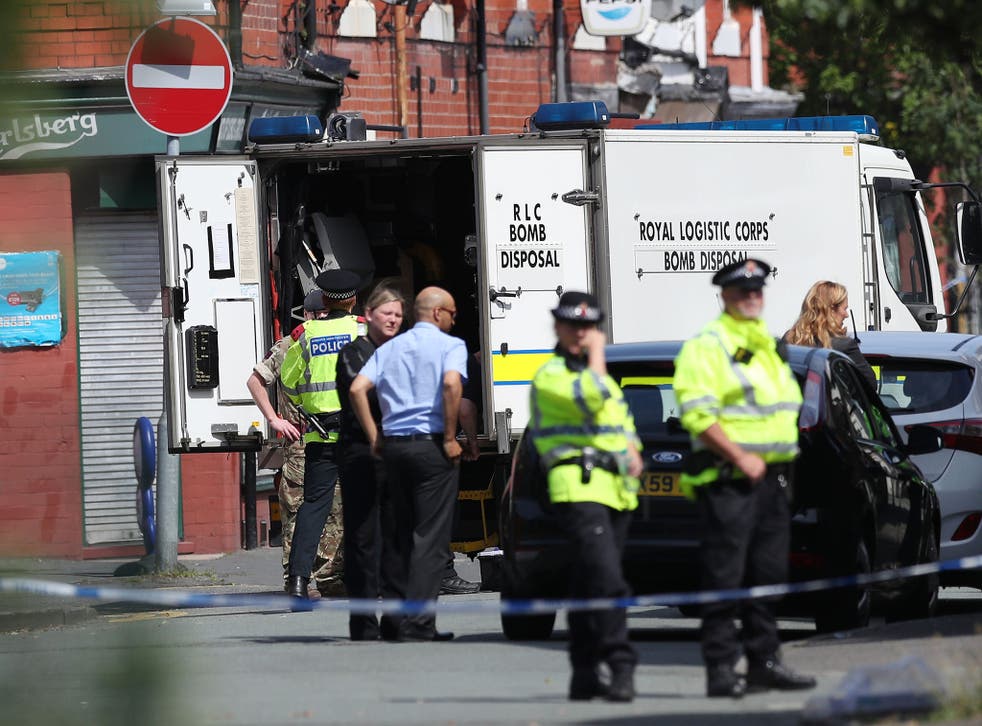 Counter-terror police have made a fresh arrest in connection to the Manchester suicide bombing as officers raid another address in the city.
Greater Manchester Police said a 25-year-old man had been detained on suspicion of terror offences in the Old Trafford area.
A search was also carried out at an address in Moss Side, in the south of the city, as part of a massive police operation, which has seen raids across several cities.
Three men were arrested at the Moss Side property, but were later "de-arrested", Greater Manchester Police said.
A nearby resident who did not want to be named said he heard a loud explosion "like a bomb going off" and saw a number of police vans in the street.
Police, however, would not comment on whether a controlled blast was used to gain entrance to the property, a tactic that has been used on previous raids since the bombing.
The neighbour said a group of young "Middle Eastern" men moved into the address around six months ago.
"There was always a lot of coming and going in and out of that building," the man said.
A total of 14 people have been arrested after the atrocity at the Manchester Arena left 22 people dead.
Two of those people have since been released without charge, with a total of 12 men between the ages of 18 and 44 still in custody for questioning.
Investigators have been working around the clock to identify potential members of a terror network that could have given support to suicide bomber Salman Abedi.
They say they have already dismantled a significant part of Abedi's co-conspirators but expect to make further arrests.
Home Secretary Amber Rudd has said members of the suicide attacker's circle were still "potentially" unaccounted for, despite optimism following a wave of initial arrests.
Ms Rudd's comments came after police released CCTV stills of Abedi in a plea for new information about his movements between 18 May and Monday's attack.
The 22-year-old suicide bomber was dead, killing 22 people and leaving more than 100 others injured, in a matter of hours after he was captured on camera.
The UK's terror threat level was raised to "critical", which means an attack is "imminent", amid concerns Abedi's network could have planned further attacks – but it was reduced back to "severe" on Saturday, which means an attack is highly likely.
Tarique Ghaffur, the Assistant Commissioner of the Metropolitan Police at the time of the 2005 bombings, suggested on Sunday that specialist centres should be set up to house extremists.
He told The Mail on Sunday that the facilities could house up to 3,000 identified extremists and "would be community-based centres where the extremists would be risk-assessed".
Manchester explosion in pictures

Show all 37
"Then, the extremists would be made to go through a deradicalisation programme, using the expertise of imams, charity workers and counter-terrorism officers," he added.
He said such centres would have oversight from vetted Muslim and other community leaders "who would ensure they stayed within the law".
His call came after security sources confirmed to the Press Association that as many as 23,000 people have been flagged on the radar of counter-terror agencies.
Register for free to continue reading
Registration is a free and easy way to support our truly independent journalism
By registering, you will also enjoy limited access to Premium articles, exclusive newsletters, commenting, and virtual events with our leading journalists
Already have an account? sign in
Register for free to continue reading
Registration is a free and easy way to support our truly independent journalism
By registering, you will also enjoy limited access to Premium articles, exclusive newsletters, commenting, and virtual events with our leading journalists
Already have an account? sign in