Manchester attack: British police granted arrest warrant for bomber Salman Abedi's younger brother
'Hashem Abedi is currently detained in Libya and the CPS has now requested that Libyan authorities consider his extradition back to the United Kingdom'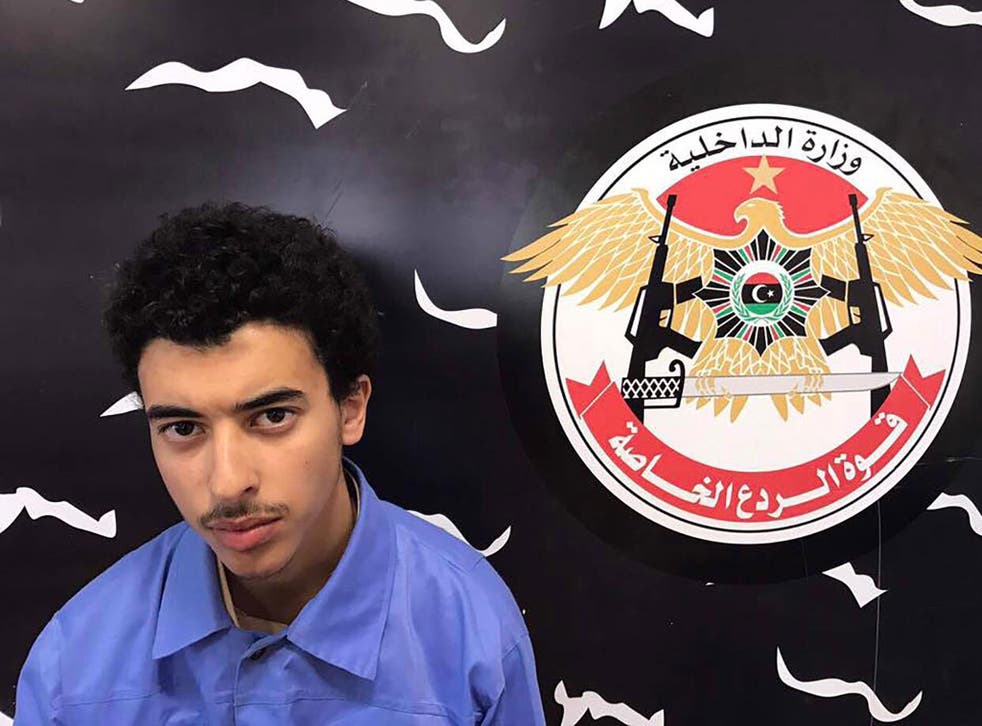 The younger brother of Manchester bomber Salman Abedi could be sent to the UK from Libya after British police were granted a warrant for his arrest.
Police said Libyan authorities are considering a request to extradite Hashem Abedi, who could face charges of murder, attempted murder and conspiracy to cause an explosion in the terror attack.
He has previously been accused of helping his brother manufacture a bomb that was made in flats around Manchester and concealed in a bag.
Investigators revealed that more than 500 victims were injured in the blast, which killed 22 people, including children, as they left an Ariana Grande concert at Manchester Arena in May.
Assistant Chief Constable Russ Jackson said no evidence of a "wide network" had been uncovered following the attack, which was claimed by Isis.
"I can now say that following a review of the evidence by the CPS, we have applied for and been granted a warrant for the arrest of Hashem Abedi," he added.
"Hashem is currently detained in Libya, and the CPS has now requested that Libyan authorities consider his extradition back to the United Kingdom. We are grateful for the Libyan authorities considering this request."
Mr Jackson said no further detail of the possible extradition could be given as the "fast-paced investigation" continues, involving police officers drawn from across the UK.
Specialist officers are continuing work with families of victims and survivors, including 16 who suffered very serious injuries including paralysis, loss of limbs, internal injuries and very serious facial scars requiring complex surgery.
"Everyone, not least those who have lost their loved ones, will live with the memories of what happened forever," Mr Jackson added.
Manchester Arena attack victims remembered as venue reopens
Police arrested 23 people in the wake of the atrocity but none have yet been charged, with 30 properties searched and 11,000 pieces of evidence and 16 terabytes of data being examined.
In all 512 people were either physically injured or left "profoundly traumatised", Mr Jackson said, with 112 hospitalised.
Investigators said they were working through 1,300 statements,16,000 hours of CCTV and more than eight million lines of telephone communications data.
Hashem Abedi has been a key suspect throughout the investigation, with police quickly piecing together his brother's movements in the days between his return to the UK and the bombing.
Libyan investigators previously suggested Hashem would go on trial in the country after being arrested in Tripoli, where the UN-backed Government of International Accord is struggling to retain control.
Libyan Attorney General Sadiq al-Sour said Hashem was suspected of helping his brother and collecting materials for the device, after leaving Manchester or Libya on the same day as Salman in April.
Libyan officials claimed Hashem told them he and his brother started supporting Isis in 2015, "through the internet and some friends in the UK".
Manchester explosion in pictures

Show all 37
Their father, Ramadan Abedi, was also arrested in May but denied knowledge of the plot and has since been freed.
Another relative, Mohamed Younis Abedi, is in custody in eastern Libya after his credit card was allegedly used to buy bomb components, and Libyan authorities say they have passed on a list of people living in UK who should be questioned.
Investigators were attempting to discover whether Salman had undergone terror training or had help to build the device, or whether he had trained himself using online propaganda.
The bomb contained triacetone triperoxide (TATP), a high-powered explosive that has become a signature of Isis attacks including Paris, Brussels and the attempt in Parsons Green.
Experts told The Independent that Salman could have made a lethal quantity of the explosive in just 24 hours but that direct training or experience would have sped up the process.
He is believed to have packed TATP in powder form inside a bag, surrounded by nails and shrapnel intended to inflict maximum death and injury.
Greater Manchester Police said he made "core purchases" for the device alone, and in the four days between flying back from Libya and launching the attack.
The 22-year-old, who was born in Manchester to Libyan parents, had left the UK in April after telling relatives he was making a pilgrimage to Mecca.
He had made numerous trips to Libya after his parents – originally refugees from Muammar Gaddafi's regime – returned to live there during the country's bloody civil war, possibly fighting against government soldiers alongside his father.
Islamist groups swiftly gained power in the conflict, where Isis has seized the opportunity to gain a foothold amid warnings the country could become a primary launch pad for terror attacks in Europe.
Among the countless militias battling in Libya is Katibat al-Battar al-Libi, an Isis special operations unit whose operatives are said to have met Salman during his visits to Tripoli and the coastal city of Sabratha.
A retired European intelligence officer told The New York Times that Salman Abedi kept in contact with the militants after returning to Manchester.
Katibat al-Battar al-Libi, which was originally formed by Libyan jihadis fighting in Syria in 2012, had attracted foreign fighters including the Paris attacks' ringleader Abdelhamid Abaaoud, who was also linked to atrocities at the Brussels Jewish Museum, the Thalys train attack and several failed plots.
Some Battar brigade members moved back to Libya and set up terror training camps, focusing on weapons training and bomb-making. The camps count among their graduates the Isis gunman who killed 30 British tourists on a beach in Tunisia in 2015, and the Bardo Museum attackers.
World news in pictures

Show all 50
Training camps used by "plotters actively planning operations against Europe" on the coast have been targeted by US air strikes, since it emerged that the Berlin Christmas market attacker was in contact with Libyan Isis militants.
Salman also had links with known extremists and gang members in Manchester, with friends remembering him as a "fun" teenager who drank and took drugs, before returning from a trip to Libya as a "different guy" and appearing increasingly religious.
He had made extremist remarks and flown an Islamist flag from his Manchester home but did not raise sufficient alarm to spark intervention by British security services.
He was an associate of Isis recruiter Raphael Hostey, also from Manchester, who was killed in a drone strike in Syria last year after allegedly radicalising and sponsoring militants.
Salman also had links with local gangs, and was reportedly devastated when his friend Abdulwahab Hafidah was murdered by a rival group.
Register for free to continue reading
Registration is a free and easy way to support our truly independent journalism
By registering, you will also enjoy limited access to Premium articles, exclusive newsletters, commenting, and virtual events with our leading journalists
Already have an account? sign in
Register for free to continue reading
Registration is a free and easy way to support our truly independent journalism
By registering, you will also enjoy limited access to Premium articles, exclusive newsletters, commenting, and virtual events with our leading journalists
Already have an account? sign in