Mohammed Abdallah: Jihadi linked to Manchester Arena bomber convicted of joining Isis in Syria
Mohammed Abdallah claimed he went to Syria for humanitarian purposes - despite being listed on Isis documents as a sniper 
Lizzie Dearden
Home Affairs Correspondent
Thursday 07 December 2017 18:23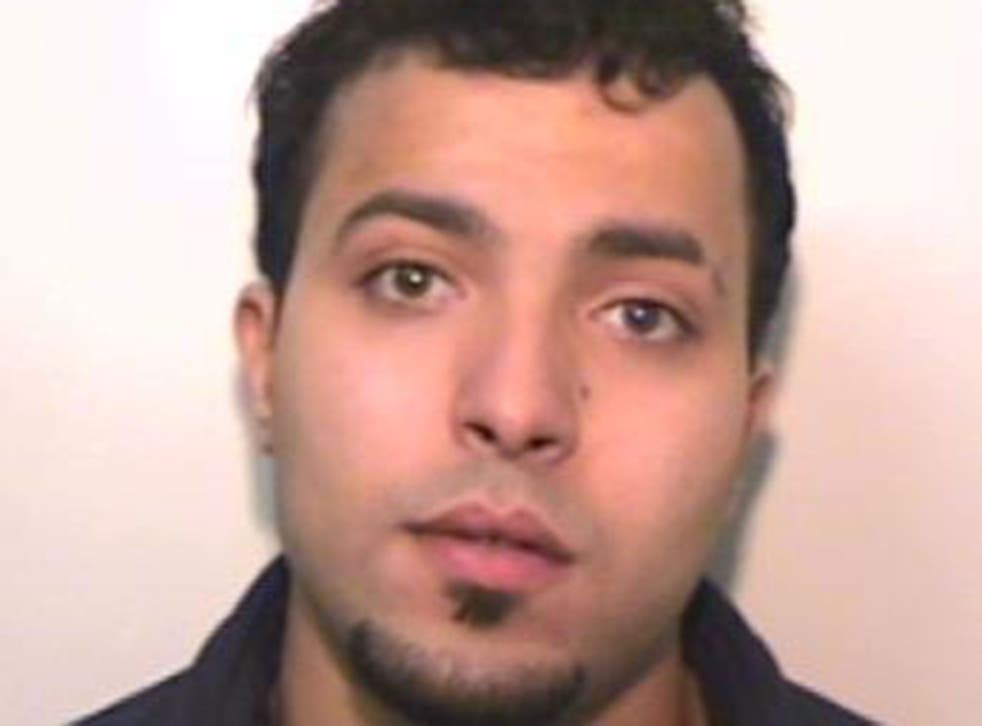 A member of the same Manchester jihadi network as bomber Salman Abedi faces years in jail after being convicted of joining Isis in Syria.
Mohammed Abdallah, 26, claimed he travelled to the warzone for humanitarian purposes, despite the terrorist group's own leaked registration documents listing him as a sniper.
He was convicted of joining Isis in the summer of 2014, possessing an AK47, receiving £2,000 for terrorist purposes and belonging to a proscribed organisation.
​Abdallah's younger brother, Abdalraouf, was jailed last year for sending him the money, as part of help he gave numerous British jihadis to travel to Isis territories.
They were part of a prolific network of terrorists from Manchester, linked to Abedi, Isis recruiter Raphael Hostey and former RAF serviceman Stephen Gray.
Abdallah himself travelled to Syria with friend Nezar Khalifa, from the Old Trafford area of Manchester, while planning to meet his fellow jihadis in Isis territory.
The Isis document filled out upon his arrival – which was later leaked to Sky News and other outlets – described Abdallah a "beginner" in Islamic law and former supermarket vendor, but said he had experience fighting against Muammar Gaddafi in Libya.
It gave Abdallah's former occupation as "supermarket vendor", although the unemployed man claimed he made money mailing by stealing and selling cannabis.
His references were given as Hostey, who was already living in Raqqa as well as a Libyan Isis member who narrated a propaganda video described as a "family friend".
Abdallah, of Westerling Way in Moss Side, had arrived in Britain as a refugee at the age of three after his family fled the Gaddafi regime in Libya, gaining dual British nationality.
He attended Burnage High School in Manchester and Didsbury Mosque, which was also attended by Abedi.
The defendant said he failed to pass any exams and was "not particularly religious", preferring to spend time drinking and smoking cannabis.
A similar transformation was chronicled in Abedi and numerous other Isis fighters across the UK and Europe, amid warnings that terrorist groups are targeting young men with criminal backgrounds by offering them redemption, adventure and purpose in jihad.
In 2011 Abdallah and his brother travelled to fight in the Libyan civil war and joined the Islamist "Tripoli Brigade", seeing Abdalraouf shot and paralysed from the waist down while fighting against the Gaddafi regime.
Jurors were shown video footage of both siblings handling heavy Russian-made machine guns on vehicles in Libya – of the same type listed on Abdallah's Isis form as a specialism.
Abdallah and Khalifa travelled from Libya to Syria on 3 July 2014 and joined a militia, with online conversations showing he acquired an assault rifle.
He travelled back to Turkey on 18 July 2014 to collect money sent to him by his younger brother Abdalraouf and crossed back into Syria two days later.
Abdallah officially joined Isis and remained in its territory for almost four weeks before travelling back to Libya via Turkey.
He returned to the UK on 16 September 2016, being arrested upon arrival at Heathrow Airport and charged with three terrorism offences.
Abdallah denied swearing allegiance to Isis and claimed he only went to Syria to help deliver $5,000 (£370,000) to the poor, alleging that someone else filled out the official Isis form without his knowledge.
He told the Old Bailey he had never heard of Isis before 19 July 2014 – months after the terrorist group declared its caliphate - and felt "totally deceived" by his fellow jihadis.
"It's true I refused to swear allegiance," Abdallah said. "They did send me to prison. "I was threatened with being beheaded.
"I was shot at. I was hit. I had bruises and a black eye."
Manchester explosion in pictures

Show all 37
He also denied knowing the Libyan man listed on the form, but admitted he know Hostey through the Didsbury Mosque.
Abdallah's brother and Gray were arrested in Manchester in November 2014 and have been jailed for terror offences, why Hostey is believed to have been killed in a 2016 drone strike.
​Abdallah's trial was delayed in the wake of the attack the Manchester Arena bombing over reported links with Abedi, who attended the same mosque.
Both young men had Libyan parents, attended the same school, lived nearby in Manchester, and Abedi was also believed to have gone to Syria before returning to the UK to blow himself up at an Ariana Grande concert, killing 22 people in May.
Abedi is reported to have visited Abdalraouf in prison before his attack, used to play football with Gray, spoke to Matimba before the attack and was connected with Hostey,
Sue Hemming, head of the Crown Prosecution Service (CPS) counter-terror division, said conversations on messaging apps proved that Abdallah's reasons for being in Syria were not innocent.
"He was a committed extremist who had armed himself to fight for Isis and was a potential threat to all those who opposed his ideology," she added.
Abdallah was remanded into custody until his sentencing on Friday.

Register for free to continue reading
Registration is a free and easy way to support our truly independent journalism
By registering, you will also enjoy limited access to Premium articles, exclusive newsletters, commenting, and virtual events with our leading journalists
Already have an account? sign in