Maoist cult chief Aravindan Balakrishnan accused of keeping women slaves is revealed
Aravindan Balakrishnan was caught on camera before an inquest into the death of one of his followers who mysteriously fell from the bathroom window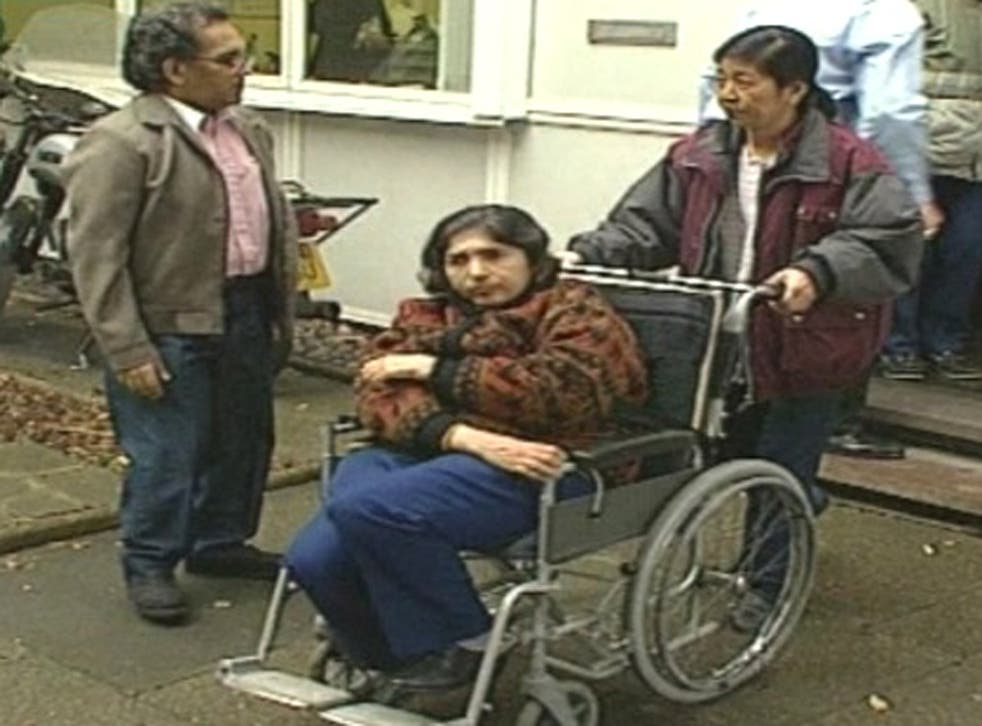 The first images of the Maoist ideologue accused of keeping three women slaves for 30 years emerged last night from a 15-year-old television documentary that revealed a glimpse of what life was like within the left-wing commune.
Aravindan Balakrishnan – known as Comrade Bala – was caught on camera attending an inquest into the death of one of his followers who mysteriously fell from a bathroom window of the house in Herne Hill, south London, where the group was living in 1997. Mr Balakrishnan is shown being followed by a woman believed to be Josephine Herival, a 57-year-old Irish woman who was rescued last month with two other women who had been at the commune for three decades. They are alleged to have suffered physical and mental abuse at the hands of Mr Balakrishnan, 73, and his wife Chanda, 67, who were arrested in Brixton last week. A former neighbour of the commune said last night that in the 1980s and 1990s the women often held notes up to the window, but that they were too faint to read.
At the 1997 inquest, a coroner criticised the collective over the death of Sian Davies, 44, and expressed doubts that she would have opened a window on a cold Christmas Eve night and fallen to the street below. She died from her injuries after spending seven months in hospital.
Miss Davies, originally from Aberaeron, west Wales, was a member of the collective for 24 years after arriving in London to study at university. Her family say that members of the commune falsely claimed to be her next of kin and withheld news of her death from them.
Miss Davies' cousin, Eleri Morgan, said members of the group told the family she was in India and stopped her being moved to the specialist spinal hospital, Stoke Mandeville.
After the inquest, members of the commune reacted angrily when a television crew asked to speak to Mr Balakrishnan, the charismatic head of the group. "You are part of the fascist state," said Ms Herival. "We don't want to talk to you."
She then retreated into the house with two older companions, one of whom is thought to be a 69-year-old Malaysian woman who was also released last month, footage released by ITV News showed.
Ms Morgan, a retired teacher from Eltham, south-east London, who identified her cousin's body, said Sian visited her family only once while she was in the commune, and was accompanied at all times by two other group members. She said Ms Herival called her and asked to meet to talk about Sian after the inquest was over.
"I told her in no uncertain terms that I didn't know how she could live with herself," she told The Independent. "I told her never to use this number again or I would call the police. I never heard from her again."
New details about the lives of those inside the commune emerged yesterday as police confirmed that they had yet to interview Josephine or the other two captives – one of whom was named in reports as Rosie Davies, a 30-year-old Briton who spent her whole life with the group.
It was unclear whether Sian Davies was her mother, and Ms Morgan said she had not been asked to take a DNA test to confirm the victim's identity. Detectives have said they have the woman's birth certificate.
The Malaysian woman is reportedly called Aishah, and is thought to have moved to Britain in 1968 with her fiancé before falling under the influence of Mr Balakrishnan.
Scotland Yard said the facts would not be established quickly, given that what happened in the house took place over three decades.
Mr Balakrishnan, from Singapore, and his Tanzanian Marxist wife, who were arrested on suspicion of assault, false imprisonment and immigration offences, are on bail until January.
Aneeta Prem, founder of the Freedom Charity, which helped to secure the women's release, said they had been left alone to recover. Scotland Yard said part of the agreement when they were removed from the property in Brixton on 25 October was that officers would not attempt to interview them immediately.
"Of primary concern to us is their safety and wellbeing," said Ms Prem. "The more information there is that comes into the public domain, the more it will hamper their recovery."
Mr Balakrishnan founded his group – the Workers' Institute of Marxism-Leninism-Mao Zedong Thought – in 1974 after he was expelled from the national committee of another Communist group.
In 1978, police raided the Mao Zedong Memorial Centre in Brixton, arresting 14 members of the organisation, including Mr Balakrishnan and his wife, on suspicion of assaulting a police officer.
House-to-house inquiries have been carried out in Peckford Place in Brixton, where the three women were found, one of 13 properties in London linked to the commune over the years.
Register for free to continue reading
Registration is a free and easy way to support our truly independent journalism
By registering, you will also enjoy limited access to Premium articles, exclusive newsletters, commenting, and virtual events with our leading journalists
Already have an account? sign in