Mark Duggan inquest: Final moments of man who sparked London riots revealed
Inquest into killing of 29-year-old reveals frantic phone call to his brother just before he was shot dead by police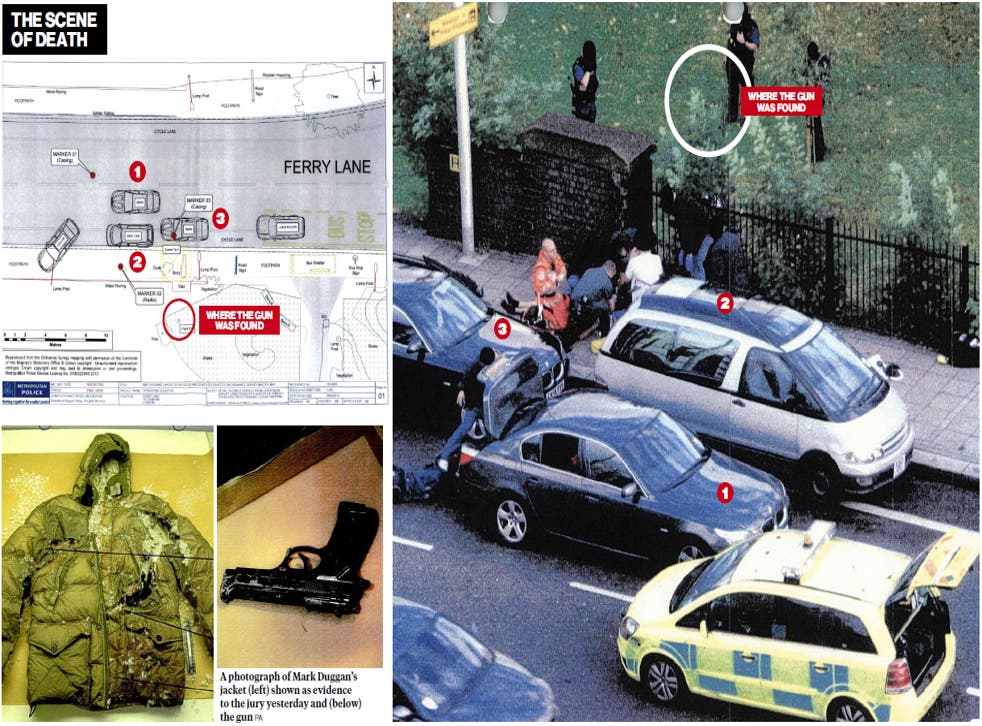 Mark Duggan, whose death two years ago sparked the UK's worst riots in modern history, made a frantic three-minute phone call to his brother Marlon moments before he was fatally shot by an armed officer.
Click image above to enlarge graphic
Details of the 29-year-old father of four's final movements on 4 August 2011 were described in court today on the second day of the inquest into his death.
Mr Duggan was travelling in the back of a minicab before three police cars containing nine officers forced it to pull over. A fourth vehicle, the control car containing four senior officers, had pulled up a few yards behind on the road in Tottenham, north London, as Mr Duggan emerged from the taxi.
Ashley Underwood QC, representing the coroner Keith Cutler, told the jury of eight women and three women that one of the armed officers, known in court as V53, shot Mr Duggan twice with his short rifle – once in the bicep and another in the chest, severing his aorta. This was the fatal shot.
"He would have died within 10 heartbeats," Mr Underwood said. The officer claimed he was acting in self-defence because he thought Mr Duggan was holding a gun. The first shot failed to incapacitate Mr Duggan, the officer claimed, so he fired a second time. A police officer known as W42 was standing behind Mr Duggan and was hit as one of the bullets passed through Mr Duggan, becoming lodged in the officer's radio.
As he set out the background to the case today, Mr Underwood told the jury that of the six main issues surrounding Mr Duggan's death, the two most controversial concerned whether Mr Duggan was in possession of a gun when he got out of the cab and whether the two shots fired by officer V53 were "absolutely necessary".
Mr Underwood said armed officers used "shock and awe tactics" when approaching suspects they believed were armed. He added: "Mr Duggan wasn't shocked into submission, he got out of the minicab and he ran. You will hear from V53 that he was running with a gun in his hand and he started to bring the gun into the aim."
The jury was shown pictures of the bloodstained jacket with bullet holes Mr Duggan had been wearing when he died, as well as CCTV from a passing bus and maps of the scene. Mr Underwood explained why one of the bullets had entered lower down in the jacket but emerged much higher up, demonstrating to the jury by bringing his hand up from his waist to chest height "akin to Mr Duggan bringing his arm up and bunching the lower part of his jacket so it aligned with his chest," he said.
"It is the officer's case that Mr Duggan raised his right hand and was believed to have a gun."
After Mr Duggan was shot, the court heard that officer V53 and his colleague, officer W70, expected to find the gun near the body – but instead a gun wrapped in a black sock was later found "between 10 and 20ft" away from Mr Duggan's body, over railings and on a patch of grass.
Mr Underwood said there were several options as to how the gun was found there, among them that Mr Duggan threw it there himself or that a paramedic or police officer administering first aid to Mr Duggan kicked it out of the way – a suggestion that prompted snorts of derision from Mr Duggan's family in the public gallery. Several relatives wore black T-shirts to the hearing bearing Mr Duggan's image with the message "time for truth and justice".
Mr Underwood had earlier described the three police cars that surrounded Mr Duggan's taxi contained officers from three Met divisions: SCD11, the specialist surveillance unit, C019, the specialist firearms unit, and Trident, the black-on-black knife and gun crime unit.
Police believed Mr Duggan was a member of the Tottenham Man Dem gang and the Met had received "specific intelligence relating to Mark Duggan" from the Serious Organised Crime Agency between 29 July and 4 August that he was "believed to be intent on attacking a member of another gang," Mr Underwood said.
On 3 August, police believed Mr Duggan was about to collect a gun but SCD11 officers traced him to a family barbecue. The three teams agreed to meet at a police base in Wood Green at 6pm on 4 August to discuss the case further. "That didn't work out," Mr Underwood said, "because police received intelligence at 5.20pm that Mark Duggan was on his way to Leyton to pick up a gun".
Trident officers got to the house first and followed the minicab containing Mr Duggan. The court was told that it would hear evidence from the taxi driver stating Mr Duggan allegedly picked up a gun, contained within a shoe box, from Kevin Hutchinson Foster, who has since been jailed for supplying him with the weapon, and that Mr Duggan was on his way to the Broadwater Farm estate.
Mr Underwood described how a three-minute call between Mr Duggan and his brother ended just six seconds before the GPS in the cab stopped, indicating it had pulled over. Mr Duggan also sent a BBM message saying: "Watch out for  a green VW van, it's Trident they just jammed me."
" The officers pounced around 6.12pm.
Mr Underwood said "strenuous efforts" were made to save Mr Duggan but he was pronounced dead at the scene at 6.41pm.
The jury was also told the case has been complicated by an anonymous note sent last year to a number of people including Mr Duggan's family and the Met Police Commissioner, claiming that a police informant had told his handler that he could persuade Mr Duggan to pick up the gun, allowing officers to arrest him.
Mr Underwood said: "The letter goes on to say that [the arrest] was bound to lead to Mr Duggan being shot dead because the letter suggests that anything less than that would have led to the informant being exposed."
Police have said that there is no evidence to back those claims.
The hearing at the Royal Courts of Justice, expected to last at least two months, resumes on Thursday.
The dead man's gang: Tottenham Man Dem
Tottenham Man Dem was formed on the Broadwater Farm estate before the 1985 riots, which erupted when Cynthia Jarrett died during a police search of her home.
TMD was involved in the drugs trade and fought for control of their turf with other gangs, including NPK and the Hackney boys. One of its earliest members, Mark Lambie, was suspected of killing PC Keith Blakelock during the riots but was cleared. Lambie, who was 14 at the time, allied TMD with Jamaican Yardie gangs and was at one time Operation Trident's most wanted man. He was jailed in 2002 after he and an accomplice kidnapped two men and tortured them.
Lambie was seen as untouchable, and police said he was considered "the devil" who had magical powers bestowed on him that meant he could not be hurt. In 1996 Lambie was shot outside a Wembley wine bar but survived, and a year later walked away from another gun attack.
The term Man Dem originates in the Caribbean, and refers to a group of friends.