Mark Rothko painting 'defaced' at the Tate Modern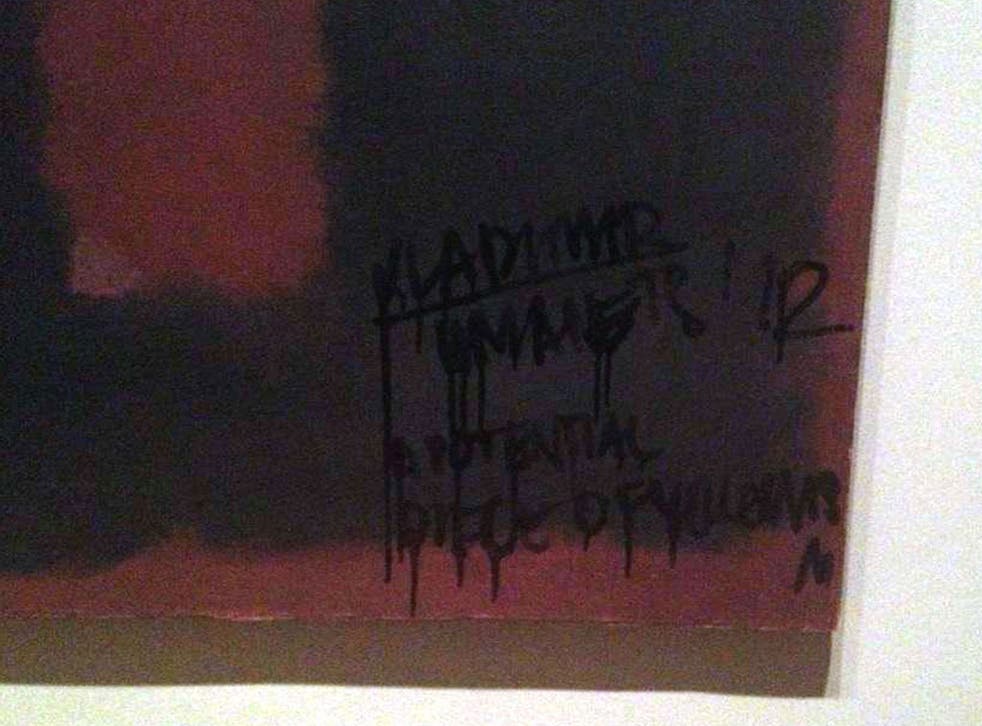 Police are investigating after a painting by the great 20th century abstract artist Mark Rothko was defaced at the Tate Modern in London today.
One eye witness Tweeted: "This guy calmly walked up, took out a marker pen and tagged it. Surreal."
The work, Black on Maroon 1958, would have a value in the tens of millions, although it was gifted to the museum by the artist.
In a short statement a spokeswoman for the Tate said: "Tate can confirm that at 15.25 this afternoon there was an incident at Tate Modern in which a visitor defaced one of Rothko's Seagram murals by applying a small area of black paint with a brush to the painting. The police are currently investigating the incident."
She added that an internal investigation was being carried out into security at the gallery, and conservationists were assessing the damage.
Scotland Yard said they were investigating criminal damage and the suspect was a white man in his late 20s who made off after daubing a corner of the painting with black paint.
The Tate, one of the world's most renowned modern art galleries, created its dedicated Rothko room in to house the Seagram collection.
Rothko, a Russian-American abstract expressionist, is one of modern art's most important masters.
Black on Maroon was part of a series originally commissioned by the Four Seasons Restaurant in New York, which was housed in the Seagram Building, a celebrated modernist sky scraper in Park Avenue.
"I hope to paint something that will ruin the appetite of every son of a bitch who ever eats in that room," the artist reportedly said.
After completing the works Rothko changed his mind about the commission, however, supposedly because he didn't want his paintings being used as a backdrop for privileged diners. In 1965 he decided to donate some of them to the Tate. Nine eventually arrived in 1970, on the day of the artist's death.
Defaced: Other works
Damien Hirst's sculpture Hymn was defaced by Occupy protesters in April who scrawled the word 'occupy' on the right thigh of his recreation of an anatomical dummy which stood outside the Tate Modern as part of the Hirst retrospective at the gallery.
Tracey Emin's installation My Bed – a recreation of her unmade bed – was a nominee for the Turner Prize in 1999 and on display at Tate Britain when two artists, Yuan Chai and Jian Jun Xi, jumped on it wearing only underwear. They said it was a performance called Two Naked Men Jump Into Tracey's Bed, but were arrested for their trouble.
A vandal who defaced Picasso's 1929 Woman in a Red Armchair at the Menil Collection in Houston, Texas,  in June was filmed on an iphone as he spray painted a bull in the centre of the painting using a stencil, and the word Conquista (Conquest) underneath, before fleeing the scene.
Andrew Johnson
Register for free to continue reading
Registration is a free and easy way to support our truly independent journalism
By registering, you will also enjoy limited access to Premium articles, exclusive newsletters, commenting, and virtual events with our leading journalists
Already have an account? sign in