Four men jailed for 'brutal' attack on dog walker who put pet's poo in their bin
Victim suffered life-changing injuries after being ambushed by gang armed with golf club, pool cue and electrical wire over 'trivial matter'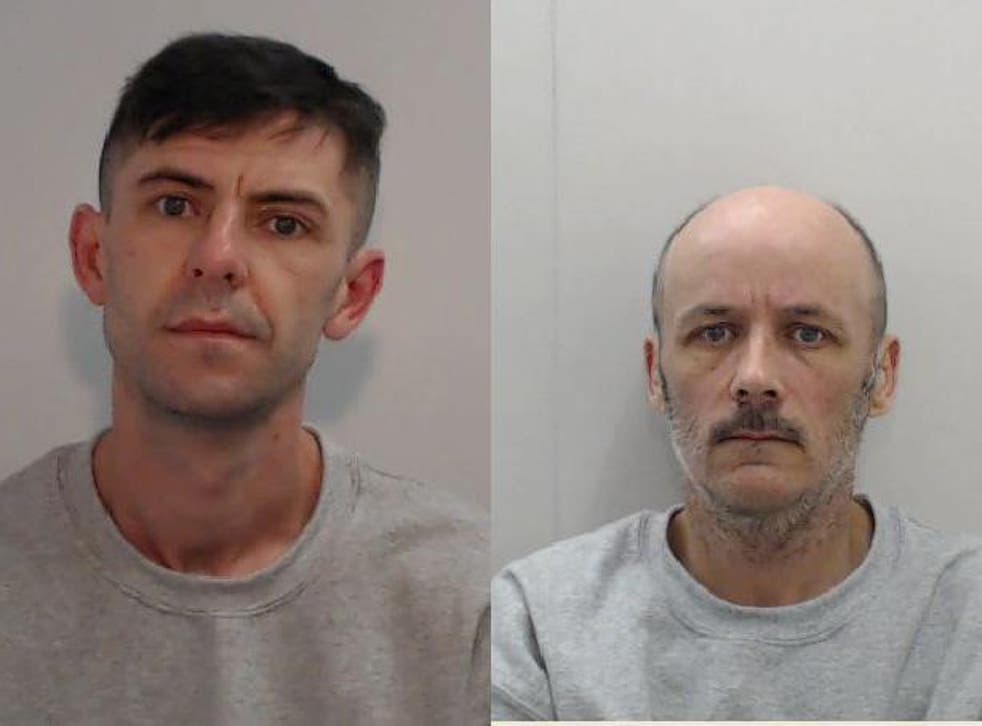 Four men have been jailed over a "vicious and brutal" assault on a dog walker who used their bin to dispose of his pet's poo.
Paul Hands, 38, Darren Barnfather, 51, John McCarthy, 52, and Darren Bagnall, 52, armed themselves with a golf club, a pool cue and electrical wire before launching the attack, which left the victim with life-changing injuries.
Hands had seen the 46-year-old victim put a bag of his dog's waste in a bin outside the house where he was staying in Ashton-under-Lyne, Greater Manchester.
He furiously shouted abuse and threatened the dog walker, who walked away.
The next day the four men spotted the victim again and armed themselves before attacking him, police said. He suffered serious injuries including fractured skull, bleeding to the brain and a fractured collar bone.
The men also attacked the dog, with McCarthy swinging the cross-breed around by its lead at shoulder height before Barnfather smashed a piece of wood over its back.
The four men were sentenced at Manchester Minshull Street Crown Court on Wednesday after being found guilty of assault in December.
Hands, of Holebottom, Ashton-under-Lyne, was jailed for 13 years.
Barnfather, also of Holebottom, was jailed for 11 years, and McCarthy, of the same address, was jailed for two years and six months. Darren Bagnall, of Hindley Close, Ashton-under-Lyne, was jailed for two years and six months.
Detective Constable Simon Cropper, of Greater Manchester Police, said: "This was a vicious and brutal attack over such a trivial matter.
"Paul Hands was verbally abusive towards his victim when the incident first happened then planned and carried out a brutal attack on the victim with the help of his friends.
"They left their victim with life-changing injuries and attacked his defenceless dog. They are fully deserving of their sentences.
"I hope the victim feels he has justice and I would like to commend him for his bravery."
Register for free to continue reading
Registration is a free and easy way to support our truly independent journalism
By registering, you will also enjoy limited access to Premium articles, exclusive newsletters, commenting, and virtual events with our leading journalists
Already have an account? sign in
Register for free to continue reading
Registration is a free and easy way to support our truly independent journalism
By registering, you will also enjoy limited access to Premium articles, exclusive newsletters, commenting, and virtual events with our leading journalists
Already have an account? sign in