Michael Adebowale and Michael Adebolajo: The two polite young men that met at university who would become known as the bloodied Woolwich murder suspects
Neighbours and acquaintances in east London describe their shock at the events of the past few days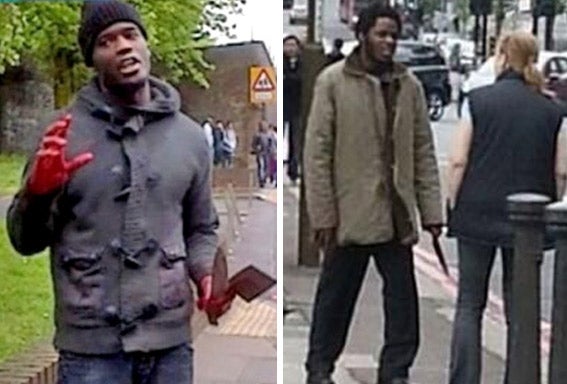 Residents in Macey House, a local authority housing block a few hundred yards from the Cutty Sark, had until this week paid little attention to the two tall, politely earnest young men they had seen coming and going from a fourth-floor flat.
Neighbours knew one of them as Michael, the son of the flat's tenant and a Manchester United-supporting university student to be found occasionally sipping a soft drink in a nearby Wetherspoons pub, eschewing alcohol in keeping with his Muslim faith.
Yesterday, as police removed sacks of potential evidence from the flat a stone's throw from the tourist attractions of Greenwich, friends and neighbours were coming to know Michael Adebowale, 22, and his friend – Michael Adebolajo – as the bloodied suspects in the murder of Drummer Lee Rigby.
Adebowale, the man dressed in a heavy green overcoat seen on video footage being confronted with a bloodied carving knife in his hand by cub scout leader Ingrid Loyau-Kennett, yesterday became the second of two men from the attack in nearby Woolwich to be identified.
Like 28-year-old Adebolajo, Adebowale, who may have met his apparent co-conspirator while they attended university, is of Nigerian descent and comes from a Christian background. As in the case of Adebolajo, Wednesday's events left those who know Adebowale stupefied at the conversion of a football-loving adolescent into an apparent killer.
A schoolfriend, who had known Adebowale for a decade at nearby Kidbrooke School, one of Britain's first purpose-built comprehensives, told The Independent that he had converted to Islam in the past four years but shown no sign of extremism.
Tony, 23, said: "Mike was a normal kid – football, bit of blow, girlfriends, the normal things. We mucked around together but he got all religious when he was around 18 or 19. He's not an in-your-face kind of guy so he didn't really talk about Islam much. I definitely didn't hear him talk about violence or anything. He was into peaceful stuff. But I haven't seen him for a couple of years. I don't know what happened since."
Neighbours of Adebowale in Macey House said the Manchester United fan was always friendly. One said: "Michael seemed a lovely guy – I am in total shock. I used to see him in the lift and we would joke about football." In the period since his conversion, it was clear yesterday that Adebowale had become increasingly radical and overt in voicing his beliefs.
Neighbours said he had moved in nearby with a girlfriend, another Muslim convert, in recent months and the pair had been seen distributing Islamist literature in areas adjoining Greenwich.
Neighbours spoke of chanting of the Koran and music coming from the flat. Others spoke of a studiously polite young man who held doors open for mothers pushing prams.
There were also indications that the intense media presence was beginning to colour the recall of some. One man claimed to have been followed by Adebowale and Adebolajo in recent days because he was wearing combat-style trousers.
Another woman, who would only give her name as Karen, claimed she had seen plain-clothes police officers watching the flat two days before the attack. It later transpired they had been local authority housing officers.
The circumstances which brought Adebowale and Adebolajo into each other's orbits and paved the way to murder remains at the core of the investigation by the Yard's Counter-terrorism Command. Greenwich University yesterday did not respond to requests for a comment on widespread reports that both men had attended its courses and may have met at the university there.
But it seems likely that similarities in their backgrounds may have played a role in their friendship.
Adebowale's mother, named locally as Juliet, was said by one neighbour yesterday to be a probation officer. She has also been a director of a computing company based in the New Cross area of south London and a Greenwich-based charity worker. A family friend, who asked not be named, said: "She is a God-fearing woman who is devoted to her children. She will be so devastated by these events."