People-smuggling gang who plotted to transport Albanian migrants across English Channel using jetskis facing jail
'Incompetent' group charged £6,000 for route to Britain but lack of sailing experience led to repeated failures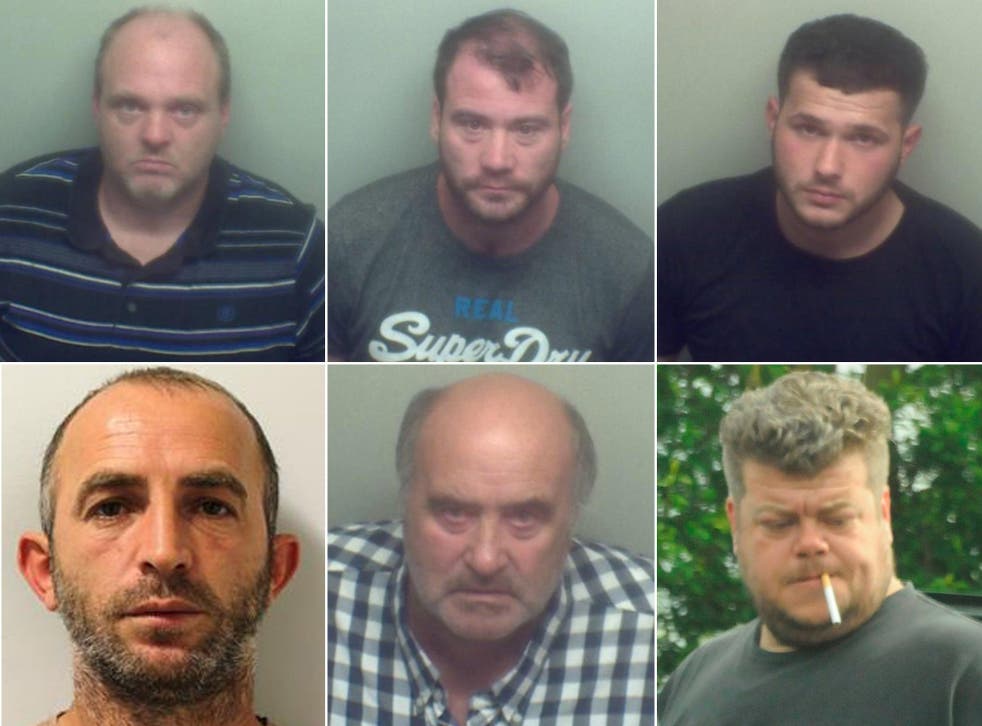 Members of a people-smuggling gang have been found guilty of attempting to bring Albanian migrants in boats across the English Channel to Kent.
The men used four boats to ferry people from France to the south coast of England and later considered using jetskis to make the crossing.
Following an Old Bailey trial, six men from the Kent-based transport gang and their Albanian "travel agents" were convicted of people-smuggling.
When the rigid-hulled inflatable boats (RHIBs) they had planned to use for the plot got into trouble, ran out of fuel and had to be rescued, the gang turned to the alternative of a three-person jetski.
Had they not been stopped by a National Crime Agency-led surveillance operation, they would have been the first to have tried to run migrants across the world's busiest shipping route on jetskis.
The court heard that migrants, including men, women and children, were charged up to £6,000 each to journey across the English Channel.
The gang had little boating experience and were apparently ignorant of the dangers they were exposing their victims to.
In the months before their arrests, the group made several unsuccessful attempts to transport migrants across the Channel in lightweight crafts.
One occasion in May 2016 almost ended in tragedy, when the gang, under the watch of NCA agents, picked up 18 migrants from France – including two children aged 16 and 17 and a woman.
On the return journey, they ran out of fuel and the migrants were forced to start bailing out as it flooded with seawater.
UK news in pictures

Show all 50
The terrified group sent desperate text messages, with one saying: "We are in England, tell police, we are drowning."
However, coastguard helicopter and RNLI crews were able to rescue those stranded onboard.
In July 2016, the craft's two-man crew of Mark Stribling, 35, from Farningham, Kent, and Robert Stilwell, 33, from Dartford, Kent, were jailed.
Undeterred, the remaining gang members bought another larger boat from Southampton, which they referred to as the Boat With No Name.
NCA operatives planted a bug on the boat to listen in as the gang plotted their next migrant run.
On 25 July, one member of the gang, Albert Letchford, took out the Boat With No Name but ran into rough sea and turned back.
A few weeks later, the NCA secretly filmed a meeting of the Kent gang meeting their Albanian partners in a pub car park.
They went together to buy a jetski with a view to using it to transport migrants from France to Britain.
The NCA moved in to arrest them over safety fears if the jetski was brought into use.
The ringleaders were Leonard Powell, from Dartford, and his son Alfie, 39, of no fixed address.
Another son, George Powell, had already admitted his part in the conspiracy.
Following a trial, Leonard and Alfie Powell were found guilty of conspiring to breach immigration law along with Wayne Bath, 38, of Sheerness, Kent; Sabah Dulaj, 23, of no fixed address; Albert Letchford, 42, of Dartford; and Arthur Nutaj, 39, of north London.
Alan Viles, 28, of Folkestone, Kent; Francis Wade, 59, of Rochester, Kent, had denied having anything to do with the plot and were found not guilty after a jury deliberated for 29 hours.
NCA senior investigator Mark McCormack said the smuggling gang was dangerously incompetent.
"We have people controlling vessels with no maritime experience, no sailing experience, who have completed very rudimentary courses of one or two days, trying to cross this busy shipping channel at night in a small vessel not utilising lights or radar," he said.
"So it increases the risk of migrants coming over and it puts their lives at real risk, which is why we at the NCA were trying to stop those people."
During the surveillance, one gang member was seen putting in the wrong satellite navigation code, using the postcode for France instead.
"That just shows the level of incompetency of the crime group," Mr McCormack added.
Judge Mark Dennis QC adjourned sentencing until a date to be fixed.
Additional reporting by PA
Register for free to continue reading
Registration is a free and easy way to support our truly independent journalism
By registering, you will also enjoy limited access to Premium articles, exclusive newsletters, commenting, and virtual events with our leading journalists
Already have an account? sign in