Aspiring model and cousin suffer unprovoked acid attack at traffic lights in East London
'Both victims have suffered burn injuries described as life-changing,' police say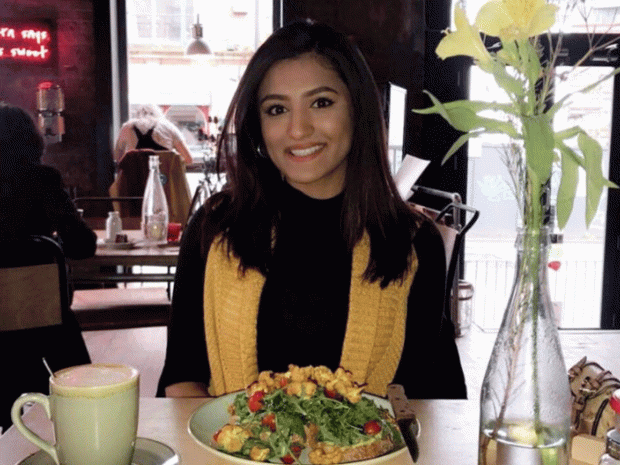 An aspiring model and her cousin were celebrating her 21st birthday when they had acid thrown their faces.
Resham Khan was out driving with 37-year-old Jameel Muhktar, when they suffered an unprovoked attack at traffic lights in Beckton, East London.
Both fear they are now scarred for life.
"The pain was excruciating," Ms Khan wrote on Twitter. "My cousin struggled to get us away. I saw my clothes burn away in front of me."
She added: "He put his foot down as we were coming onto a dual carriage way but the pain took over and we crashed. We stripped off in the middle of the road, running around screaming and begging for water. We did this for 45 minutes. No ambulance came."
The pair were driven to hospital by a passer-by and were transferred to a specialist burns unit.
Ms Khan, a Business Management student, had just spent nine months studying in Cyprus and was preparing to enter the workplace. She had not seen her cousin in two years.
Ms Khan said her old self was "gone forever".
A fundraising page set up by fellow students to support Ms Khan said "she feels as though her identity has been stolen from her".
It added: "The scars Resham and Jameel will carry will last a life time."
Ms Khan suffered damage to her left eye and was burned across her face and body, needing a skin graft, according to the fundraiser.
Photo essay: Acid attack survivors fight back

Show all 12
Mr Muhktar was reportedly placed in an induced coma and suffered burns across his head, face and body, damage to his eye and also needed a skin graft.
A Met Police spokesman said: "Both victims have suffered burn injuries described as life-changing. It is believed the victims were inside a parked car when a man approached and threw a corrosive substance through the open window."
"The car made off pursued by the suspect on foot before it collided with a fence. The suspect made off.