More than 200 potential modern slaves found working at Cornwall flower farm
Three men arrested in dawn raid as workers offered specialist support 
Lizzie Dearden
Home Affairs Correspondent
Thursday 08 February 2018 19:40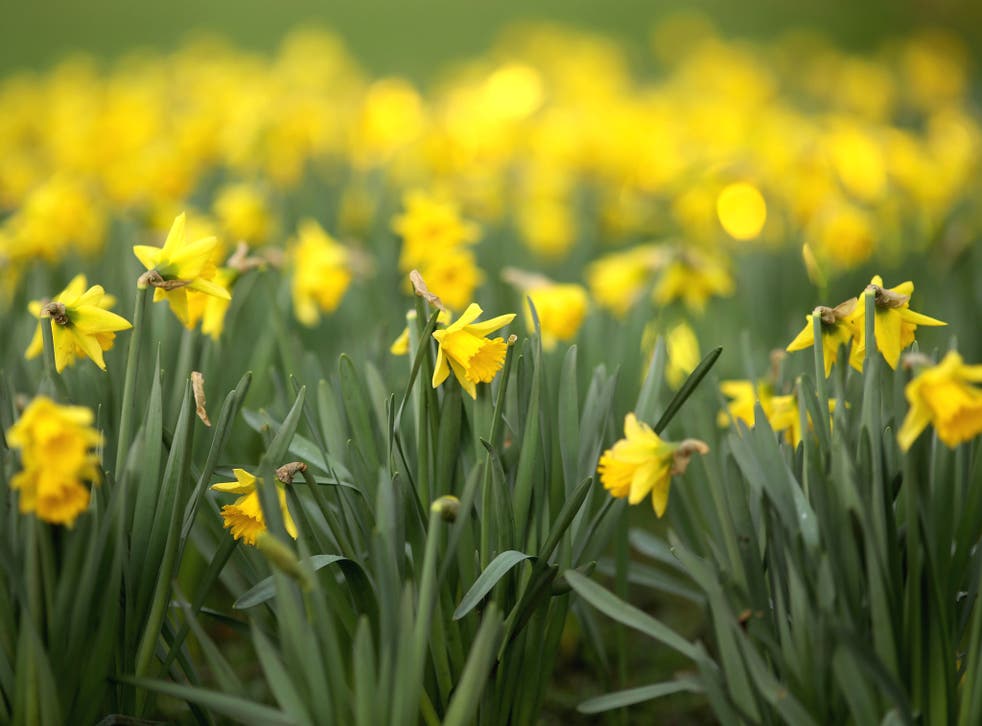 More than 200 potential modern slaves have been found working at a flower farm in Cornwall.
Police raided the property in the picturesque village of Manaccan and discovered mostly male migrants from Eastern Europe living in caravans on the site.
Two men aged 41 and 61 have been arrested on suspicion of modern slavery offences, while a third suspect was arrested on suspicion of being an unlicensed gangmaster.
They have been taken into custody as the workers undergo welfare checks by Cornwall Council, The Salvation Army and Red Cross at a specially-created reception centre.
"Those affected by this alleged crime are mostly male migrants thought to be from Lithuania, Romania and Bulgaria," a spokesperson for Devon and Cornwall Police said
Fourteen men, women and children aged between 17 and 40 have so far elected to receive support through the national referral mechanism.
The early-morning raid was supported by the Gang Masters and Labour Abuse Authority, HMRC, interpreters and specialists.
Bosahan Farm is run by a local company that specialises in bulbs, with hundreds of migrant workers understood to arrive every year for the local flower season.
The family firm is famed for its daffodils, which have been featured in the local press and at a church festival.
Kathryn Taylor, from The Salvation Army's modern slavery unit, said anyone identified as a potential victim from Thursday's operation would be supported.
"It is vital that all victims of modern slavery are given the opportunity to reflect on their experience in a safe and supportive environment, and to gain access to the assistance they so desperately need and deserve," she added.
"Once they have been identified as potential victims The Salvation Army works with survivors of this heinous crime as they begin the long journey to rebuild their lives and their trust in humanity."
Support includes counselling, interpreters, legal and immigration advice, healthcare, financial assistance and safe accommodation to help people escape the "horrendous trade in human lives".
Flower-picking is among the seasonal trades known to be at risk of modern slavery in the UK, with other labour, domestic servitude and sexual exploitation also at risk.
Modern Slavery in the UK

Show all 13
The number of victims identified by authorities rose 300 per cent in the past year to pass 1,500 in England and Wales.
Police have warned of a spike in Vietnamese victims being found working in nail bars and cannabis factories, and three members of one gang were jailed in a landmark case last month.
A separate case over the alleged trafficking of Hungarian men into Britain is underway in London.
Laszlo Egeresi, 37, and Gabor Olah, 25, are accused of holding three of their fellow countrymen in debt bondage.
They allegedly forced them to survive on as little as £5 per week and pocketing the wages they earned doing low-paid work in kitchens and hotels, while using the men's identifies to take out crippling payday loans they could not repay.
When the alleged victims tried to hold on to their pay or to escape, they were threatened with violence or physically assaulted until they returned to work, Kingston Crown Court heard on Thursday.
Egeresi denies four counts of arranging or facilitating travel of another with view to their exploitation between March 2015 and June 2017, while Olah denies two counts of the same charge.
Anyone wanting more information on modern slavery or with suspicion a crime is taking place is urged to call the dedicated national helpline on 0800 0121 700, or police on 101.
Additional reporting by PA
Register for free to continue reading
Registration is a free and easy way to support our truly independent journalism
By registering, you will also enjoy limited access to Premium articles, exclusive newsletters, commenting, and virtual events with our leading journalists
Already have an account? sign in