Man jailed for fighting with al-Qaeda in Syria after being filmed in Vice documentary
Mohammed Yamin initially denied fighting in Syria but footage proved he was masked British militant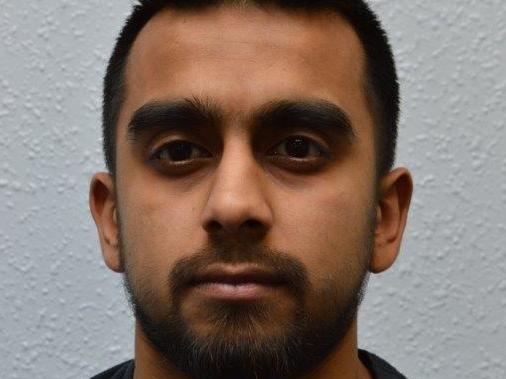 A man has been jailed for fighting with jihadis in Syria after being filmed in a documentary.
Mohammed Yamin, now 25, initially denied joining al-Qaeda but investigators matched voice recordings made by police to previous recordings of a masked British militant caught on camera in 2013.
Wearing a khaki balaclava, he appeared in a Vice documentary alongside fighters in Isis and Jabhat al-Nusra, which were both al-Qaeda factions at the time.
Yamin was shown posing with an assault rifle in front of the black flag adopted by Isis, and threatening terror attacks in the UK.
He urged British people to "remove your government" and made reference to the murder of Lee Rigby, adding: "You will take the blame for the crimes committed worldwide by Britain itself. So we have to fight, it's part of our obligation to protect our honour, protect our women."
A court heard that Yamin went to Syria in July 2013 as a 20-year-old student and fought for a year before returning to the UK.
Security services knew him as an associate of Jafar Turay, a Muslim convert and former London rapper who travelled to the warzone after fleeing Britain while being investigated over a stabbing.
Yamin, who had previously been studying civil engineering, was arrested after landing at Heathrow Airport in 2014.
The Metropolitan Police said officers initially believed he provided clothing and equipment to terrorist fighters in Syria but "Yamin denied this, and in the absence of any evidence to the contrary, he was released with no further action".
The court heard he had become "disillusioned" with al-Qaeda and returned to City University London to complete his degree.
In 2015, the Vice news documentary was brought to the attention of police but they were not able to identify the two masked British fighters who spoke.
Then in 2017, officers were alerted to a man acting suspiciously by the Women at War memorial in Whitehall.
He was spoken to by police who recorded the interaction on body-worn cameras, but not arrested, and the incident was flagged to counter-terror officers for further inquiries.
"As a result of the further enquiries, the officers identified that Yamin may have been one of the men in the Vice news video," a spokesperson for the Metropolitan Police said.
"It was compared to body-worn video footage taken when police spoke to Yamin in Whitehall, and further enquiries with experts in facial and voice analysis confirmed that the man in the Vice news video was likely to be Yamin."
Timeline of the Isis caliphate
Show all 19
He was arrested in January and charged with terror offences for joining al-Qaeda in Syria between July 2013 and June 2014.
Yamin, of Southwold Road in Hackney, admitted preparation of terrorist acts and membership of a proscribed group at London's Old Bailey in July.
He denied possessing a gun for terrorist purposes and the charge was left to lie on file.
On Friday, he was sentenced to 10-and-a-half years in prison.
Judge Mark Dennis QC said: "The video recording demonstrates that as of that date the defendant, then aged 20, had deeply entrenched terrorist views."
Hussein Zahir QC, for the defence, told the court Yamin's viability as a "combatant" was limited by the fact he was deaf in one ear, blind in one eye and asthmatic.
He said he had "completely rejected" his previous mindsetand was "deeply remorseful for what he has done".
"This is a defendant who appreciates that he will be confronting a significant period of custody but this is also a defendant with the opportunity to pick up the pieces of his life."
In a letter to the court, Yamin claimed he turned away from al-Qaeda as jihadi groups turned against each other and "things got uglier and uglier".
Judge Dennis QC accepted Yamin had changed his lifestyle and described him as intelligent and articulate, but misguided.
He told the defendant: "However much you may now regret your actions it was at the end of the day your own decision freely made that led you to offend in the way you did."
Only one in 10 jihadis returning from Syria have been prosecuted, it was revealed earlier this year.
Ben Wallace, the former security minister, said around 40 people had been successfully prosecuted by the end of February, "either because of direct action they have carried out in Syria or, subsequent to coming back, linked to that foreign fighting".
But more than 400 people "of national security concern" are believed to have returned from conflicts in Syria and Iraq.
The British government has been increasing its use of controversial citizenship deprivation powers in an attempt to prevent living jihadis travelling back to the UK.
Several British Isis members have been captured by Kurdish groups in Syria, but security concerns are mounting amid a Turkish assault on the region where they are being held.
Additonal reporting by PA