Murdered Linzi Ashton told police main suspect Michael Cope raped her two months ago
Mother-of-two was found beaten and strangled inside her own home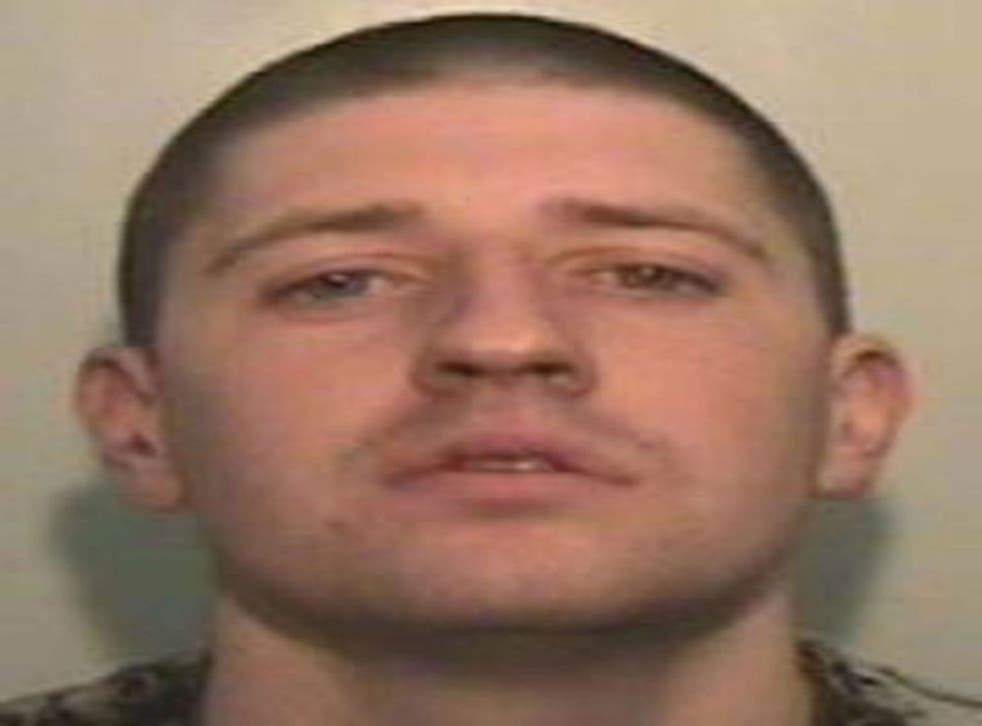 Detectives hunting for the violent ex-boyfriend of a young mother found beaten and strangled inside her own home have confirmed that the victim had told them two months ago that he had raped her.
As police in Manchester launched a huge manhunt, senior officers said that Michael Cope, 28, had evaded "numerous" attempts to arrest him since Linzi Ashton reported the first of two violent attacks allegedly by her former partner at the end of April.
Miss Ashton, 25, a mother of two young children, was found dead at her home in Salford on Saturday afternoon with serious head injuries after a "sustained and vicious" attack, according to police.
She had been spotted out in public on the previous night until 2am after an attempted reconciliation with Mr Cope, the chief suspect for the murder, who has a history of violence and has served time in jail.
The police watchdog was called in yesterday as questions were asked about the level of protection given to Miss Ashton who reported that her former boyfriend raped her at the end of April, and then attacked her again in mid-May. Police said yesterday they last spoke with Miss Ashton five days ago when she sought to withdraw the allegations against Mr Cope.
The killing comes just a week after the force re-launched a high-profile domestic violence campaign to persuade women to come forward if they had fears of attack from their partners.
Assistant Chief Constable Terry Sweeney, said: "I am not going to go into great detail about these offences or our involvement, suffice it to say Michael Cope was wanted in connection with these matters and numerous attempts were made to arrest him.
"Clearly he is now also wanted for murder meaning our involvement in relation to these earlier matters will rightly come under enhanced scrutiny and that is why we have made the referral to the IPCC (Independent Police Complaints Commission) and why we are also reviewing these matters ourselves."
Mr Cope had a brief and acrimonious relationship with Miss Ashton, a barmaid. Police said that her report of rape and the second alleged attack were taken seriously but he was never arrested.
Police yesterday drafted extra officers into the area of Salford, Greater Manchester, and offered a £5,000 reward. They warned that anyone harbouring Mr Cope would be prosecuted. He has not been seen since the killing.
Superintendent Kevin Mulligan said: "He does have a history of violent and aggressive behaviour and he does represent a risk to the community."
Miss Ashton's body was found by a relative at the house at 6pm on Saturday. Her two daughters, Daisy, two, and Destiny, seven, were not there at the time. She had separated from the father of her children, Liam Grime, but they had remained on friendly terms, according to reports.
In a statement, the dead woman's family said: "She was the most beautiful, generous, caring person anyone could ever wish to meet. She would never harm anyone and was always there for her children and family. When she walked into a room it would light up with her energy and love."
Greater Manchester Police is one of four forces trialling 'Clare's Law', which allows women to ask police to investigate the backgrounds of their new partners. The scheme was introduced following a campaign by the family of Clare Wood, who was murdered by her former partner George Appleton in 2009, who had lied to about previous convictions of harassment.
An independent report into the case had criticised Greater Manchester Police for "individual and systemic" failures during its inquiry into the murder. The force was seeking to persuade more women to come forward to use the scheme after an earlier take-up of the project.
The introduction of Clare's Law was criticised by some campaigners saying that police needed to respond better to initial reports of domestic violence, rather than devote resources to an expensive, bureaucratic system that they said does little to remove women from abusive relationships.
Sandra Horley, chief executive of Refuge, said: "It isn't the disclosure, but the robust police response in the first place that's going to keep women safe. We need to be investigating, arresting and charging vigorously in cases of domestic abuse."
The charity has called for a public inquiry into the wider failings of the police response into cases of domestic violence.
Register for free to continue reading
Registration is a free and easy way to support our truly independent journalism
By registering, you will also enjoy limited access to Premium articles, exclusive newsletters, commenting, and virtual events with our leading journalists
Already have an account? sign in
Register for free to continue reading
Registration is a free and easy way to support our truly independent journalism
By registering, you will also enjoy limited access to Premium articles, exclusive newsletters, commenting, and virtual events with our leading journalists
Already have an account? sign in