Muslim schoolgirls filmed by man in 'disturbing' racist video being investigated by police
Man cites Nazi doctor as he calls for children to be sterilised 'so they can't multiply'
Lizzie Dearden
Home Affairs Correspondent
Monday 28 January 2019 15:33 GMT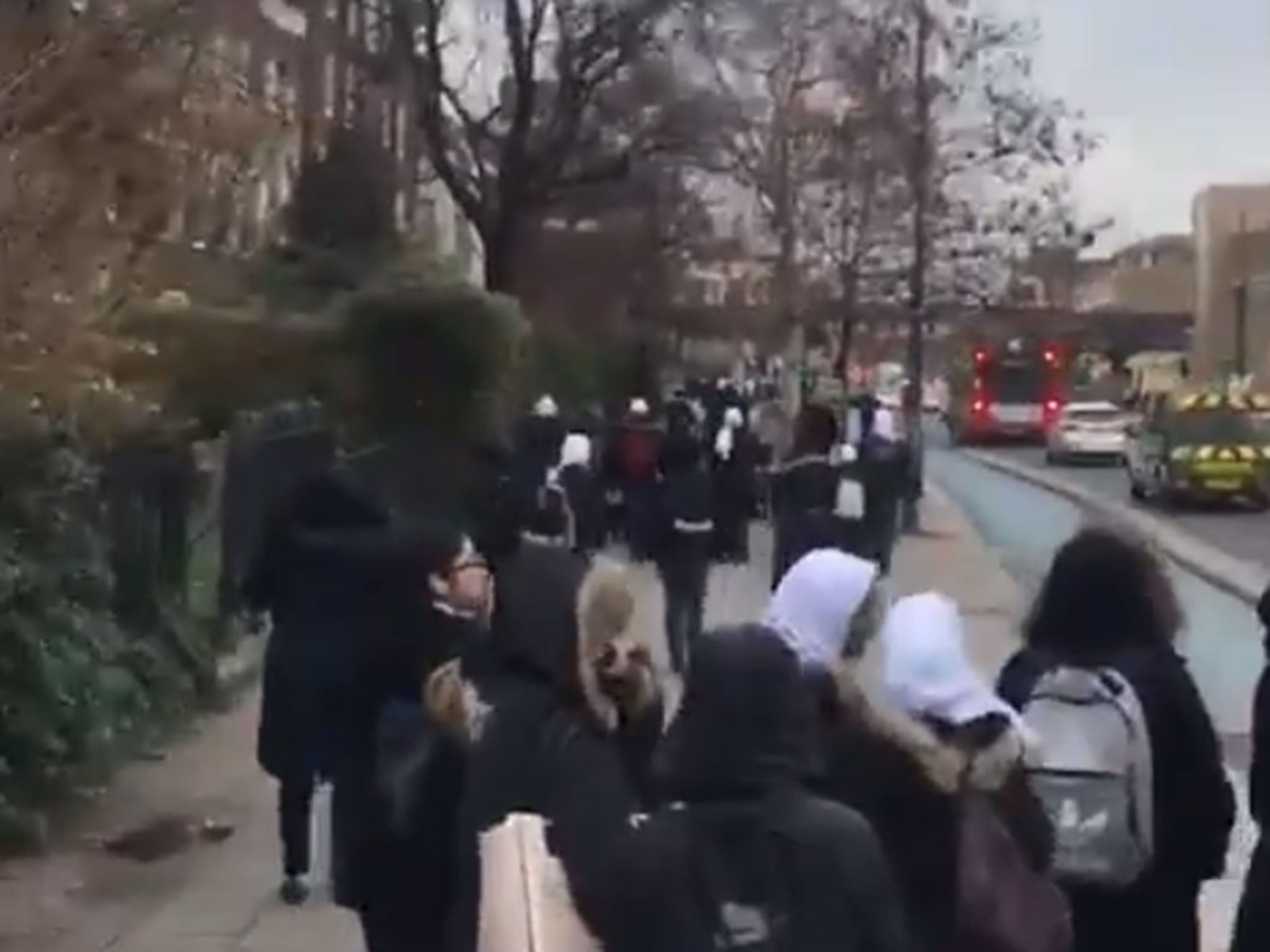 Police are investigating a "disturbing" video that shows a man following Muslim schoolgirls and calling for them to be sterilised.
Footage circulating on social media shows the man filming as he gets off a bus in Bow, east London, while pupils including girls wearing headscarves leave a nearby school.
As he starts walking down the road amid groups of girls he is heard calling them "black c***s" who are going to "breed like f***ing rats".
"This was England," he says, while filming the girls. "We're going to be f***ed with this lot. I think what we might have to do is think of something like old doctor Mengele […] so the c**ts can't f***ing multiply."
The man was apparently referring to Josef Mengele, a SS officer and physician in Auschwitz who performed deadly human experiments on prisoners and selected victims to send to the gas chambers.
Mengele tested tortuous methods of sterilisation on Jewish women, involving surgery, x-rays and chemicals.
Islamophobia monitoring group Tell Mama called the video "very disturbing", while viewers expressed shock and disgust on social media.
The pupils were from the Central Foundation Girls' School, a state comprehensive for 11 to 18-year-olds.
John Biggs, the mayor of Tower Hamlets, and local councillor Asma Begum said the school had been offered support.
Religious hate crime rises 40% in England and Wales - with more than half directed at Muslims
A joint statement added: "We condemn the use of this inflammatory rhetoric. Tower Hamlets is home to people from all over the world and we are proud of our history, which has been enriched by migration.
"We will always challenge negativity like this and stand up for all our community."
A spokesperson for the Metropolitan Police said police were investigating the origin of the video.
"On Friday, 25 January, police received reports of racist and abusive video footage posted online," he added.
"The footage is believed to have been captured in Tower Hamlets and shows schoolgirls, some of whom are wearing hijab head coverings.
"A male voice can be heard on the clip providing abusive and offensive commentary.
Brexit racism and the fightback
Show all 9
"The children appeared unaware of the filming and no allegations have been made to police. Enquiries continue."
It comes after religiously motivated hate crime rocketed by 40 per cent in a year across England and Wales.
More than half of recorded offences in 2017-18 targeted Muslims, with monitors warning that anti-Muslim bigotry was becoming mainstream.
The head of UK counterterror policing has warned that religious hate crime is a "proxy measure" for the increasing terror threat from the extreme right-wing, and research shows rising belief in Islamophobic myths.
Anyone with information is asked to call Tower Hamlets CID on 101, contact the safeguarding team direct on 0207 275 4766, or call Crimestoppers anonymously on 0800 555 111