Woman charged with homophobic hate crime after Pride marchers verbally abused in London
Marchers allegedly verbally abused by woman who shouted 'shame on you' and called them 'despicable'
Lizzie Dearden
Home Affairs Correspondent
Monday 09 September 2019 18:51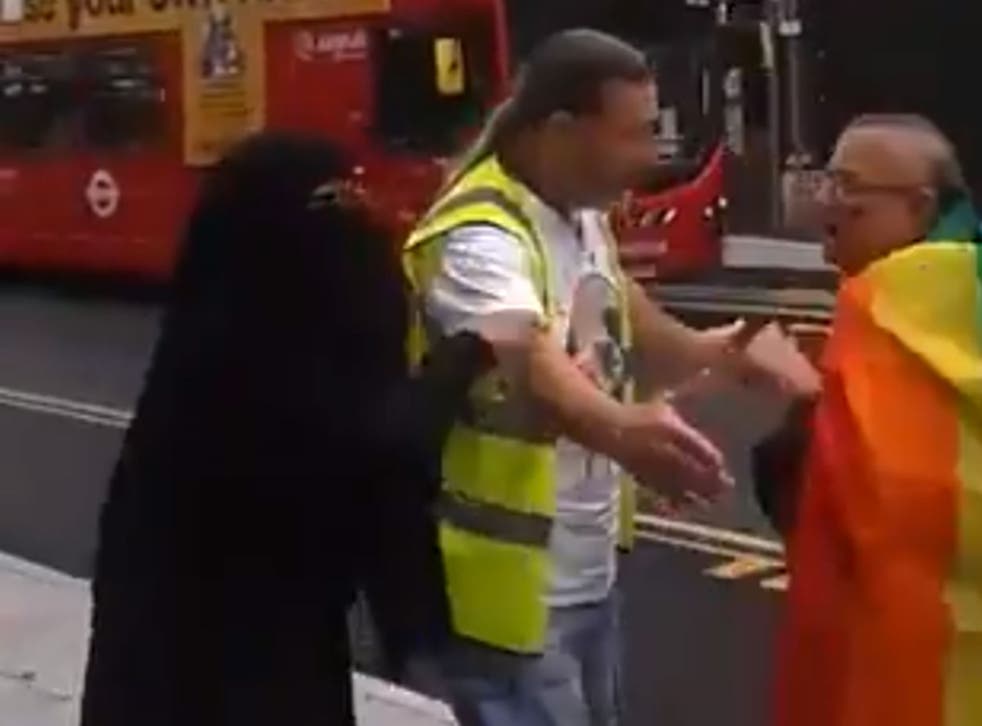 A woman has been charged with committing a homophobic hate crime after Pride marchers were verbally abused in London.
Jamila Choudhury is accused of a public order offence during the Waltham Forest Pride event on 27 July.
The 38-year-old, from Walthamstow, has been released on bail and is due to appear at Thames Magistrates' Court on 3 October.
Footage widely shared on social media showed a woman wearing a black niqab shouting at a marcher draped in a rainbow LGBT+ flag.
"Shame on you," the woman could be heard shouting. "God created Adam and Eve, not Adam and Steve."
London Pride 2019: Best pictures by The Independent

Show all 60
The woman called the marchers "despicable" and "shameless people" as they passed down the road.
The story of Adam and Eve features in both Christian and Islamic faiths.
The incident came amid mounting concern about hate crimes against the LGBT+ community, following a violent attack on a lesbian couple on a London bus and protests by mainly Muslim campaigners against sex and relationship education in primary schools.
In 2017-18, recorded hate crimes motivated by sexual orientation rose by 27 per cent to 11,638 offences in England and Wales, while offences against transgender people rose by a third to 1,651.
Religiously-motivated hate crimes – mostly directed at Muslims – rose by 40 per cent to 8,336 and racist incidents by 14 per cent to more than 71,000. Disability hate crimes rose by 30 per cent to 7,226.
Register for free to continue reading
Registration is a free and easy way to support our truly independent journalism
By registering, you will also enjoy limited access to Premium articles, exclusive newsletters, commenting, and virtual events with our leading journalists
Already have an account? sign in