'My people refuse to talk about honour killings'
Jagdeesh Singh's sister was murdered by her in-laws for daring to seek a divorce. But, he tells Jerome Taylor, it is a crime his community would prefer to ignore
Saturday 19 December 2009 01:00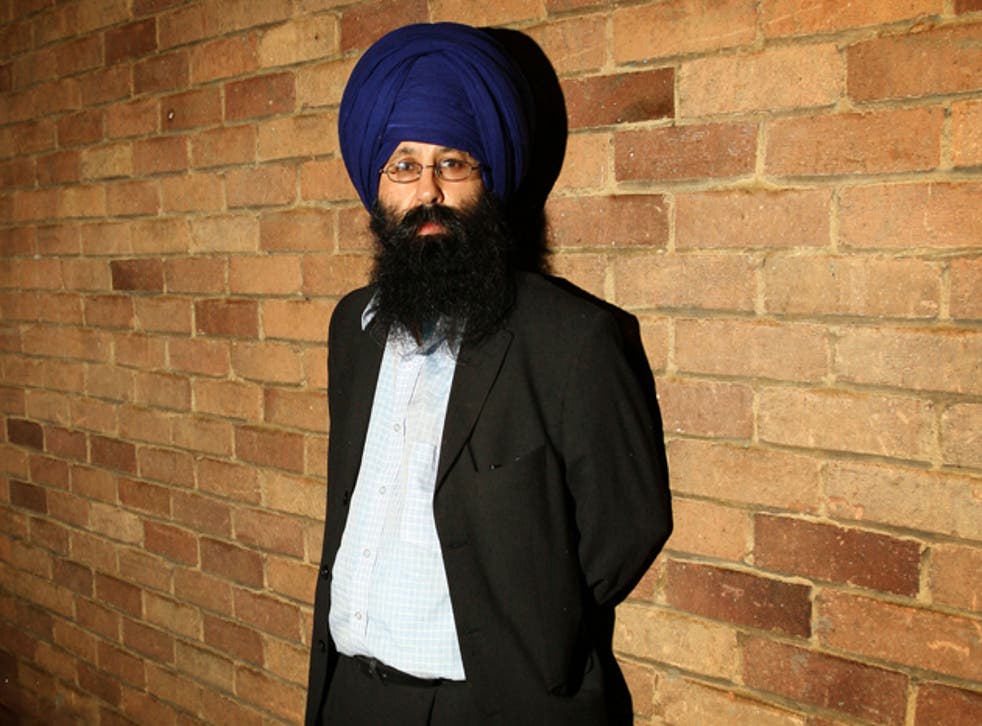 Jagdeesh Singh wants to get straight to the point. "There is this very distinctive and self-incriminating silence within communities that have a history of 'honour' killings," he says. "The so-called community leaders, the influential religious groups and the local language newspapers remain deafeningly silent when these killings happen. But that silence makes them just as guilty as the people who kill in the name of honour."
Talk like this has made Mr Singh a deeply controversial character within the suburbs of west London where he and many of Britain's 400,000-plus Sikhs have made their homes.
Many younger people regard him as a devout and tireless Sikh who is unafraid of speaking out against the more parochial traditions of Punjabi culture that they often find themselves struggling against. Others, particularly the more conservative and older elements, look on the 39-year-old as a troublemaker who needlessly provokes controversy by shining an unwelcome spotlight on things that should not be aired in public.
But when his sister, Surjit Athwal, was murdered by her in-laws more than a decade ago for daring to seek a divorce to escape a violent and unhappy marriage, Mr Singh felt compelled to speak out. And he has been speaking out ever since. "The communities that suffer from 'honour' killings don't want to be drawn into a debate about a type of murder they would far rather ignore," he says. "But they need to start having that debate; because we're not going to win this fight without them."
Several high-profile trials have begun to reveal how the perceived need to protect a family's honour will lead some people to murder those they are supposed to love and protect. Such killings have dogged numerous communities of many different faiths, although most known "honour" murders within the UK in recent years were primarily in British Punjabi, Pakistani, Bangladeshi and Kurdish families.
This week, Mehmet Goren, 49, a violent, part-time chip-shop worker from Essex who ruled his Kurdish family with a rod of iron, was jailed for life with a minimum of 22 years for murdering his 15-year-old daughter after she fell in love with a man twice her age who belonged to a different Islamic sect.
Tulay Goren's life ended 10 years ago because her father believed her affair had brought shame to her family, shame which could be expunged only with her death, or by her boyfriend paying her father £5,000, because Goren thought his daughter now a "worthless commodity", and could not then marry her off for a dowry. Tulay's body, like Surjit's, has never been found.
Jagdeesh Singh had been watching Goren's trial closely because his sister's murder bore so many similarities to Tulay's. Eleven years ago, on 15 December 1998, Surjit Athwal disappeared during a holiday in the Indian Punjab with her in-laws. The 27-year-old customs officer at Heathrow had been desperately unhappy in her 10-year marriage to her husband Sukdave and had found love in the arms of another man.
After years of abuse, she finally plucked up enough courage to seek a divorce but was persuaded by her domineering mother-in-law Bachan to travel to the Punjab for a family wedding in what she thought would be a final act of reconciliation. Instead, she was lured to her death. It took Jagdeesh Singh years to persuade the police to investigate his sister's disappearance properly, and many more years of painstaking detective work to encourage one of the Athwal family members to testify. Finally, nine years after Surjit disappeared, Sukdave and Bachan Athwal were found guilty of ordering her death at a family council meeting.
For Mr Singh, the guilty verdicts were a moment of intense personal victory, although the man thought to have physically strangled Surjit, he says, still lives openly in the Indian Punjab with little hindrance from the local police.
"Successful prosecutions are so important because guilty verdicts drive home a powerful message to anyone thinking about committing an 'honour' killing," says Mr Singh. "The Tulay case, like Surjit's, was a carefully concealed killing, driven by this manic sensation of honour, a concept so brittle and fragile that male and female members of a family can be driven to murder to defend any perceived stain of dishonour."
Campaigners are slowly beginning to admit that the police are getting a handle on "honour" killings, even if local authorities and MPs, they say, still remain wary, fearing loss of support among influential community elders.
Officers are being taught to spot telltale signs. Instead of dismissing terrified calls for help from women as hysterical paranoia – as was often the case – accusations of "honour" violence are now prioritised on a par with race hatred. But many believe there is still one vital element missing in the fight against "honour" killings. "The vast majority of people in my community abhor 'honour' killings but that doesn't mean they are willing to speak out against it," says Mr Singh. When his sister disappeared, the local gurudwaras (Sikh temples) refused to allow the police to put up missing posters or make appeals to their congregations calling for anyone with information to come forward.
Jasvinder Sanghera, whose Derby-based charity Karma Nirvana had been campaigning about "honour" killings long before the outside world began to take notice, has frequently complained that schools within majority Asian communities have been reluctant to put up posters encouraging children seek help if they fear they may be at risk of a forced marriage or "honour" violence.
Successful prosecutions will slowly encourage people to come forward, says Diana Nammi of the Iranian and Kurdish Women's Rights Organisation (IKWRO). "The Tulay verdict is so important because five or six years ago it was virtually impossible to tell us when someone was at risk of an 'honour' killing," she says. "But when they see murderers brought to justice the local community will stop viewing them as heroes and start seeing them for what they are, criminals."
Mr Singh agrees. "We need to start seeing a rapid chipping – through successful trials – at that very obstinate power structure which oppresses women and young people. But we also need to look inside our own communities. It is incumbent upon us as individuals, families and groups to raise our voices over this. If we don't, then we are just as guilty as the perpetrators."
Murder in the name of 'honour'
*Heshu Yones was the victim of one of the first "honour" killings, to make national headlines was murdered by her father, Abdullah, in 2002. The 16-year-old from a strict Kurdish community had fallen in love with a Christian boy. A judge later outraged campaigners by reducing Abdullah Yones's sentence from 20 to 14 years because, he said, the murder was committed amid "irreconcilable cultural differences". Such a stance would be inconceivable now, because courts tend to come down on "honour" killings with extra severity.
*The killing of Banaz Mahmod in January 2006 shone a much-needed spotlight on the dire need to train police in how to spot potential "honour" crimes. Ms Mahmod, a 20-year-old Kurdish woman from south London, went to the police three times, saying her father was intending to kill her because she had fallen in love. Officers turned her away each time. Her father and uncle were later convicted of her murder.
*Other families have never had justice. In 2001, Nuziat Khan was found strangled to death in her home in south London. Her husband, Iqbal Zafar, fled the country before her body was found and remains on the Metropolitan Police's most-wanted list. He is thought to be living in Pakistan. Campaigners have expressed concern that people who kill in the name of honour can often evade justice either by committing the murders abroad or fleeing there for community protection after such a killing.
Register for free to continue reading
Registration is a free and easy way to support our truly independent journalism
By registering, you will also enjoy limited access to Premium articles, exclusive newsletters, commenting, and virtual events with our leading journalists
Already have an account? sign in