Man murders care worker wife after claiming looking after men 'is not halal'
Nasreen Khan was stabbed to death at her home in greater Manchester by her 'controlling', 'selfish', and 'merciless' husband Imran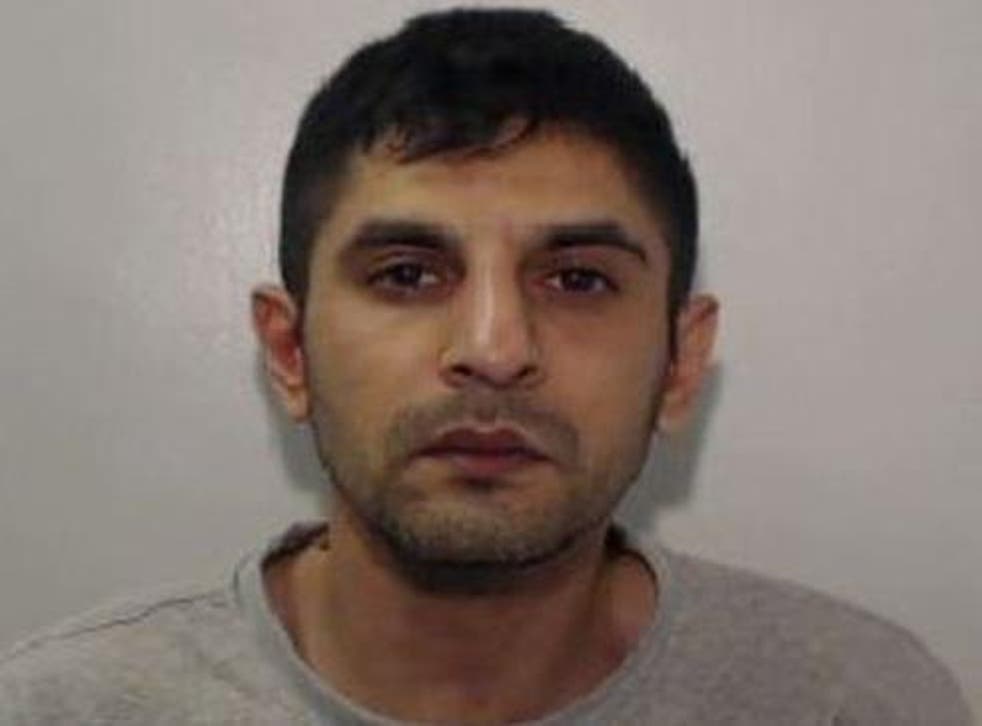 A court has jailed a man for life after he murdered his wife when she refused to stop looking after men in her job as a care worker.
Judge Patrick Field QC told Imran Khan, from greater Manchester, he was a "selfish and controlling man" who held "medieval" attitudes towards women.
The 38-year-old, who described himself as a devout Muslim, sent his wife, Nasreen Khan, also 38, a barrage of text messages that claimed she was disobeying Islam.
He told her: "If you go to men's houses and lie to me I get angry. If you play games I get angry."
Later the same day he stabbed Ms Khan, a mother of three, to death with a kitchen knife while five children were in the house.
Mr Field described the killing on 18 April at the family's home in Cheadle Hulme, Stockport, as a "merciless attack".
He told Khan: "Behind the traditional line taken in your texts, appeared to lurk an element of jealousy of your wife's independence of mind and a resentment of her defiance of your orders.
"She was a devoted mother. She worked hard to support her family and she was good at that job.
"Unless anyone should think there was a cultural clash, let it be said the evidence shows your parents and sister were entirely supportive of Nasreen's choice."
Khan's lawyer claimed his client was "genuinely remorseful". But the court also heard he made a flippant comment to police after the attack: "Never get an arranged marriage bro."
The couple were introduced by relatives in 1999, after Imran's family travelled to Pakistan to arrange his marriage. The relationship was reportedly volatile, with the couple repeatedly separating and then getting back together.
The court heard Khan spent family money on himself and complained his wife would pretend to be asleep to avoid having sex with him.
In December 2015, Ms Khan accepted a job with Homecare Services looking after vulnerable men and women. She told relatives she wanted to "gain experience and independence, and help support her family."
But Khan — who the judge noted did little to provide for the family — sent her vitriolic text messages claiming: "Allah would not approve... It's not halal for you to work with men. I don't give permission. I told you no men when you started."
He continued: "If she can't get you a rota with no men then leave the job, I don't give you permission for that, so listen to what I'm telling you, you are my wife, let me remind you you are married.
"If you go another man's house again then you are doing Haram. Don't ignore this again and again It's Haram what you're doing."
On the day she was murdered, Ms Khan spoke to her boss about her husband's behaviour and told colleagues she intended to confront him.
The court heard Ms Khan told her husband she wanted him to leave, to which he responded: "I've got nothing to lose now have I?"
He then phoned his father and told him: "I've got no choice. I'm going to kill her and kill myself."
The court was told the five children in the house at the time heard Ms Khan's screams as her husband repeatedly stabbed her in the kitchen. Khan then phoned his father again, saying "I did it" before hanging up.
He discarded the knife on the driveway of their house before driving off.
Ms Khan died later in hospital.
Khan admitted murder at Manchester Crown Court and will serve a minimum 20 year prison sentence.
Feminist protests demand end to violence against women in Brazil after gang rape of teenage girl

Show all 10
The Senior Investigating Officer, Duncan Thorpe, from Greater Manchester Police said: "This is a tragic incident which has left a mother dead and three children without parents. My heart goes out to them; they are the ones who have lost out most here.
1.4 million women in the UK experienced domestic violence last year and two women are killed every week on average in England and Wales by a current or former partner.
The chief executive of domestic violence charity Refuge, Sandra Horley CBE, said: "Abusive men frequently deny their abuse outright, suggesting that the women are making it up or that they are crazy. Even if an abuser admits to his behaviour he will make excuses. 'It wasn't my fault – I was drunk' or 'You know I didn't mean it - I'd just had a bad day at work and I took it out on her' are typical. An abuser might blame alcohol, a sudden loss of temper, jealousy, the fact that he is unemployed, miserable at work or worried about money – anything and everyone but himself. Religion is just another excuse."
She added that anyone experiencing domestic violence was "not alone" and should contact Refuge for information and support.
Register for free to continue reading
Registration is a free and easy way to support our truly independent journalism
By registering, you will also enjoy limited access to Premium articles, exclusive newsletters, commenting, and virtual events with our leading journalists
Already have an account? sign in