'Neo-Nazis' accused of spreading racist National Action stickers around Birmingham university and performing Hitler salute
'When you are faced with something that says White Zone and the image of somebody with a raised right arm, stickers with swastikas, we say how can that not be threatening, abusive or at very least insulting?'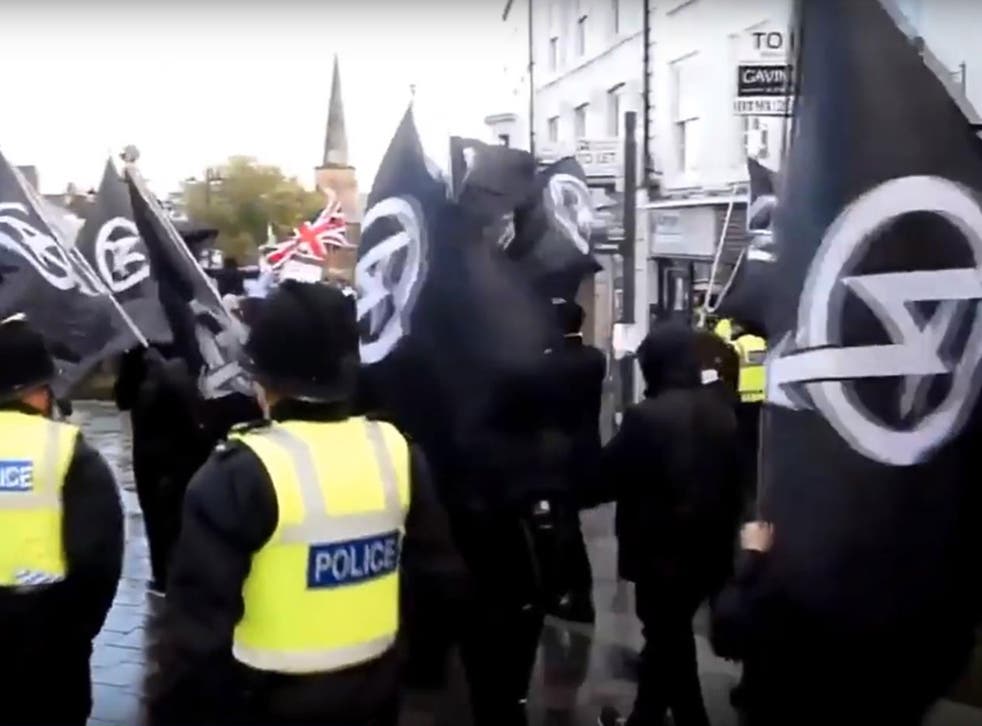 Five men who are alleged to have performed Nazi salutes as they posted racist stickers around a university campus, have been accused of attempting to stir up racial hatred.
Prosecutors told Birmingham Crown Court that the stickers, with slogans including "Britain is ours - the rest must go", were recruitment tools for the banned far-right terrorist group National Action.
One of the stickers posted around Birmingham's Aston University in July 2016 showed a white figure giving a Nazi-type salute and carried the words: "White Zone - National Action".
Afterwards the group went to the pub where one member allegedly bragged that their activities offended "butt-hurt students, sub-humans, and traitors".
A day after the stickers appeared, a post on a Twitter account run by National Action's regional arm which read: "The fashy goys [sic] of National Action have hit Aston University campus".
A photo showed members with National Action's flag. Two of them gave Nazi-type salutes as they posed in front of the university.
All five men have been charged with displaying threatening, abusive or insulting written material with the intent to stir up racial hatred over the campaign.
All are said to have been members of National Action at the time.
The stickers appeared six months before it became the first far-right group to be banned as a terrorist group in December 2016.
Home Affairs Committee question Google over failure to remove National Action content
Other members prosecuted since that date have been charged with membership of a terrorist organisation, which is punishable with up to 10 years imprisonment.
Chad Williams-Allen, 26, and 27-year-old Dean Lloyd, both from West Bromwich, and Garry Jack, 22, from Birmingham deny stirring up racial hatred.
They appeared in court alongside two men aged 23 and 26 who both deny the same charge and cannot be named for legal reasons.
Opening the prosecution's case, barrister Kelly Brocklehurst said: "When you are faced with something that says White Zone and the image of somebody with a raised right arm, stickers with swastikas, we say how can that not be threatening, abusive or at very least insulting?
"That is exactly the aim, or one of the aims, of what these defendants were seeking to achieve."
He told jurors they would see evidence of an email from one of the accused, described as an "organiser", to another senior group member celebrating the stickering incident.
Mr Brocklehurst said the email showed "a clear indication that it would provide a reaction, a reaction the Crown say is in response to something threatening, abusive and insulting".
He added: "There's likely no dispute about what they did, the dispute is likely about why they did it.
UK news in pictures

Show all 50
"But we say you can be and will be sure they intended racial hatred, and if not they were well aware of what those stickers were capable of achieving."
Members of the jury were shown a chat on the encrypted messaging app Telegram in March 2016 in which Mr Williams-Allen allegedly sent an image of a National Action sticker, writing: "Been taking the long route home through paki land and slapping these everywhere."
In other messages, the 26-year-old railed against multi-culturalism, Jewish people and used racial slurs. "Back in brum - disgusting n*****s and P**** everywhere," another read.
Jurors were shown university CCTV allegedly showing the men on campus, before university staff were alerted to stickers placed on official signs and removed them.
The 23-year-old defendant was described in court as a "key influencer and organiser" of National Action.
Prosecutors told the court that Williams-Allen, a welder, was "relatively new" to the extremist group, while Lloyd and Jack were new recruits.
The fifth member, 26, had images on electronic devices seized by police that stated "Hitler was right" and "bring back apartheid".
The trial, which is expected to last up to three weeks, continues.
Additional reporting by PA
Register for free to continue reading
Registration is a free and easy way to support our truly independent journalism
By registering, you will also enjoy limited access to Premium articles, exclusive newsletters, commenting, and virtual events with our leading journalists
Already have an account? sign in
Register for free to continue reading
Registration is a free and easy way to support our truly independent journalism
By registering, you will also enjoy limited access to Premium articles, exclusive newsletters, commenting, and virtual events with our leading journalists
Already have an account? sign in