National Action: Alleged neo-nazi group member had 'get banged' image of murdered MP Jo Cox
Group used killer's phrase on website, court hears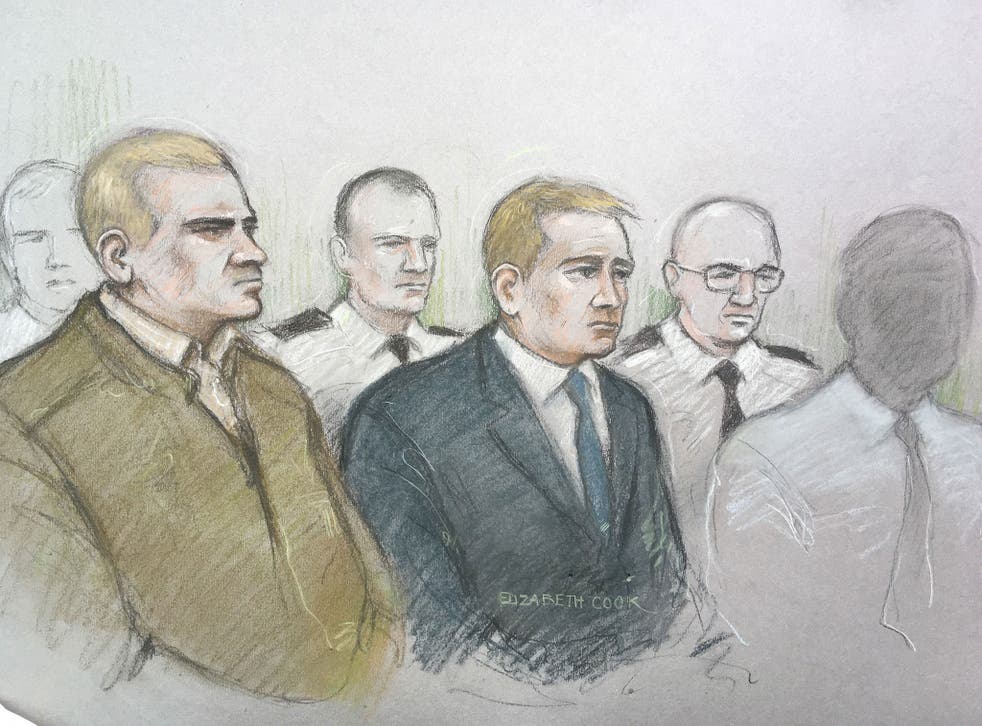 An alleged member of banned neo-Nazi group National Action had an image of murdered MP Jo Cox captioned "Chat s**t. Get banged", a court heard.
Jurors also heard from an expert during the trial of three men, including two serving British soldiers, that the proscribed group adopted the words of her killer as their slogan.
Thomas Mair murdered the Labour MP for Batley and Spen on June 16 2016, and during his court appearance shouted "Death to traitors, freedom for Britain".
At Birmingham Crown Court, where three men deny being members of the banned far right group, jurors heard National Action had used his words in its online literature.
Prosecution expert Prof Matthew Feldman, co-director of the Centre for Fascist, Anti-fascist and Post-fascist Studies at Teesside University, said the group used the slogan on its "Google banners" and website.
He added there was no suggestion Mair was ever connected to National Action.
Prof Feldman said: "The influence went the other way. He (Mair) was arraigned and said 'death to traitors, freedom for Britain' and it was a statement placed on the (group's) Google banners for the search engine Google.
"If you put in National Action, that phrase would come up immediately and was the banner of the nationalaction.info website."
Prosecuting QC Duncan Atkinson asked: "Beyond adopting the words of Thomas Mair as its Google banner, did National Action - through Twitter - express support?"
Prof Feldman replied: "I've seen a number of statements that would see Thomas Mair as somebody at the vanguard or forefront of the fight against people seen as so-called race traitors."
He added that support for Mair's actions from "individuals" of the group had in part led to the decision of Home Secretary Amber Rudd to ban National Action outright in December 2016.
Lance Corporal Mikko Vehvilainen, 33, of Powys, and fellow Royal Anglian Regiment soldier Private Mark Barrett, 25, of Dhekalia Barracks, Cyprus, deny being members of the banned group, along with a 23-year-old male, who cannot be named for legal reasons.
That male is also accused of three counts of possession of documents likely of use to terrorists, and one of distributing a terrorism handbook.
LCpl Vehvilainen, who has admitted possession of a CS gas canister, is also accused of one count of possession of a terrorist manual - the Anders Breivik manifesto - and two charges of stirring up racial hatred with web forum posts.
Describing the group's operation, Prof Feldman said it was founded in August 2013 by Benjamin Raymond and Alex Davies and was "overtly national socialist or neo-Nazi".
He said it had practised "violent rhetoric", holding demonstrations in cities and towns including Liverpool, York and Newcastle.
UK news in pictures

Show all 50
The academic said it targeted recruits aged 15-29, and estimated that before its ban, membership had been "between 70 and 100".
Prof Feldman also drew attention to the "unmistakable" similarity between the National Action logo and that of the inter-war "brown-shirts", the infamous SA paramilitaries employed in Nazi Germany.
The jury was then shown an image of murdered MP Mrs Cox, apparently downloaded by the 23-year-old male from Facebook in 2017.
Speaking about the organisation, he said: "As far as I can tell it's a very secretive group and gave a great deal of autonomy to regional organisers to recruit into the group."
He added that since their ban, "similar" groups had emerged using National Action-type tactics and marketing, holding demonstrations "as far south as Southampton (and), as far north as into Scotland"
Press Association
Register for free to continue reading
Registration is a free and easy way to support our truly independent journalism
By registering, you will also enjoy limited access to Premium articles, exclusive newsletters, commenting, and virtual events with our leading journalists
Already have an account? sign in
Register for free to continue reading
Registration is a free and easy way to support our truly independent journalism
By registering, you will also enjoy limited access to Premium articles, exclusive newsletters, commenting, and virtual events with our leading journalists
Already have an account? sign in