National Action: Alleged neo-Nazi entered 'Miss Hitler' pageant and named herself after concentration camp, terror trial hears
Alice Cutter allegedly entered competition after her boyfriend posed inside Buchenwald's execution chambers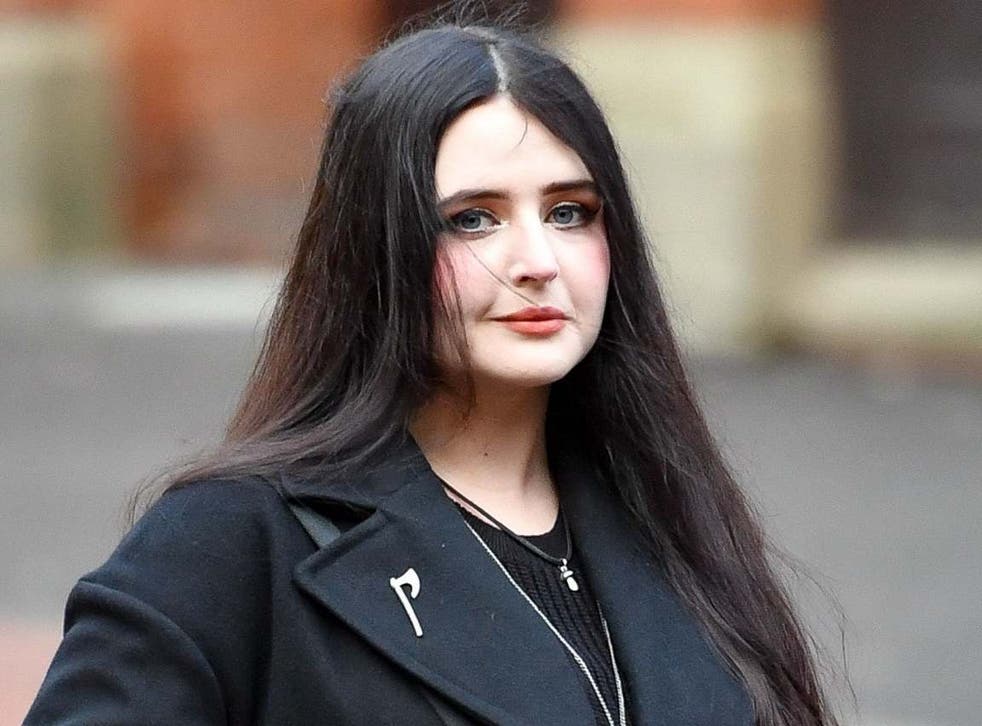 An alleged neo-Nazi entered a terrorist group's "Miss Hitler" beauty pageant and named herself after a concentration camp, a court has heard.
Alice Cutter, 23, is one of four defendants accused of remaining members of National Action after it was banned by the government.
As the case against them opened on Tuesday, Birmingham Crown Court heard Ms Cutter entered the group's "Miss Hitler 2016" competition.
"This was, no doubt a publicity stunt to raise the group's profile and attract more members," prosecutor Barnaby Jameson QC said.
"Ms Cutter entered the competition as 'Buchenwald Princess' and set out her mission statement in a detailed interview. It is anything but funny.
UK news in pictures

Show all 50
"The name 'Buchenwald Princess' was perhaps no co-incidence given that [co-defendant] Mark Jones had visited the execution room at Buchenwald the previous month and Mr Jones and Ms Cutter became an item."
Jurors were shown a copy of the mission statement in which the contestant alleged to be Ms Cutter wrote: "I've gone from hanging around with humourless libtards to meeting intelligent young people who wear all black just like me.
"On a serious note though, I've got to be much more secretive and live a double life due to how people react to nationalistic views but it's not something I'm too bothered about.
"Sacrifice is inevitable in life, so why not make the 'sacrifice' of a comfortable and ignorant life for the greater good."
Ms Cutter is also alleged to have been photographed while making a Nazi salute outside Leeds Town Hall during a National Action demonstration in May 2016.
Jurors were shown a photograph allegedly showing her boyfriend Mr Jones, 25, and another man posing with a National Action flag inside the room, which is part of a museum to the victims of Nazism.
He and Ms Cutter, both of Sowerby Bridge near Halifax, are on trial alongside Garry Jack, of Birmingham, and Connor Scothern, of Nottingham.
All four defendants deny membership of a proscribed organisation between December 2016, when National Action was banned, and September 2017.
Mr Jameson described them as a "fellowship of hate", adding: "A hate so fanatical and a fellowship so defiant that the accused would sooner break the terrorism laws than break their bonds of hate."
He said the group believed that "Hitler's work will always be unfinished", and advocated the violent ethnic cleansing of Jews, black people, Asians, gays and liberals.
National Action: Neo-Nazi terrorist couple who named baby 'Adolf' jailed
The court heard that National Action celebrated the murder of Jo Cox MP in June 2017, and one member – who is not currently on trial – constructed a pipe bomb.
Mr Jameson told the jury the defendants aimed for "all-out race war" and aimed to equip themselves with weapons and explosives.
"We are talking about a tiny, secretive group of die-hard neo-Nazis with no compunction about attaining their objectives with the use or threat of terror," he added.
"A group with a common admiration for Hitler and the architects of the Holocaust."
The prosecutor said that after National Action was banned in December 2016, the group merely "shed one skin for another" and attempted to continued its activities underground.
The trial continues.
Additional reporting by PA
Register for free to continue reading
Registration is a free and easy way to support our truly independent journalism
By registering, you will also enjoy limited access to Premium articles, exclusive newsletters, commenting, and virtual events with our leading journalists
Already have an account? sign in
Register for free to continue reading
Registration is a free and easy way to support our truly independent journalism
By registering, you will also enjoy limited access to Premium articles, exclusive newsletters, commenting, and virtual events with our leading journalists
Already have an account? sign in