'Neo-Nazi' charged with terror offences posed for photo in MAGA hat, court hears
Nicholas Brock is accused of possessing documents that would be useful to someone planning a terror attack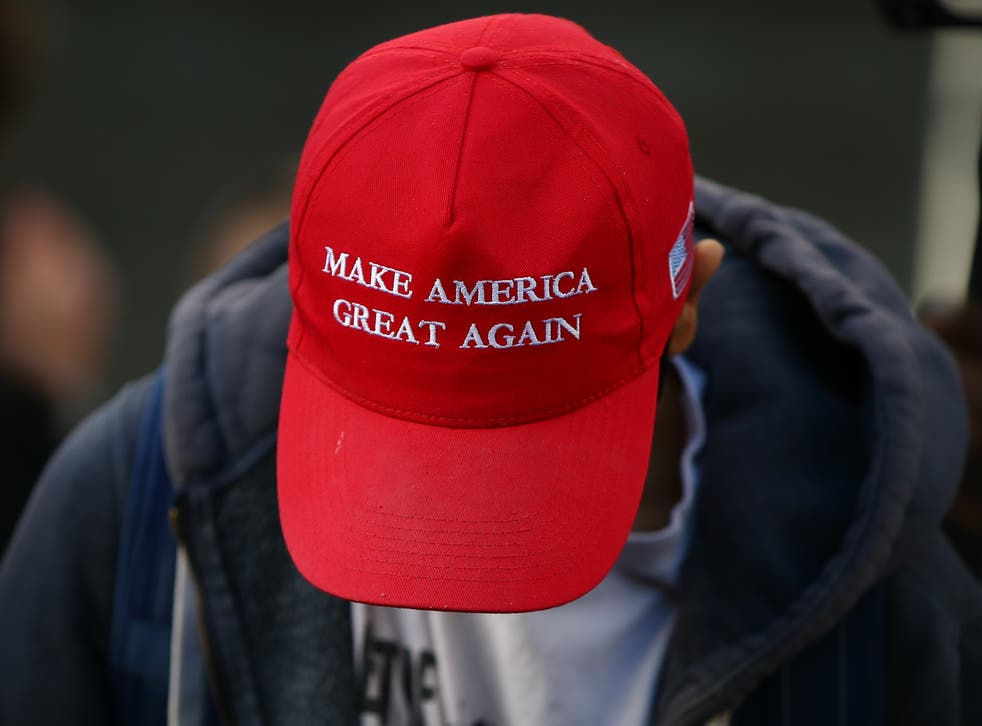 An alleged neo-Nazi accused of terror offences posed for a photo while wearing a Make America Great Again hat, a court has heard.
Nicholas Brock, 53, is charged with three counts of possessing documents that would be useful to a terrorist, which he denies.
The first day of his trial at Kingston Crown Court heard that he had an "extreme right-wing mindset" and possessed Nazi weapons, memorabilia and literature.
Mr Brock allegedly possessed a collection of Second World War knives and daggers bearing Nazi and SS insignia, and recipes for homemade bombs annotated with hand-drawn swastikas.
The jury was told that police also found a framed "certificate of recognition" from the Ku Klux Klan (KKK), in the defendant's name, under his bed.
Read more:
Prosecutor Emma Gargitter said seized electronic devices contained photos showing a man believed to be Mr Brock posing in his bedroom, while wearing a balaclava and holding "a large firearm", and posing in front of a swastika flag.
She told the court there was also "a photograph of the defendant wearing a 'Make America Great Again' cap, in front of the Confederate flag".
The slogan, often abbreviated as "MAGA", was used by Donald Trump during his successful 2016 US presidential campaign.
The former president popularised the wearing of distinctive red baseball caps emblazoned with the phrase in white letters, of the kind Mr Brock was wearing.
He was standing in front of the battle flag of the defeated Confederate States of America, which has been appropriated by white supremacist groups.
The court heard that Mr Brock, who lives with his mother in Maidenhead, has tattoos of "prominent German Nazi figures from the 1930s and 40s", an SS Totenkopf skull, runes and other symbols adopted by neo-Nazis and white supremacists.
Police found literature including a copy of Adolf Hitler's book Mein Kampf, National Front flyers in an envelope addressed to Mr Brock and books about the KKK and neo-Nazi group Combat 18.
A flag displaying an eagle and swastika were on Mr Brock's bedroom wall, and he had an SS wall plaque, Nazi propaganda poster and Nazi badge on his bedside table, the court heard.
Jurors were told that his laptop, hard drives and mobile phones contained insignia, flags and other material associated with historical and contemporary far-right groups, and videos of "extreme violence".
They included the footage taken by the 2019 Christchurch mosque shooter, beheadings and KKK cross burnings.
Searches had been made on Mr Brock's laptop for banned neo-Nazi terrorist group National Action, as well as for other extremist groups and racist terms.
"Analysis conducted across all of Mr Brock's electronic devices, and indeed a spin around his bedroom revealed that one of Mr Brock's interests was in everything Nazi," Ms Gargitter said.
"But the interest goes beyond Second World War history and Nazi memorabilia. Mr Brock is also, the prosecution say, a sympathiser with the ideas of the far right – not just the Nazi party, but also modern extreme right-wing groups which promote the use of violence to further racist aims in contemporary society.
"The presence on his hard drive of three documents likely to be of use in planning or committing a terrorist act must be viewed in that context."
Mr Brock faces three counts of possessing documents "likely to be useful to a person committing or preparing an act of terrorism" relating to material on a hard drive that was seized by police in January 2018.
The documents were The Anarchists' Cookbook version 2000, which contains bomb recipes, a document on knife-fighting techniques and a US military manual containing further instruction on fatal knife attacks.
Ms Gargitter said Mr Brock "has no legitimate reason for possessing this sort of information", and alleged that the hard-drive had been "well organised" as part of the "deliberate and careful filing of material".
"These are not 'everyday' items or collectable memorabilia, but publications which contain detailed advice on how to create explosives and explosive devices – bombs, on how to kill and how to maim," she told the jury.
"They may of course be of use to someone planning any kind of violent attack; and they would certainly be of use to someone planning a terrorist attack."
UK news in pictures

Show all 50
The court heard that after being arrested in September 2019, Mr Brock accepted that the electronic devices were his but denied downloading the three documents on the indictment.
Mr Brock said he did not have an allegiance to any political groups and was a military collector.
When asked how the three documents came to be on his devices, Mr Brock told police that two friends who would sometimes come to play Playstation games in his bedroom with him may have downloaded them while he was "out of the room making a cup of tea or a sandwich".
Mr Brock gave officers the names of the two people but not contact details, and the court heard that police could not find anyone living in the area under one of the names.
The second person mentioned, a former school friend of Mr Brock's, was traced but found to be living in a care facility and said he had only seen the defendant once since they left school.
Ms Gargitter told the jury the man said he had never visited Mr Brock's home, and had been confined to a wheelchair and almost bed-bound since 2014, as a result of a car accident and other medical problems.
Mr Brock said police had found the wrong man with the same name as his friend, but declined to give contact details for him.
Ms Gargitter accused him of trying to "send the police on a wild goose chase" and making "an absurd attempt to wriggle out of the fact that his original lie had been exposed".
The trial continues.