Teenage neo-Nazi jailed for planning terror attacks in Britain
Matthew Cronjager, 18, was attempting to procure a 3D-printed gun and planning a storage bunker for weapons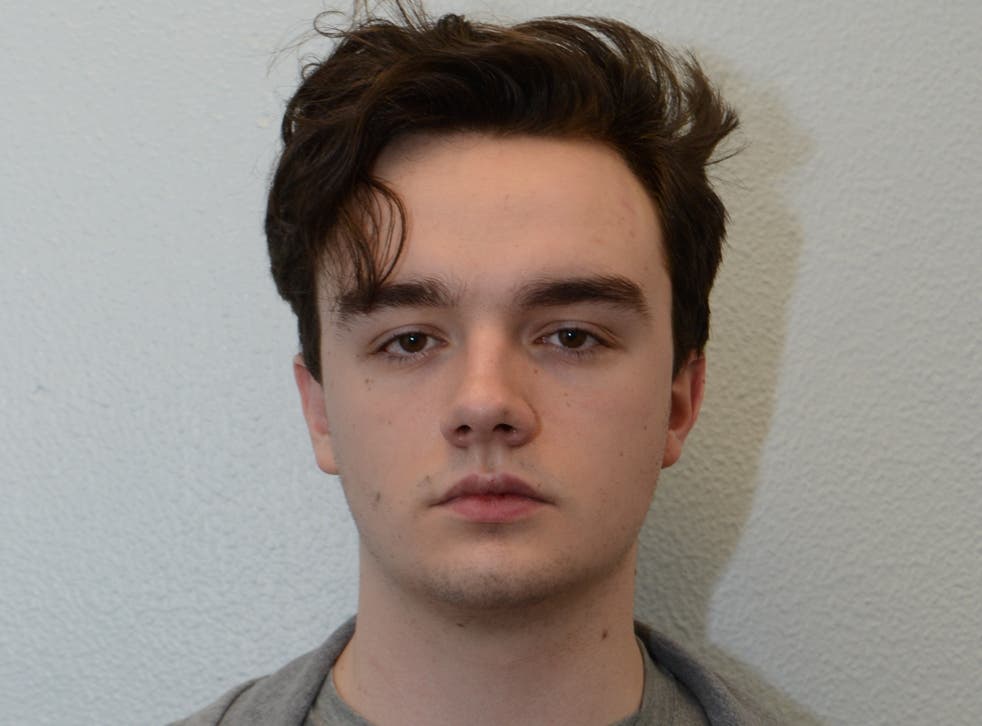 A teenager who planned to build a weapons storage bunker for attacks by a far-right group has been jailed for more than 11 years.
Matthew Cronjager, 18, was the UK leader of the internet-based Exiled 393 organisation and discussed obtaining 3D-printed guns, as well as a shipment of firearms from Europe.
He discussed targets included "powerful Jewish figures in banks and stuff" and "classic far-right targets of blame" including gay people and Muslims, the Old Bailey heard.
The teenager also said he wanted to "execute" an Asian boy after finding out he had slept with white girls.
Cronjager was jailed for a total of 11 years and four months at the Old Bailey on Tuesday.
During his trial, he said he had been "just blowing hot air" online and that none of the plans discussed "seemed real", but he was convicted of preparing acts of terrorism.
A jury also found him guilty of disseminating terrorist publications through an online "library" that encouraged attacks.
Cronjager previously pleaded guilty to four offences of possessing information useful to a terrorist, over documents containing instructions on how to kill people with your bare hands, make explosives and create homemade firearms.
Sentencing him on Tuesday, the Recorder of London said that by the age of 17 Cronjager "supported the extreme right-wing cause" and was "committed to violence".
"In your own words, you held fascist beliefs and wanted to bring about a change of government by violence," Judge Mark Lucraft QC.
"You expressed hatred for people with a different skin colour, Jewish people, Muslims and those with different sexual orientation than your own. You wanted a revolution based on your racial ideology."
The judge said the teenager prepared acts of terrorism by attempting to procure a 3D-printed gun, drawing up plans for a weapons storage bunker and by providing instructions to other like-minded young neo-Nazis.
The court heard that Cronjager was arrested at his family home in Ingatestone, Essex, in December and had committed the offences during autumn last year.
Police found knuckle dusters and body armour in a wardrobe, and hand-drawn plans for the bunker.
UK news in pictures

Show all 50
A large collection of extreme right-wing propaganda, bomb instructions and combat manuals was discovered on his digital devices.
Cronjager did not know that one of the extremist groups he was part of on the encrypted Telegram messaging app - the British Hand - had been infiltrated by an undercover police officer.
He sent the officer money and instructions to be used by a contact to 3D-print a gun, while voicing his violent wishes.
The Old Bailey was shown online messages where Cronjager told the officer he wanted to murder a former friend, who was Asian, after being told he was having sex with a white girl.
"I've found someone I want to execute," Cronjager wrote. "He's a sand n****** that f***ed a white girl. In fact I think three of them."
The teenager discussed using a conventional shotgun, or manufacturing 3D-printed firearms for himself and "the rest of the lads".
In a victim impact statement read to the court, the boy said he had been best friends with Cronjager and "trusted him more than anyone else".
The teenager told how when police initially alerted him he thought it was a joke, but then the "realisation broke my heart", and left him with long-term psychological problems.
Cronjager was in contact with a neo-Nazi named only under the pseudonym "Bull", who was the international leader of Exiled 393 and told Cronjager to organise storage for an incoming shipment of conventional guns.
He drew plans for a storage bunker with labelled sections for mortars, rifles, pistols and ammunition, along with food, water and clothes for the terrorists who would use them.
Last November, he told the undercover police officer that Bull said the shipment of guns would arrive in 2021 and added: "I don't want to start anything too soon but I want to conduct at least one offensive action within two years."
Tim Forte, defending, said Cronjager's attack planning had "only really been talk" and that no deadly weapons were obtained.
He told the court the teenager received "validation" from online far-right groups, and had since moved away from his extremist mindset.
"He was immature, he was irrational, he was impulsive and he was perhaps groomed to enter the world where he sought refuge from his unhappy life," Mr Forte said. "He wishes he could have done things very differently."
Judge Lucraft told the teenager he had played a "leading role in terrorist activity" even though the attack preparations were not near completion.
The judge said he reduced the teenager's sentence because of his diagnosis with autism spectrum disorder, but that it did not have "any very significant impact" on his culpability for the offences.
Judge Lucraft said Cronjager had expressed remorse and had shown a willingness to engage with authorities while in youth detention, where he completed his A-levels ahead of his trial.
While giving evidence, Cronjager said he would not have murdered the Asian boy, but that his boast of sleeping with white girls was the "straw that broke the camel's back".
"The [main source of my anger] was the change in government legislation that I wasn't going to see people over Christmas," he claimed.
The teenager admitted drawing a plan for the bunker, but said no work had been started on it and that he did not want the gun shipment to arrive.
Asked if he wanted to use the items to attack black people, Asian people, Jewish people and the government, he replied: "They would have been used in that way if they had been used yes."
Register for free to continue reading
Registration is a free and easy way to support our truly independent journalism
By registering, you will also enjoy limited access to Premium articles, exclusive newsletters, commenting, and virtual events with our leading journalists
Already have an account? sign in
Register for free to continue reading
Registration is a free and easy way to support our truly independent journalism
By registering, you will also enjoy limited access to Premium articles, exclusive newsletters, commenting, and virtual events with our leading journalists
Already have an account? sign in