Neo-Nazi teenager convicted of preparing acts of terrorism after trying to obtain gun to 'smash heads'
Boy, then 16, described himself a nine to 10 on the 'full-on Nazi Hitler' scale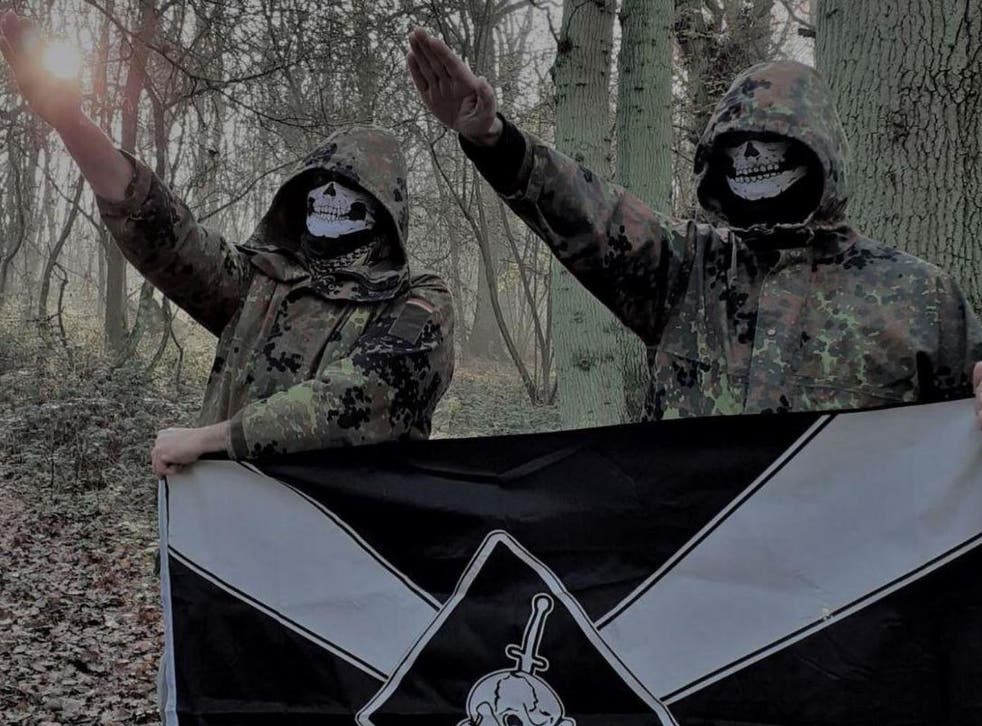 A teenage neo-Nazi who researched how to convert a blank-firing gun into a lethal weapon has been convicted for preparing acts of terrorism.
The 17-year-old, who cannot be named because of his age, joined the Feuerkrieg Division (FKD) online before it was banned as a terrorist organisation.
Birmingham Crown Court heard that he rated himself as a nine to 10 on the "full-on Nazi Hitler" scale when questioned by police, but the boy denied planning a terror attack in court.
The defendant, from Rugby in Warwickshire, said he "had existed in an echo chamber" of far-right chat rooms, amid mounting warnings about online radicalisation.
Jurors deliberated for more than 15 hours over four days before unanimously convicting him of preparing for terrorist acts between April and September last year.
The defendant closed his eyes as the verdict was delivered on Friday, then sat down with his head on his hand as members of his family wept in the nearby public gallery.
After he was arrested last year, FKD released a propaganda poster threatening West Midlands Police and depicting its chief constable with a gun held to his head.
"Our comrade will be free," the message read, calling the police chief a "race traitor".
FKD was proscribed by the British government in July, after police warned that the far right is the fastest-growing terror threat to the UK.
Judge Paul Farrer QC remanded the boy in custody until a hearing on 6 November, when he will also be sentenced for nine counts of possessing terrorist documents that he previously admitted.
"He's still only 17 years old, he was 16 at the relevant time," the judge added, suggesting that a prison sentence was inevitable but a specialist youth offending team would be consulted.
It was the boy's second trial, after the first round of proceedings were halted in March because of the coronavirus outbreak.
The head of the West Midlands Counter Terrorism Unit told The Independent the boy had never been referred to the Prevent coutnmer-extremism programme.
Detective Chief Superintendent Kenny Bell said the teenager had been discovered by a "covert internet investigator" who engaged with him online and allowed police to identify him from anonymous chats.
"He was a member of Feuerkrieg Division, clearly with extreme right-wing violent ideology and trying to accelerate a race war," he added.
"Having become part of that group and got online he was discussing with them how he had the capability to source a blank firing firearm and convert it so it could be used."
Investigators did not identify a target for any potential attack, but said they swooped on the teenager because of fears he would be able to create a live firearm.
Prosecutor Matthew Brook told the court the boy had asked an adult friend for advice on where he could buy a blank-firing gun.
"Even before joining FKD, the defendant was interested in whether this was a serious group that could be involved in physical action in the real world, rather than being in his words 'just an online thing," he added.
Birmingham Crown Court heard that the boy was admitted as a member of FKD after doing an online test where he was asked his opinion of Jews and fascism.
The boy wrote that Jewish people "must be eradicated", called fascism "the pursuit of restoring the natural order," and said he wanted to "go out there and provoke" a race war.
The teenager passed the test and was added to private online chats between FKD members on the encrypted communication app Wire.
Online discussions then showed him offering "concrete, practical advice about not only converting a blank-firing gun, but making ammunition for it that will 'smash heads"'.
A series of posts showed the teenager discussing using equipment, which he had access to, to drill through the barrel of a harmless gun to convert it.
National Action: Neo-Nazi terrorist couple who named baby 'Adolf' jailed
"I'm getting armed and getting in shape. I'd urge everyone to do the same," he told an online contact, who was an undercover law enforcement operative.
In August last year, police found two knives, an air rifle and airsoft handgun, drawings and notes on gun modifications and metal items in his bedroom.
When interviewed by police two weeks later, the teenager admitted speaking to neo-Nazis online and discussing making firearms, but said it was "all a fantasy".
But Mr Brook said: "He came to believe an ideology which thinks a race war is coming - an ideology which believes its followers should bring about a race war, should accelerate its start, so that the white race can become supreme.
"He came to believe in an ideology which praises terrorists who carry out mass shootings, like the Christchurch shootings in New Zealand, and called the perpetrators of such terrorist massacres 'saints'."
Like numerous young neo-Nazis recently charged with terror offences in Britain, the boy is believed to have been radicalised online and read writings known as Siege by a prolific US extremist.
Det Ch Supt Bell said police had not discovered how the boy first discovered FKD online, but that he "clearly knew where to look" after seeking out likeminded people on the Discord messaging service.
He said police believe the teenager was radicalised in a period of months, adding: "It's very difficult to say when he first started getting these views.
"There's nothing obvious we've seen from school or the environment where people are saying 'oh that happened here' and that happened there.
"Even from his family circumstances there's nothing glaringly obvious as to why he has decided to adopt these views. We've not been able to pinpoint a cause or turning point, or who or what caused him to be radicalised and have such extreme views. We just don't know."
Det Ch Supt Bell appealed for people to report any concerns about material being viewed by loved ones online to police or Prevent to receive support.
He said police would prefer to "safeguard young people online" than arrest them, but warned: "The internet is a space where people feel they can very quickly engage with likeminded people around the world, and that in itself can be very potent and powerful, whatever your cause."
Register for free to continue reading
Registration is a free and easy way to support our truly independent journalism
By registering, you will also enjoy limited access to Premium articles, exclusive newsletters, commenting, and virtual events with our leading journalists
Already have an account? sign in
Register for free to continue reading
Registration is a free and easy way to support our truly independent journalism
By registering, you will also enjoy limited access to Premium articles, exclusive newsletters, commenting, and virtual events with our leading journalists
Already have an account? sign in