Alleged neo-Nazi accused of setting up website recuiting 'soldiers for race war' in UK
'We are only looking for the truly dedicated and motivated soldiers to carry the flame,' said post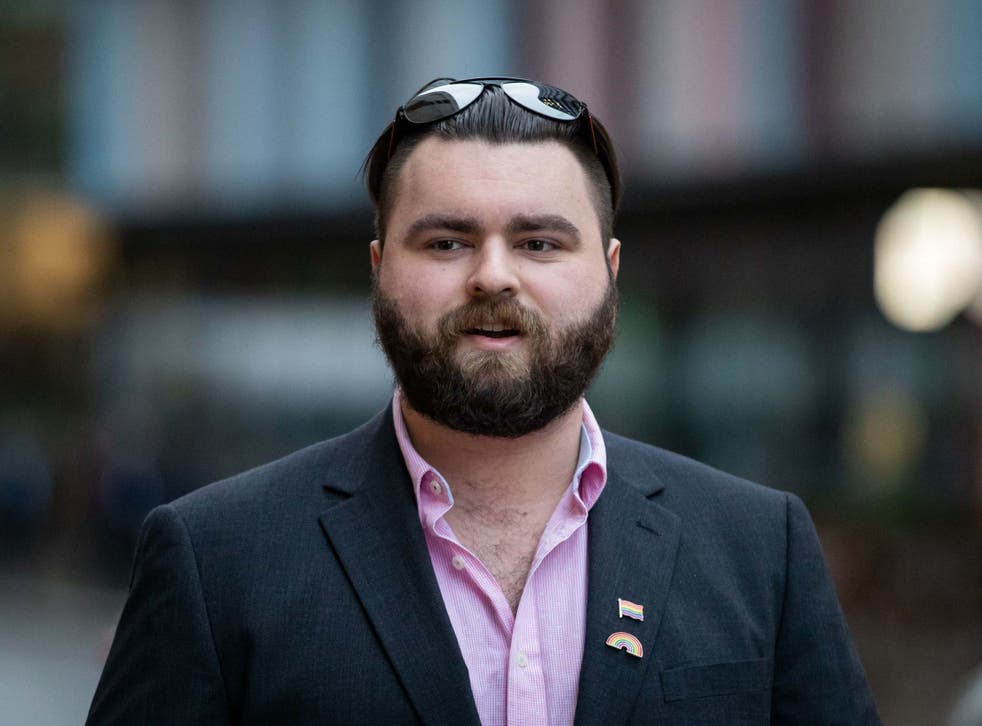 An alleged neo-Nazi set up a website aiming to recruit terrorists to fight a "race war" in the UK, a court has heard.
Andrew Dymock is accused of promoting System Resistance Network (SRN), which was later banned as a terrorist group, while he was a politics student at Aberystwyth University in Wales.
The 23-year-old denies 15 charges, including encouraging and funding terrorism through 2017 and 2018.
The opening of his trial at the Old Bailey on Thursday heard that SRN was formed months after the National Action neo-Nazi terrorist group was banned by the British government in December 2016.
Prosecutor Jocelyn Ledward told jurors that Mr Dymock set up and operated both a website and a Twitter account which "he used to promote, encourage and advance the organisation and its aims".
She described SRN as a group that "preached zero-tolerance to non-whites, Jewish and Muslim communities".
"The group describes homosexuality as a disease," she added. "Its clarion call was for the expulsion of minorities and a white revolution. Its online campaign, comprising virulently racist, antisemitic and homophobic propaganda, sought to stir up a race war against ethnic minorities and others that it perceived as race traitors."
A recruitment page on SRN's website set out requirements that members had to be white, located in the UK, "physically fit" and barred members of the LGBT community while labelling them "sexual degenerates".
In an October 2017 post on the fascist Iron March internet forum, Mr Dymock allegedly said he wanted to build a "group of loyal men, true to the cause of National Socialism and establishing the Fascist state through revolution".
The post continued: "The system in the United Kingdom is the most oppressive within the Western world, so we are only looking for the truly dedicated and motivated soldiers to carry the flame with their comrades and ignite the fire that will burn the rats and rot out.
"We are not interested in demonstrations or the political process, as others have tried this path and all failed. Nor are we interested in those who merely want to discuss politics or sit behind a keyboard."
UK news in pictures

Show all 50
The SRN website included violent and racist propaganda posters, and carried articles with headlines such as "Join your local Nazis", "The truth about the Holocaust" and "Homosexuality, the eternal social menace", jurors were told.
Ms Ledward told the court that Mr Dymock had "long-standing extreme right-wing views" and that evidence from a computer at his family home in Bath showed internet searches relating to neo-Nazism from 2014.
The defendant had allegedly searched for swastika flags and SS uniforms for sale, and had books, flags, clothes and badges with links to the extreme right wing in his bedroom at home and university.
Jurors heard how Mr Dymock was expelled from SRN in late February 2018, and vowed to set up his own group.
In a text message to a girlfriend sent in that same month, he allegedly wrote: "I just had a great dream where I went around the Wild West executing faggots with a .44 magnum revolver."
He denies five charges of encouraging terrorism, two of funding terrorism, stirring up racial hatred and hatred based on sexual orientation, four counts of disseminating terrorist publications, possessing a terrorist document and possessing racially inflammatory material.
Ms Ledward said Mr Dymock would deny being behind the SRN accounts and would say he was "set up" by others. The trial continues.
Register for free to continue reading
Registration is a free and easy way to support our truly independent journalism
By registering, you will also enjoy limited access to Premium articles, exclusive newsletters, commenting, and virtual events with our leading journalists
Already have an account? sign in
Register for free to continue reading
Registration is a free and easy way to support our truly independent journalism
By registering, you will also enjoy limited access to Premium articles, exclusive newsletters, commenting, and virtual events with our leading journalists
Already have an account? sign in