Mother and sex offender lover jailed for murder of her ex-husband in 'medieval duel'
Giedruis Juskauskas was stabbed 35 times, police say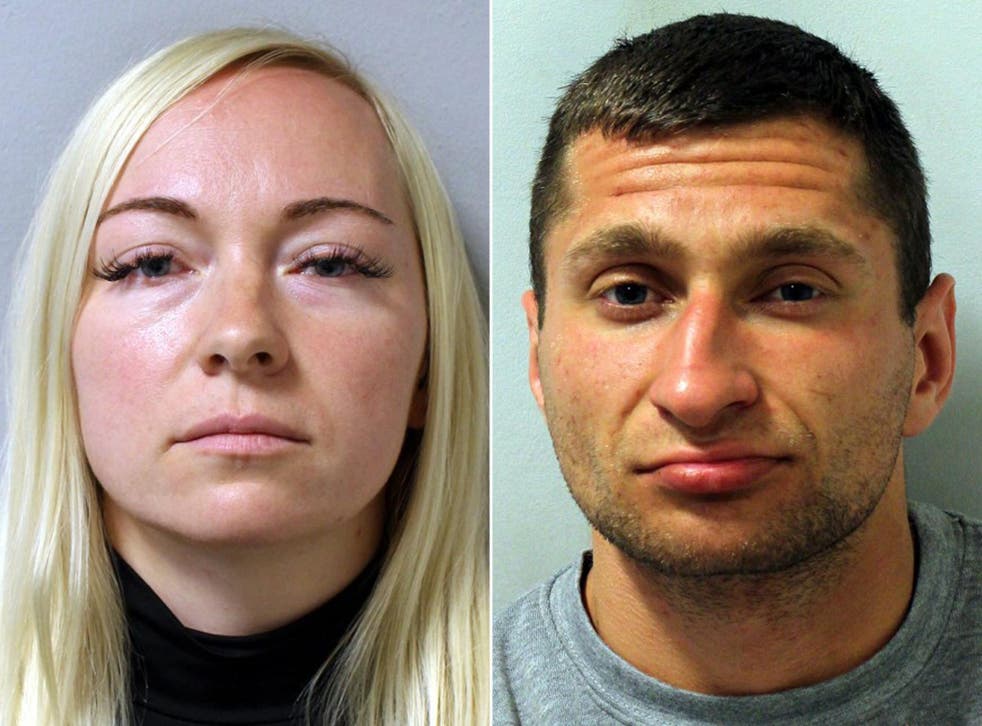 A mother and her sex offender lover have been jailed for more than 20 years each for the murder of her ex-husband during a "medieval duel" in an east London tunnel.
Asta Juskauskiene, 35, arranged for her new 25-year-old partner, Mantas Kvedaras, to fight the father of her daughter Giedruis Juskauskas for the right to be with her.
But in the confrontation that followed, Kvedaras – a convicted rapist – stabbed his unarmed and drunk rival 35 times in the chest, neck and face within seconds.
Such was the ferocity of the attack, in Newham in the early hours of 17 June last year, that several of Mr Juskauskas's bones were found to have been damaged by strikes from the knife.
The following day the two lovers celebrated by going out for pizza.
UK news in pictures

Show all 51
Care worker Juskauskiene, from Crayford, was jailed for 24 years at the Old Bailey on Friday after being found guilty of murder and perverting the course of justice at a previous hearing.
Her lover, of no fixed abode, was jailed for 22 years after admitting the killing.
The pair initially formed a relationship over social media while Kvedaras was serving a prison sentence in Lithuania – their home nation – for sexually assaulting a teenage girl there.
Kvedaras then arrived in the UK to meet Juskauskiene, just five days before she orchestrated the fight with 42-year-old Juskauskas, who was also from the Baltic state.
Speaking at an earlier hearing at Kingston Crown Court, Hugh Davies, prosecuting, said: "In this latter-day medieval duel the participants were playing by different rules and with markedly different capacities for violence.
"Juskauskas was heavily intoxicated. Unlike Kvedaras he had no history of using serious violence. He was wholly unarmed."
The younger man, he added, "had a reputation for violence in prison".
In a witness statement, one of Juskauskiene's friends told police she said "she wanted the two men to have a fight for her and whoever won would stay with her".
She told another friend of her relationship with Kvedaras: "I think I will play until I get into trouble. I probably like the risks, dangers."
Phone evidence showed she had helped orchestrate their meeting.
Sentencing, Judge Peter Lodder told her: "The cruel truth is that you were manipulating your admirers. You allowed Mr Juskauskas to think you might go back to him while simultaneously playing him off against Kvedaras.'
In a statement read out to the Old Bailey, Mr Juskauskas's mother spoke of her devastation, saying: "I cannot find the words, if there are any, to explain the heart-breaking and devastating concoction of feelings that conjured inside me when I registered that I was never going to see my son again."
Detective Chief Inspector Laurence Smith, of the Metropolitan Police, described the murder as "a calculated, merciless attack" and said he could not "begin to imagine how frightened Giedrius must have been in his last moments".
Register for free to continue reading
Registration is a free and easy way to support our truly independent journalism
By registering, you will also enjoy limited access to Premium articles, exclusive newsletters, commenting, and virtual events with our leading journalists
Already have an account? sign in
Register for free to continue reading
Registration is a free and easy way to support our truly independent journalism
By registering, you will also enjoy limited access to Premium articles, exclusive newsletters, commenting, and virtual events with our leading journalists
Already have an account? sign in