News International boss Rebekah Brooks 'appalled' by Milly Dowler claim
Tuesday 05 July 2011 14:14 BST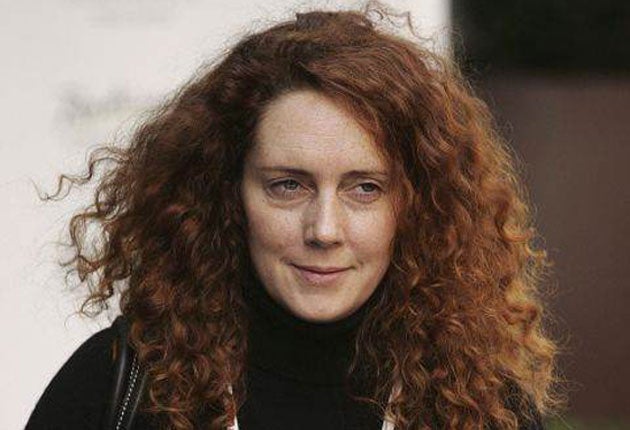 News International chief executive Rebekah Brooks said today she was "appalled and shocked" by allegations that a private investigator working for the News of the World hacked into schoolgirl Milly Dowler's phone after she went missing.
Ms Brooks, who was editor of the paper at the time, said it was "inconceivable that I knew or worse, sanctioned these appalling allegations".
And she dismissed speculation about her position, saying: "I am determined to lead the company to ensure we do the right thing and resolve these serious issues."
Ms Brooks spoke out in a message to News International staff after David Cameron condemned the alleged hacking as a "truly dreadful act".
The Prime Minister, who found himself being quizzed about the story during a trip to Afghanistan, said he found the claims "quite, quite shocking".
As the scandal grew, the Press Complaints Commission, a keystone of the system of press self-regulation in the UK, accused the News of the World of lying during an inquiry into hacking allegations.
PCC chairman Baroness Buscombe told the BBC's Daily Politics show: "We didn't have the evidence. I am the regulator but there is only so much we can do when people are lying to us.
"We know now that I was not being given the truth by the News of the World. Who knows if there are other newspapers that have lied."
In her statement Ms Brooks said she wanted to address staff "as a matter of urgency" in light of the new claims.
She said: "We were all appalled and shocked when we heard about these allegations yesterday.
"I have to tell you that I am sickened that these events are alleged to have happened. Not just because I was editor of the News of the World at the time, but if the accusations are true, the devastating effect on Milly Dowler's family is unforgivable.
"Our first priority must be to establish the full facts behind these claims.
"I have written to Mr and Mrs Dowler this morning to assure them News International will vigorously pursue the truth and that they will be the first to be informed of the outcome of our investigation.
"Our lawyers have also written to their solicitor Mark Lewis to ask him to show us any of the evidence he has so we can swiftly take the appropriate action.
"At the moment we only know what we have read.
"Since 2006, when the Metropolitan Police Service (MPS) seized the documentation from the private investigator Glen Mulcaire, News International has had no visibility on the evidence available.
"The process of discovery is complicated. The MPS first present relevant documents to potential victims. We only see the evidence much later during the legal process."
She said NI has offered the MPS its full co-operation "to establish the veracity of these fresh allegations" and had written to the Chief Constable of Surrey, where Milly lived, with the same offer.
She went on: "I am determined that News International does everything it can to co-operate fully and pro-actively with the MPS, as we have been doing for some time, to verify the facts so we can respond in a robust and proper way.
"It is almost too horrific to believe that a professional journalist or even a freelance inquiry agent working on behalf of a member of the News of the World staff could behave in this way.
"If the allegations are proved to be true then I can promise the strongest possible action will be taken as this company will not tolerate such disgraceful behaviour.
"I hope that you all realise it is inconceivable that I knew or worse, sanctioned these appalling allegations."
She added: "Although these difficult times will continue for many months ahead, I want you to know that News International will pursue the facts with vigour and integrity.
"I am aware of the speculation about my position. Therefore it is important you all know that as chief executive, I am determined to lead the company to ensure we do the right thing and resolve these serious issues.
"We will face up to the mistakes and wrongdoing of the past and we will do our utmost to see that justice is done and those culpable will be punished."
Mr Cameron earlier urged the police to pursue their criminal investigation into alleged phone hacking by journalists in "the most vigorous way they can".
Speaking in Kabul, he said: "The police in our country are quite rightly independent, they should feel that they should investigate this without any fear, without favour, without any worry about where the evidence should lead," he said.
"They should pursue this in the most vigorous way that they can in order to get to the truth of what happened."
But he made clear that he would not intervene in the bid by the News of the World's parent company - Rupert Murdoch's News Corporation - to take a majority stake in BSkyB.
"The Government, on these processes, is acting in a quasi-judicial way and it is quite right that the Secretary of State for Culture, Media and Sport (Jeremy Hunt) carries out his role in that manner without any interference from anyone else in the Government," he said.
"That is one of the reasons that I have completely abstracted myself from this process and want him to carry out his role in the way that he should under the law."
Milly's parents are now suing the News of the World over claims that her phone was hacked after she went missing in 2002.
Bob and Sally Dowler said they had been given "false hope" that their daughter could still be alive after voicemail messages on the phone were deleted in the days after she vanished.
Solicitor Mark Lewis said the "heinous" and "despicable" actions could have jeopardised the police investigation.
Scotland Yard officers contacted Mr and Mrs Dowler about the hacking allegations in April, a month before Levi Bellfield went on trial for her murder.
Mulcaire is alleged to have illegally accessed Milly's phone messages after she was abducted by Bellfield as she walked home from school in Walton-on-Thames.
The voicemail messages were allegedly deleted to make room for more after Milly's inbox became full.
Mr Lewis said the Dowlers had been told their own phones were targeted, as well as that of their daughter.
Mulcaire and former News of the World royal editor Clive Goodman were given jail terms in January 2007 after the Old Bailey heard they plotted to hack into royal aides' telephone messages.
At the time of Milly's disappearance, Andy Coulson, who resigned in January as Mr Cameron's media adviser, was the News of the World's deputy editor while Ms Brooks was the editor.
Labour leader Ed Miliband today urged Ms Brooks to "consider her position" and "examine her conscience".
He called for a public inquiry to be held once police investigations were over.
Mr Miliband said the public would be "appalled" by the claims and revealed his wife Justine had branded it "sick".
He said: "Of course she (Rebekah Brooks) should consider her position but this goes well beyond one individual.
"This is about the culture and practices, which were obviously going on at that newspaper, the News of the World, over a sustained period of time.
"It wasn't about a rogue reporter, it wasn't just one individual, this was a systematic series of things that happened.
"What I want from executives at News International is for them to start taking responsibility for this."
He added: "This is a stain on the character of British journalism. The culture and practice of some parts of the industry bring into question the rest of the industry and that's why we need a proper inquiry into the culture and practices which allowed these things to happen."
Self-regulation through the PCC "wasn't working" and needed to be looked at, he said.
He added: "They (the public) will be horrified that the grieving parents of an abducted child were made to go through further torture that somehow she was alive because her voicemails were being retrieved or deleted. People will ask 'where have we got to?' that that was thought to be an acceptable way for parts of the British press to behave.
"My wife said to me this morning 'this is sick, what was going on' and I think that is going to be the reaction of people up and down this country."
Asked if the Prime Minister backed the Labour leader's call, a Downing Street spokeswoman said: "We should await the outcome of the police investigation into phone hacking."
Home Secretary Theresa May said: "I think it's totally shocking, frankly it's disgusting.
"The mindset of somebody who thinks it's appropriate to do that is totally sick."
She told MPs on the Commons home affairs select committee that the police would follow the investigation "wherever it leads".
Labour MP Chris Bryant - whose is among those pursuing litigation against the News of the World in the High Court over alleged hacking - will seek an emergency debate in the Commons this afternoon.
The former minister is to employ a little-used parliamentary procedure under which he will have three minutes to persuade the Speaker and sufficient fellow MPs that the hacking revelations should be discussed.
An urgent question will also be raised in the upper house by Lord Fowler, chairman of the Lords Communications Committee.
Simon Greenberg, director of corporate affairs at News International, defended Rebekah Brooks' decision not to quit.
He said: "I think she has been very clear today that's absolutely what she won't do.
"This happened back in 2002, she's now chief executive of a company in 2011. She's absolutely determined to get to the bottom of this issue."
He said a top level team had been appointed to investigate the claims and promised "justice will be done".
He told the BBC: "She has put three, very senior, executives in charge of it on a day to day basis, who run this full time and make decisions. We report to her.
"We are under no illusions she is absolutely determined that if things went wrong, we will correct them and justice will be done."