Killer caught on CCTV as he led estranged wife to her death is jailed for life
Pawel Chmielecki was ordered to serve at least 18 years behind bars after stabbing Marta Chmielecka 32 times at his rented room in Northamptonshire.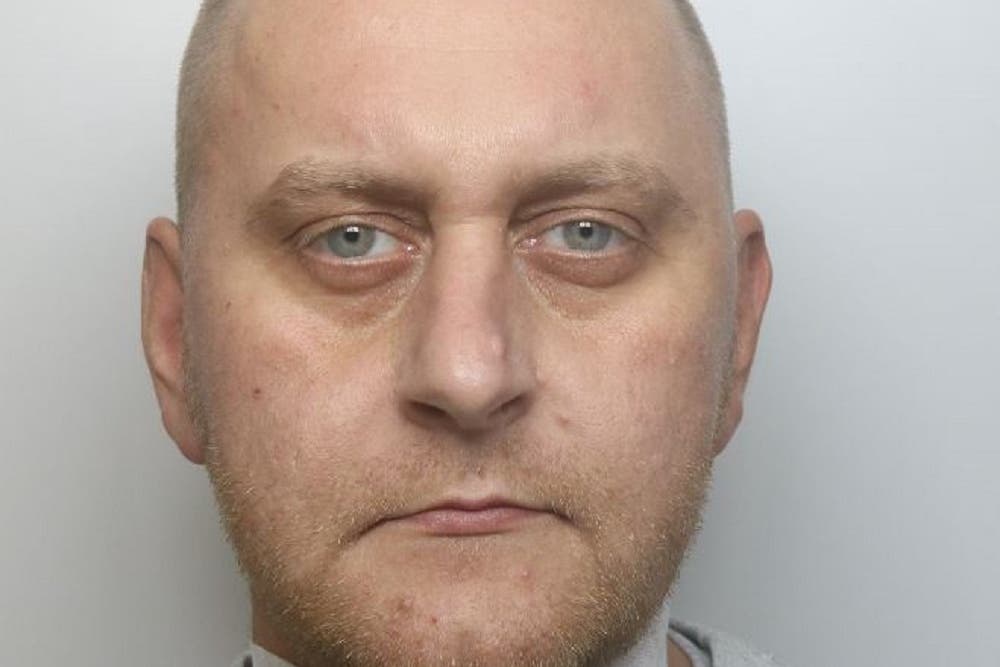 A killer who stabbed his estranged wife more than 30 times, including 19 wounds to her face and neck, and then kept her body in his room for four days has been jailed for life.
Pawel Chmielecki attempted to take his own life after murdering Marta Chmielecka, 31, and was found with a knife protruding from his neck as police arrived.
Video footage released by Northamptonshire Police after Chmielecki was jailed on Wednesday showed the Polish national leaving home and "intercepting" his wife as she walked nearby, followed by a struggle between them and her coughing as she seemed unsteady on her feet.
The footage also showed the killer visiting a shop to buy six cans of beer two days after the murder, and police breaking down the door of his room to arrest him and discover Marta's body.
The 40-year-old, of Wood Street, Kettering, was assisted by an interpreter at Northampton Crown Court as Judge David Herbert KC said he believed the "terrifying" killing took place shortly after Marta entered the property on the night of Friday October 15 2021.
Passing sentence, Judge Herbert told Chmielecki the murder of Marta, a well-liked and popular figure in the local Polish community, had had a devastating effect of her family and friends.
After listing three previous incidents in which Chmielecki had been violent towards his partner – in August 2020, at Easter 2021 and in September 2021 – the judge said: "It's clear from the evidence that Marta did not feel safe with you and was concerned that you would end up killing her.
"You separated about a year before she died and Marta formed a relationship with a work colleague.
"Despite that you did not accept that the relationship was over, hassling her friends to find out where she was."
On October 15, the judge added, Marta was described as happy and in good spirits when she was "effectively intercepted on her way home".
"I have seen the CCTV evidence," the judge said. "You met her at about quarter to 11 in the street. The CCTV evidence shows that there was a struggle."
After entering his rented room with his ex-partner at about 10.56pm, the evidence showed Chmielecki took an image of her around five minutes later, showing her on the floor.
Around 90 minutes after they entered the flat, he took a further picture of messages between his victim and another man on her phone, and went on to send messages from the device to make it appear she was still alive.
Judge Herbert, who imposed a minimum term of 18 years and four months, added: "It was a sustained and ferocious attack born entirely out of anger and jealousy.
"Those last moments of her life would have been utterly terrifying.
"You may never be released as that will only occur if the Parole Board is satisfied that it is no longer necessary for the protection of the public that you should be confined."
The court was told that the victim was planning divorce proceedings in Poland and had repeatedly messaged Chmielecki asking him to leave her alone.
A post-mortem examination found she had a total of 32 sharp force injuries, including defensive wounds to her right hand and others to her shoulders, upper arms and chest.
Chmielecki, who showed no emotion as he was told his minimum term, admitted murder at a hearing in March last year.
Speaking after the case, Detective Superintendent Joe Banfield, who led the Northants Major Crime Unit at the time of the investigation, said: "Marta Chmielecka was a much-loved young woman looking forward to a bright future, which was extinguished by the violent actions of a jealous man.
"Pawel Chmielecki did not want to accept the end of his relationship with Marta, and remained in contact with her despite her attempts to distance herself from him.
"Tragically for Marta, Chmielecki's efforts to maintain a hold over her culminated in his ferocious fatal attack, after which he stayed with her body in his room for almost four days, before he attempted to take his own life as police arrived.
"Throughout our investigation, Chmielecki refused to co-operate and despite his admission of murder, attempted to control the court process by initially denying he had previously been physically abusive towards Marta.
"For the sake of her loving family, who remain devastated by her death, I am glad Chmielecki now accepts his guilt on this as well, and I'm pleased to see him receive this significant prison term."
The victim's brother and sister-in-law, who attended the sentencing hearing, said in a statement: "Marta was exceptional. She was full of life, kind, cheerful, helpful and smart.
"You never had to ask for her help, she was always just there for us, whatever we needed.
"After her death, her father began stuttering and now finds it very hard to communicate. He has really suffered, we all have.
"When Marta died, something beyond her died as well and none of us will ever be the same."