Now solve these... Two of Stephen Lawrence's killers are behind bars. But for other families, the wait for justice goes on
Relatives of victims of race attacks who are still waiting for justice ask: 'What about us, why are we different?'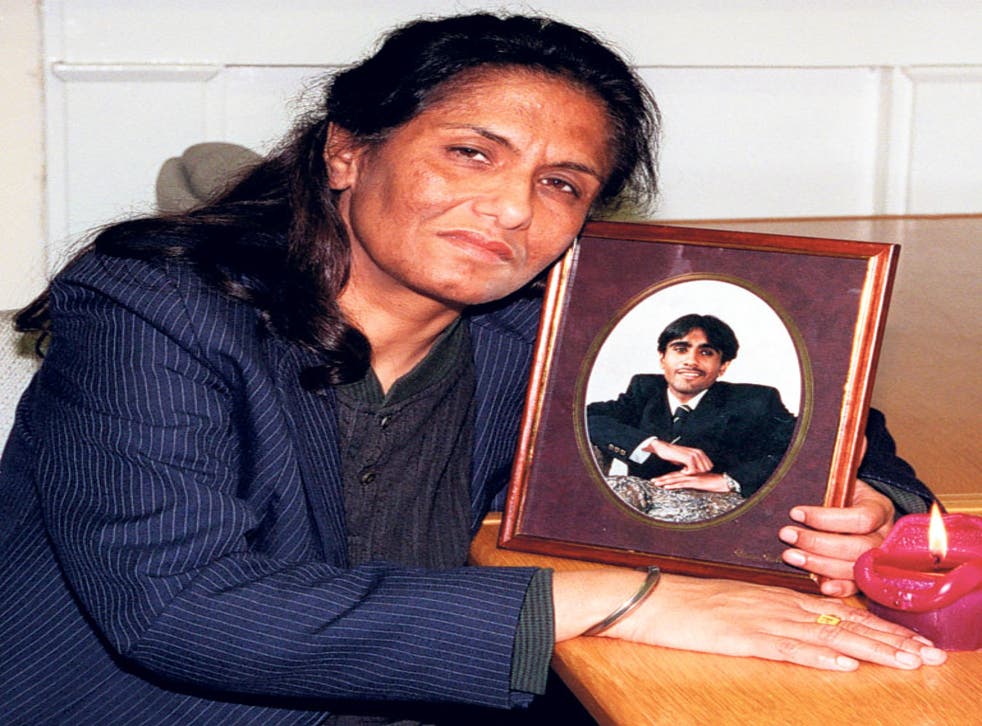 They are the forgotten victims of racism in Britain. A Pakistani beaten to death in the immediate aftermath of the July 7 bombings as his attackers cried "Taliban!" An Asian man stabbed through the heart in Scotland. A Ghanaian found hanging from a tree after a racist gang threatened to kill him. A Sikh whose body was found in the Thames hours after he was attacked by another mob.
When Doreen Lawrence stood outside the Old Bailey, she spoke of her "relief mixed with anger" that after 19 years her family could finally find comfort in the knowledge that two of her son's attackers had been found guilty of his murder. But she added: "The fact is that racism and racist attacks are still happening in this country. The police should not use my son's name to say that we can move on."
There are still families with relatives killed in suspected racist attacks who have never had the chance to see the killers placed behind bars.
The Institute of Race Relations says that at least 96 people have been murdered since 1991 in cases where racial hatred was either clear cut or suspected. At least 15 remain unsolved – either because charges were dropped or because no one was ever convicted.
Surjit Singh Chhokar
The family of Surjit Singh Chhokar know the kind of pain Doreen and Neville Lawrence have been through. But unlike the Lawrences, they have yet to see any meaningful convictions.
In November 1998, Surjit was on his way back from work when his attackers pounced outside his white girlfriend's home. Seconds later, he was dead: stabbed through the heart in an apparent attempt to stop him going to the police over stolen benefits money.
He became known as the "Scottish Stephen Lawrence". "Every time the Stephen Lawrence case has come up, the family say, 'Why not us, why are we any different?'" the family's lawyer, Aamer Anwar, said yesterday. "Why does no one want to do anything about his murder anymore?" Three men eventually stood trial over Mr Chhokar's murder: Ronnie Coulter, his nephew Andrew Coulter and David Montgomery. Ronnie Coulter stood trial first, alone, and blamed the other two men. He was found not guilty of murder but was convicted of assault. Two years later, Andrew Coulter and Mr Montgomery were put on trial. They blamed Ronnie Coulter and were found not guilty. At the end of last year, the double jeopardy law was repealed in Scotland. Mr Chhokar's family want the Lord Advocate to reopen the case. "If there is even a shred of evidence there, they are willing to take the chance and they don't understand why the prosecutors are not," Mr Anwar said.
An inquiry found elements of institutional racism within Strathclyde Police and the prosecution service.
"There has been a denial of justice," said Mr Anwar. "Not once, but twice. You can see the difference, because there is total abject silence in Scotland despite a two-year investigation."
Kamal Raza Butt
On a Sunday morning in July 2005 the badly beaten body of a middle-aged Asian man was found outside a corner shop in Nottingham. Three days earlier, four suicide bombers had attacked London's transport system killing 52 people and injuring more than 700.
Police were acutely aware that the bombings might inspire retaliatory attacks upon certain communities. The likelihood is that Mr Butt was the first victim of such an attack. Witnesses told how the 48-year-old Pakistani, who was visiting family in Britain, was set upon by a gang of youths who racially abused him and shouted "Taliban!" after he refused to give them cigarettes.
But by the time the case came to court, any suggestion of a racial element had been removed from the charge sheet. In April 2006, 17-year-old Mardell Pennant was sentenced to 18 months' detention in a young offenders institution after pleading guilty to manslaughter. Nathan Williams, the man police believed threw the fatal punch, walked free after charges against him were dropped because witnesses were reluctant to testify. Four months later, Williams was gunned down. His killer has never been found.
Akofa Hodasi
Akofa Hodasi was found hanging from a tree in Frimley, Surrey, in 1998. Two days earlier the Ghanaian student, 24, had been the victim of a vicious racist attack. "You black, I know where you live. Next time I'll shoot you," one of his assailants had screamed at him as he and a friend were punched and threatened with a knife outside a McDonald's in a neighbouring town.
The suspects in the assault were not questioned by police until three weeks after Mr Hodasi's death. The then Police Complaints Authority (PCA) said a senior officer had lost "immediate control" of the investigation.
Mr Hodasi's family believed detectives failed to pay enough attention to the links between the attack and his death and that crucial evidence could have been lost. A coroner recorded an open verdict but said that problems, including debts, illness and a car crash, could have pushed Mr Hodasi over the edge. The PCA concluded that his death had been thoroughly investigated. Yet suspicions persist that his death was in fact a racist murder.
Media reports suggested Mr Hodasi's death was a "racist lynching". Three people were later convicted in relation to the assaults, although two had their convictions quashed on appeal.
Lakhvinder "Ricky" Reel
Four years after the murder of Stephen Lawrence, Mr Reel, 20, was with friends drinking in Kingston-upon-Thames, Surrey. His companions said two white youths racially abused and attacked them. The friends ran off and Mr Reel disappeared. One week later, his body was found in the Thames. Police said he had probably fallen into the river by accident, but his family have always believed their son was murdered. His mother, Sukhdev, accused the police of failing to take into account his friends' report of the racist attack that preceded her son's disappearance.
Following procedure, police did not declare Mr Reel a missing person for 24 hours after being alerted by his mother. But on the day after the disappearance, an officer at Kingston police station suggested to Mr Reel's father that perhaps his son didn't want to come home, because he had found a girlfriend or a boyfriend. It was the family, not the police, who first obtained CCTV footage of the night of Mr Reel's disappearance. It showed him walking on his own, and later his friends looking for him. Two post-mortem examinations found bruising on his back, but pathologists said this may have occurred after he fell into the river.
The police maintain that they cannot reopen an investigation in the absence of any new evidence. Those calling for a further inquiry into Mr Reel's death still maintain that the police never took their suspicions of a racist attack seriously and crucial evidence might have been lost because of that.
Register for free to continue reading
Registration is a free and easy way to support our truly independent journalism
By registering, you will also enjoy limited access to Premium articles, exclusive newsletters, commenting, and virtual events with our leading journalists
Already have an account? sign in