One of Stuart Hall's victims speaks out: 'Every time I've heard his voice on the radio since I think "how can you do it?"'
Jonathan Brown on Stuart Hall's journey from a national treasure to a national disgrace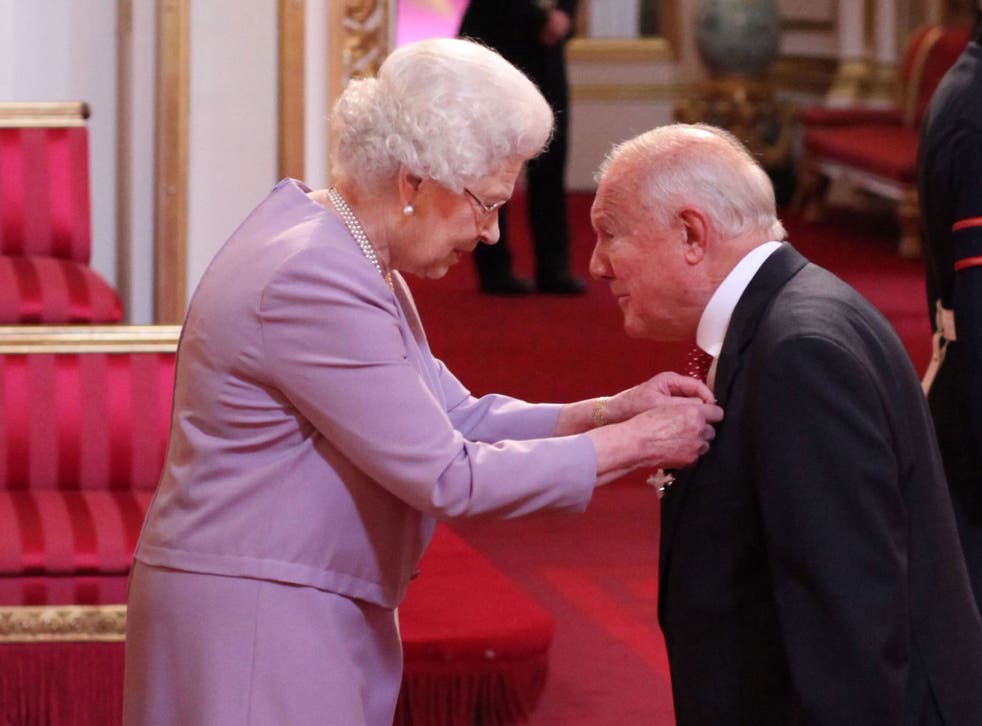 Three years ago, when Stuart Hall turned 80, the nation wanted to celebrate the landmark with him.
The BBC, for whom he had provided decades of loyal service, staged a two hour Radio 5 Live special showcasing his unique esoteric style whilst his favourite football club, Manchester City, laid on a gala evening attended by the cream of Premiership football past and present.
Even the Queen seemed to want to get in on the act – awarding him an OBE last year for services to charity and broadcasting. Hall, whose riotous laughter had reverberated across the living rooms of a generation of TV viewers, was a national treasure.
It was a very different story today. As he stepped out of Preston Crown Court, having been warned by a judge that despite his advancing years he faced a possible jail sentence, the diminutive, perma-tanned grandfather was a man whose reputation had been completely and utterly destroyed.
Confronted in the sunshine by a barrage of cameras and angry demands from journalists that he should apologise to the children he had groomed and abused in a predatory history spanning 18 years – much of it when he was at the height of his celebrity presenting the flagship BBC series It's a Knockout – he simply refused to address the issue.
Despite having earlier dismissed the charges against him as "pernicious, callous, cruel and above all spurious", Hall had in fact pleaded guilty to 14 offences at a previous hearing. His apology was to come later, issued via Hall's Manchester solicitors.
But this was too late for his victims who waited for up to nearly half a century, to come forward to tell the truth about a man whose outward respectability meant that his predatory behaviour was ignored, in some cases by their own parents.
Although not linked to the Operation Yewtree inquiry into the activities of the other shamed northern broadcasting legend Jimmy Savile, it was the public outcry over the Jim'll Fix It star that was to persuade victims to come forward to Lancashire police.
And by the time Hall was arrested at his luxury home in the Cheshire town of Wilmslow's millionaires' row last December, three women had broken their long silences.
One of them was aged only nine when in 1983 she was attacked whilst Hall was enjoying a dinner party at her parents' house.
On that occasion, the broadcaster crept into the child's room under the pretext of going to read her a story. She pretended to be asleep but he lifted the duvet and her night dress before touching her on the upper leg and towards the vaginal area. Although the child did not understand what was happening she knew it was wrong.
The following year Hall was driving a 13-year-old friend of his previous victim to the local tennis club. He stopped his car in a lay by and switched off the engine, telling the frightened teenager there were "other ways" of thanking him. He grabbed her head and forced his tongue into the child's mouth.
The third charge dated further back to 1974 when Hall was at a function at Blackpool's Winter Gardens and where he met a teenager then aged either 16 or 17. He put his arm around her and fondled her breast. She told him to stop and did not see him again.
Hall was well known as a tactile annoyance to female colleagues at the BBC in Manchester where he was one of the biggest stars of the golden age of regional broadcasting.
The self-styled Boswell used his considerable verbal charms and connections to the city's glamorous celebrities to lure a series of women back to a disused medical room at the old BBC building at Piccadilly where he would spend afternoons in their company, it was claimed. Hall maintained the outward appearance of a happy and successful family man. Yet the scale of his offending was outlined in an 18 count indictment seen for the first time today which included a 1976 allegation of rape although this is to be left to lie on file alongside three other offences relating to a 13-year-old victim.
The youngest of his victims was aged nine whilst the oldest was 17. Two were aged 10, one was 12 whilst the rest were teenagers – five of whom were below the age of consent.
Among those that came forward today was a woman aged 17 when she was attacked. She told ITV News how she had successfully auditioned as a cheerleader for It's a Knockout which was filming in her town when the presenter pushed her up against a hotel wall and tried to force himself on her.
"I will never, ever forget that voice and that's the part…over the years every time I've heard his voice on the television, on the radio, I just think 'how can you do it, how can you be like that?' in full view of everyone after everything you've done," she said. "They shouldn't treat him lightly. He's got to be shown that these things should not be going on and that in the future that men think twice before they do these things to women," she added.
Register for free to continue reading
Registration is a free and easy way to support our truly independent journalism
By registering, you will also enjoy limited access to Premium articles, exclusive newsletters, commenting, and virtual events with our leading journalists
Already have an account? sign in