Operation Midland: Police forced to defend VIP paedophile investigation after inquiry closes
'I believe Operation Midland should now be the subject of a truly independent public inquiry'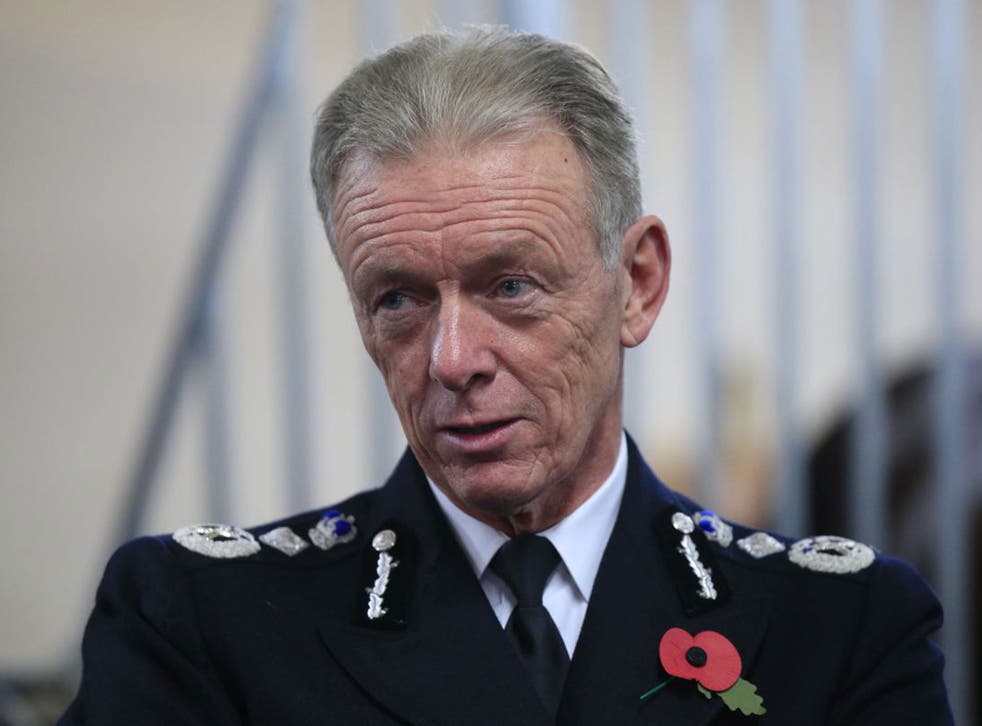 The police face fresh condemnation over their investigation of high-profile child-abuse cases, as Scotland Yard announced it was closing down its £2m inquiry into alleged abuse and murder by a VIP paedophile ring.
One of the former suspects, ex-Conservative MP Harvey Proctor, was told a year after being questioned that he would not be prosecuted. He has called for a public inquiry and the resignation of Bernard Hogan-Howe, the head of the force, and three senior officers. Mr Proctor made public last year the lurid claims put to him during questioning that he was part of a nine-strong paedophile gang that included the late Prime Minister Edward Heath, ex-Home Secretary Leon Brittan and former heads of MI5 and MI6. The investigation resulted in raids on the homes of Lord Bramall, the former head of the Army, and the late Lord Brittan.
The allegations by a witness identified only as "Nick" had been described by a senior detective in December 2014 as "credible and true" yet, despite an investigation lasting 16 months, no one was arrested or charged.
Mr Proctor characterised the investigation as a "homosexual witch hunt" by the "paranoid police… egged on by media, Labour MPs and a ragbag of internet fantasists".
"I believe Operation Midland should now be the subject of a truly independent public inquiry," he said. He called for the prosecution of the main complainant, "Nick", and the investigative website Exaro, which first made public his claims, for "seeking to pervert the course of justice".
UK news in pictures

Show all 50
"Nick" had claimed he witnessed three killings when he was abused by prominent people at locations including military bases and a flat at Dolphin Square, an upmarket residential development popular with MPs because of its proximity to Parliament. He said two boys had been murdered at parties, while a third was deliberately run down by a car, during a 10-year period of abuse.
Mark Watts, the site's editor-in-chief, said there was "no basis whatsoever" for prosecuting Exaro and that police had made clear they were not investigating "Nick" for making alleged false claims. "Nick" was told of the decision to shut down the inquiry shortly after Mr Proctor was informed.
The announcement by Mr Proctor prompted Scotland Yard to issue a detailed defence of its 17-month inquiry. The force said that it "will not apologise for carrying out its duty to investigate serious allegations of non-recent abuse".
It went on: "In the course of the investigation, officers have not found evidence to prove that they were knowingly misled by a complainant.
"The Metropolitan Police Service does not investigate complainants simply on the basis that their allegations have not been corroborated."
A judge-led inquiry has already been announced into Scotland Yard's handling of historical sex-abuse cases involving public figures. Former High Court judge Sir Richard Henriques will examine a number of inquiries, including Operation Midland.
Timeline: Operation Midland
November 2014: Scotland Yard launches Operation Midland into alleged abuse and murder by a VIP paedophile ring.
December: Police say the allegations involve the potential deaths of three young boys and describe the account of an alleged victim, Nick, as "credible and true".
March 2015: Detectives search the home of ex-MP Harvey Proctor and the armed forces chief and D-Day veteran Lord Bramall. Both men deny any wrongdoing.
August: Mr Proctor reveals what police are investigating based on his interview with detectives. He says he was accused of being part of a nine-strong child sex-ring that included Edward Heath, Leon Brittan and former heads of MI5 and MI6.
September: Scotland Yard acknowledges that it was wrong to suggest that Nick's allegations were "credible and true".
January 2016: Lord Bramall, 92, is told he faces no further action. Scotland Yard says it regrets the distress to him and his late wife but stops short of an apology.
February: Scotland Yard says a High Court judge will conduct a review into how historical sexual abuse allegations are investigated.
March: Mr Proctor reveals that he has been told he will face no further action. Scotland Yard shelves Midland.
Register for free to continue reading
Registration is a free and easy way to support our truly independent journalism
By registering, you will also enjoy limited access to Premium articles, exclusive newsletters, commenting, and virtual events with our leading journalists
Already have an account? sign in
Register for free to continue reading
Registration is a free and easy way to support our truly independent journalism
By registering, you will also enjoy limited access to Premium articles, exclusive newsletters, commenting, and virtual events with our leading journalists
Already have an account? sign in