Out of touch or in control, Leveson Inquiry's bête noire stands his ground again
Over his five-hour interrogation, what did James Murdoch reveal about the crucial issues?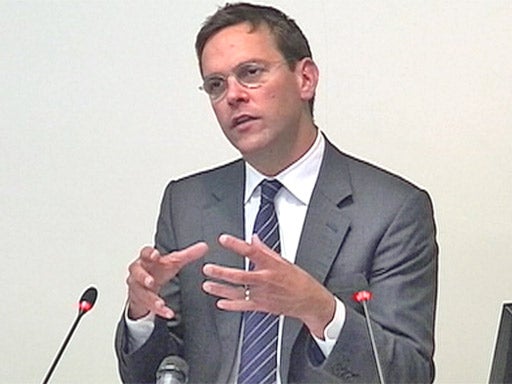 Over five hours of focused questioning, the former heir-presumptive to the Murdoch media empire offered two sides of his corporate personality to the Leveson Inquiry. On the issue of phone hacking and what he knew at the helm of News International, Mr Murdoch gave a repeat performance of the one offered late last year to MPs on the Culture Select Committee.
In front of Lord Justice Leveson he again sounded out-of-touch, a boss leaving key issues to trusted lieutenants and in a mood to blame others rather than accept he had done anything wrong himself. However, another side of Mr Murdoch Jnr appeared when the inquiry turned its attention to the battle to win total control of BSkyB. Here James Murdoch sounded in full control, driving the agenda and marshalling intelligence that was fed back to him from within David Cameron's government.
Meeting with Cameron
Two days after Vince Cable was removed as the minister who would be making the decision about News Corp's full takeover of BSkyB, James Murdoch attended a meeting with the Prime Minister, David Cameron, at the home of Rebekah Brooks and her husband Charlie Brooks. Around 15 people were at the meeting on 23 December 2010.
James Murdoch denies the meeting was inappropriate. "There was no discussion with Mr Cameron other than he reiterated what he said publicly, that the behaviour [of Cable] had been unacceptable... It was a tiny side conversation; it was not a discussion."
General election 2010
Did James Murdoch want a Conservative victory in 2010? Behind the question from the inquiry's counsel, Robert Jay, lay the idea News Corp had been hoping for a Conservative victory – because the party would then back its bid for BSkyB. "We never made a crass calculation about what the newspapers did," Mr Murdoch said.
Friendship with Chancellor
Mr Murdoch denied he was a close friend of George Osborne. He confirmed he had visited Mr Osborne at Dorneywood, the Chancellor's country retreat. Did Mr Murdoch use it to lobby his friend?
"I had one discussion where it might have come up, which was to be grumpy about why [the bid process] was taking a long time. Nothing I said to Mr Osborne would have been inconsistent with our public advocacy."
Support in return for favours
Robert Jay suggested that as James Murdoch wasn't getting what he needed from Vince Cable on the BSkyB bid: a new route was needed. News Corp, said Mr Jay, went elsewhere – to Jeremy Hunt. Did Mr Murdoch order The Sun to back Cameron in return for BSkyB favours?
"That is absolutely not the case," Mr Murdoch said. "The question of support for one politician or another is not something I would link to an issue like this. I simply wouldn't do business that way."
Hunt's relation to News Corp
What was the atmosphere like inside News Corp when the BSkyB takeover didn't go to plan? Jeremy Hunt was apparently on its side: government policy was leaking out of the Cabinet and to James Murdoch's office. The Culture Secretary was effectively being regarded as a News Corp employee. When he cancelled a meeting, Mr Murdoch dispatched an email which read, "You must be f***ng joking". So how angry was he?
"As I said earlier, I was displeased."
Conflict of interest
Robert Jay tried to get Mr Murdoch to understand that the way News Corp was operating behind the scenes was unacceptable. He told Mr Murdoch that Mr Hunt held a quasi-judicial role – "and yet he is letting you know what his view is". The News Corp boss couldn't see there was a conflict. He repeated three times that, "There's a difference between you having that view and the judge behind the scenes [Hunt] telling you he has this view."
Even when Mr Hunt's office was reassuring News Corp on the bid's progress, Mr Murdoch said he did not regard what he was being told as commercial intelligence. "I took all of it with a grain of salt. It may just have been his office. He only took the advice of Ofcom and the OFT at every turn."
Phone hacking
Mr Murdoch blamed his executives for failing to give him straight answers about phone hacking at the News of the World: "I was assured that, from a standpoint of journalistic ethics and things like the Editors' Code and the PCC Code, extensive training had gone on." Ethical and legal risks at the News of the World were "in the hands of the editor", and he was "not in the business of deciding what to put in newspapers".
The 'For Neville' email
Mr Murdoch insisted he was not told of evidence suggesting hacking was rife, maintaining that at a meeting with the NOTW's editor, Colin Myler, and lawyer, Tom Crone, on 10 June 2008 he had not been shown the "For Neville" email which suggested wrongdoing went wider than just the paper's jailed royal editor, Clive Goodman. "No, I don't have any recollection of that," Mr Murdoch said.
The Gordon Taylor settlement
Mr Murdoch denied he had authorised the £425,000 settlement to Gordon Taylor in 2008 in order to cover up law-breaking at Wapping. Robert Jay pointed out that the settlement was at least 10 times the going rate. "I wasn't a lawyer. I hadn't been involved in these sorts of cases," Mr Murdoch replied.
Q&A: What the new disclosures really mean
What did we learn from James Murdoch's evidence?
His testimony and the hundreds of pages of private emails published by the Leveson Inquiry last night show the company was conducting secret, detailed discussions with the Culture Secretary Jeremy Hunt (or his political adviser) at a time when Mr Hunt was meant to be acting as an impartial judge deciding whether News Corp could take over all of BSkyB. The tone and content of the emails indicate that Mr Hunt was looking for ways to approve the deal.
How does Mr Hunt respond to this?
Mr Hunt's advisers yesterday accused Fréd Michel (News Corp's in-house lobbyist) of exaggerating his influence in the emails to James Murdoch. They claim that after Mr Hunt was given responsibility for the deal he had no contact with News Corp other than in minuted meetings. The emails suggest otherwise as they refer to "speaking to JH". Mr Hunt's advisers say this was actually Adam Smith, Mr Hunt's policy adviser.
Why does this matter?
If Mr Hunt was conducting secret negotiations with News Corp he would be guilty of misleading the House of Commons in statements he gave. The revelations put Mr Hunt's political career in jeopardy.
What happens next?
Mr Hunt is likely to come under pressure to release details of emails between himself and Adam Smith, and could face an inquiry into whether he breached the ministerial code.