Oxford grooming gang jailed: Dogar and Karrar brothers get life for abuse and rape of young girls
The men, aged between 27 and 38, were found guilty of eight years of offending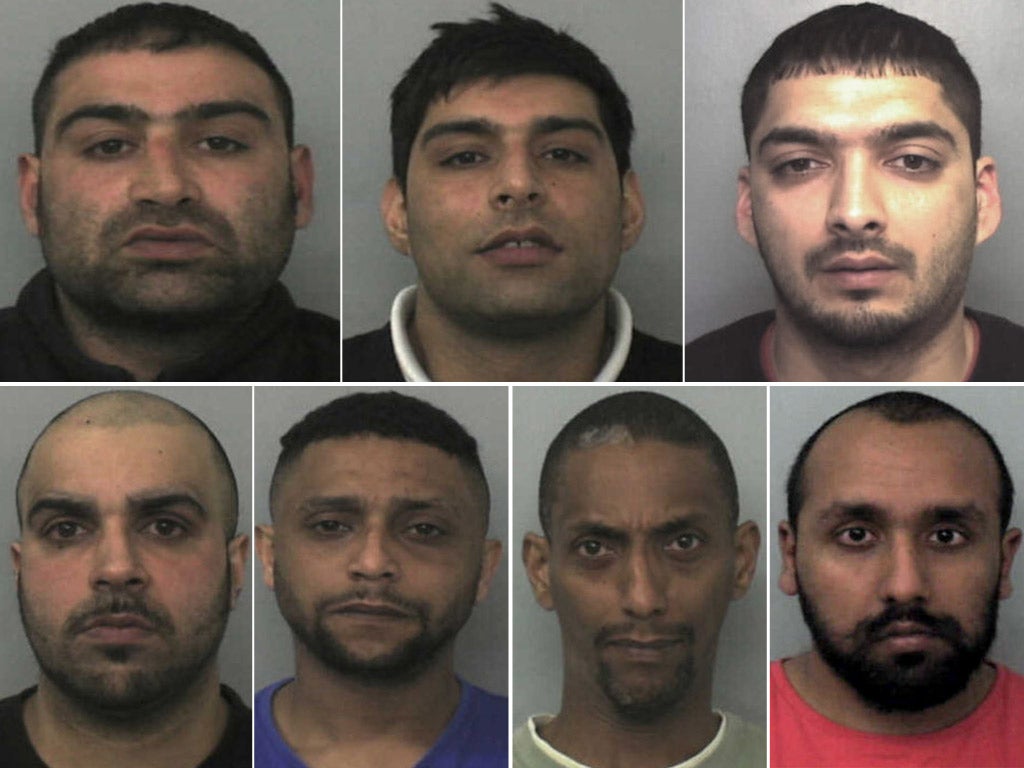 Seven members of a gang which groomed girls as young as 12 and subjected them to "dreadful" sexual abuse over the course of eight years have been sentenced to at least 95 years in prison.
The men, who ran a child sexual abuse ring in Oxford, were convicted of a range of offences, including the rape and trafficking of young girls around the country for sex. Five of them have been given life sentences, with two more sentenced to a total of seven years each.
There were tears in the public gallery, where four of the six victims who gave evidence during the lengthy trial sat with family and friends.
The mother of Girl A said that the ordeal of a near five-month trial was been "long and harrowing". In a statement read by police outside court, she said: "We were a happy family, living in a good area. We never imagined this could be possible and we want to make other parents and carers aware that this type of crime can happen anywhere. It's not about location, it's about the perpetrators. It isn't about affluence or poverty - these men deliberately targeted and groomed our daughter regardless of our family background. They took her from us and we will never get those lost years back.
"It is important that every single one of us is vigilant and observant of children's behaviour and we urge anyone with any concerns to follow their instincts and come forward. If you have any concerns at all, tell someone before it's too late."
One of the convicted men Mohammed Karrar refused to come up from the cells to hear sentence passed and both Akhtar Dogar and Assad Hussain stood up and walked out shortly after hearing their own sentences.
Judge Peter Rook told them they committed "exceptionally grave crimes" against the girls and said that the "depravity" they showed was extreme. He told one of the men as he passed sentence: "You targeted the young girls because they were vulnerable, under-age and out of control."
And the judge spoke of the "courage" shown by the victims, many of whom were in care homes while they were being abused, in giving evidence. He said that he hoped their actions would mean that authorities would not repeat past failings and condemn yet more vulnerable children to years of abuse.
He told the men: "There can be no doubt that you have blighted [your victims'] lives and robbed them of their adolescence." And he added: "Each of the six young girls has shown enormous courage in coming to the Old Bailey to give evidence, knowing they would be accused of lying, knowing they would have to relive their ordeals and knowing they have not been believed before. The jury has found they have come to the court to tell the truth."
Brothers Akhtar, 32, and Anjum Dogar, 31, were both given life sentences and were told they would serve a minimum of 17 years each before being considered for release.
The other set of brothers Mohammed, 38, and Bassam Karrar, 34, were also given life sentences. Mohammed was told he will serve a minimum of 20 years in prison and his younger brother 15 years before they will be considered for release. Kamar Jamil, 27, was handed a life sentence with a minimum of 12 years to be served. Each of the men was also given a sentence of between eight and twenty years for other offences. They will run concurrently.
Assad Hussain, 32, and Zeeshan Ahmed, 28, were both sentenced to five and two-year terms running consecutively; making a total of seven years each. The judge told them they would spend half of that time behind bars, with the second half being served on licence. Each was also told he is subject to a Sexual Offences Prevention Order.
As he was led away, Zeeshan Ahmed attempted to hold up a sign to the court but it was quickly snatched away from him by security staff. He shook his head and muttered throughout the judge's remarks.
Speaking outside of the court, Senior Investigating Officer Simon Morton, who led Operation Bullfinch, said: "This is a great result for the victims. At last they can see justice has been done. These men have received a total of at least 95 years. The girls can now start to move on with their lives knowing the men that caused them so much pain are locked up.
"More than that, every victim around the country can see that justice does work. If you've suffered like these girls have, please come and tell us your story, we can help you.
"There is another message here. Anyone out there who even thinks of committing sexual atrocities like these needs to look over their shoulder and keep looking over their shoulder. We know how you work, we know how you think. Be in no doubt, we are coming for you."
Chief Crown Prosecutor in the Thames and Chiltern area Baljit Ubhey said: "The victims in this case were targeted because of their vulnerability and then cynically exploited. They were given drink and drugs; they were shown attention to make them feel special, all of which was insincere and designed solely to make them feel indebted to their abusers; they were then coerced into sexual acts by emotional pressure, intimidation, threats and violence. As a result, these girls were left in absolutely no position to give true and free consent to sexual acts.
"This is an important point for other victims out there, who may think that they won't be believed because they too seemingly 'agreed' to sexual activity. The background and context of such sexual activity is of crucial importance and victims who are forced to succumb to it by the use of such tactics do not, in the eyes of the law, consent to it."
A Serious Case Review has been ordered into the failings of authorities to stop the gang, which first appeared on their radar six years before its members were finally arrested.