Paris attacks: Police warn budget cuts could prevent effective response to similar atrocities in UK
Cuts 'will prevent an effective terrorist response', warn police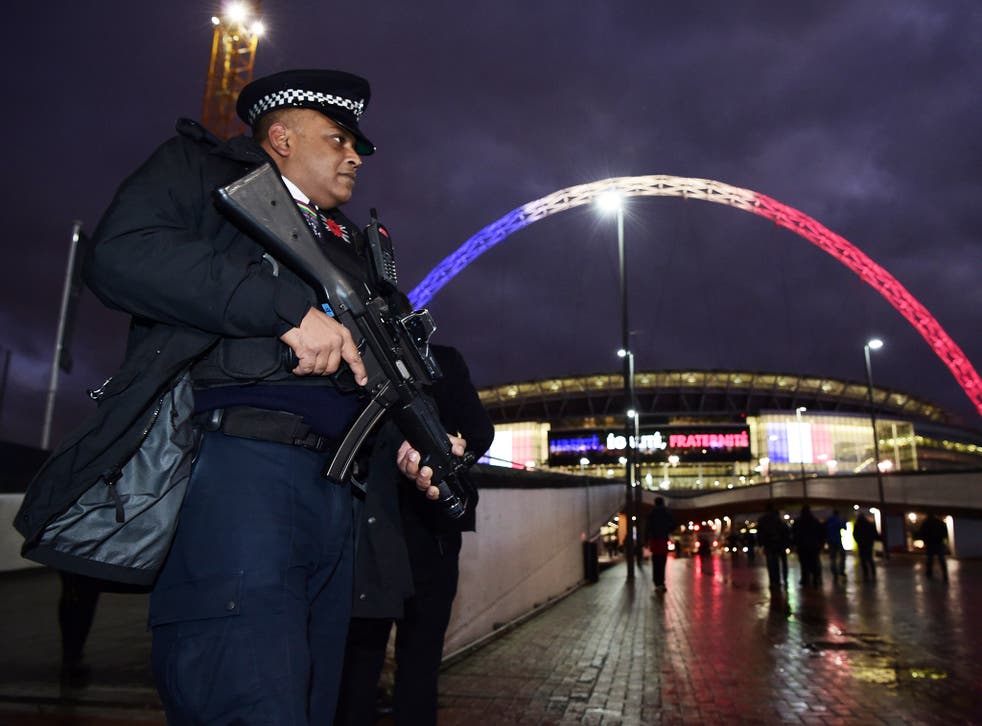 Britain's ability to prevent and cope with a Paris-style terrorist attack is at real risk of being undermined by Government spending cuts, senior police figures have warned.
One former high-ranking anti-terrorist officer has told The Independent that slashing the forces' budgets will make it harder for armed police to react quickly if terrorist gunmen bring urban warfare to British streets.
Police and crime commissioners also fear that this month's Spending Review could leave forces having to cull neighbourhood officers – the "eyes and ears" of counter-terrorism policing.
Lord Blair, the former head of the Metropolitan Police, has also warned against reducing that force's budget and has urged the Home Secretary Theresa May to protect its counter-terrorism and wider force spending.
The world mourns Paris attacks - in pictures

Show all 25
Ms May signalled earlier this month that forces may have to merge specialist firearms units to save money. Home Office figures shows that the number of officers authorised to carry firearms is already in decline. There were 5,875 such officers in the UK last year, compared with 6,976 in 2010 – a 15 per cent fall. In London, the fall is 21 per cent. The Met and other forces including Greater Manchester are stepping up patrols by armed response units following the Paris attacks.
David Videcette, a former officer with the Anti-Terrorist Squad who was involved in the 7/7 bombings investigation for five years, told The Independent: "If the Paris attack happened in London now, officers would respond and they would get through it.
"But with projected cuts to budgets of between 20 and 40 per cent to 2020, I don't think the police could cope and that is a terrifying thought."
Suspect captured in Paris raid
Kevin Hurley, Surrey's Police and Crime Commissioner, has also spoken out against firearms officer cuts. He said: "I'm most concerned that the Home Secretary has said police may have to share firearms teams. Forces across the country are also having to reduce on police community support and neighbourhood officers who are vital to policing our communities."
The Metropolitan Police Commissioner, Sir Bernard Hogan-Howe, told a Home Affairs Committee days before the Paris attacks that the expected loss of 5,000 officers from his 32,000-strong force would undermine the fight against terrorism.
London has around 2,200 officers authorised to carry firearms, but not all are operational at the same time. Armed response vehicles began patrolling London and other cities in the early 1990s, with officers armed with Glock 17 self-loading pistols and Heckler and Koch MP5 carbines. They provide a 24-hour response and can draw on specialist officers with advanced firearms training for back up.
The Met has also launched an SAS-style unit of 130 counter-terrorism firearms officers, who were visible at Wembley for the England v France match on 17 November. The army would be called to tackle a terrorist threat, but it could take time for them to mobilise.
Simon Chesterman, the National Police Chiefs' lead for firearms, said numbers of specialist officers across the UK have been modelled on risk assessments that included the threat of a "marauding terrorist firearms attack".
He said the incident in Paris demonstrated the terrorists' ability to bring "tactics seen previously in theatres of war to the streets of Europe".
He added: "We have the ability to surge significant numbers of firearms officers and can call upon military support, however, this takes time and the time frame of the Paris incident shows that a robust initial response is vital."
Mike Penning, the Minister for Policing, said: "Counter-terrorism spending will be protected in the current Spending Review. Operational decisions including the number of armed officers, their equipment and how best they meet the threats facing their community are decisions for chief constables and police and crime commissioners."
Register for free to continue reading
Registration is a free and easy way to support our truly independent journalism
By registering, you will also enjoy limited access to Premium articles, exclusive newsletters, commenting, and virtual events with our leading journalists
Already have an account? sign in