Man 'jumps' barrier into parliament in major security breach
Intruder arrested on trespassing charge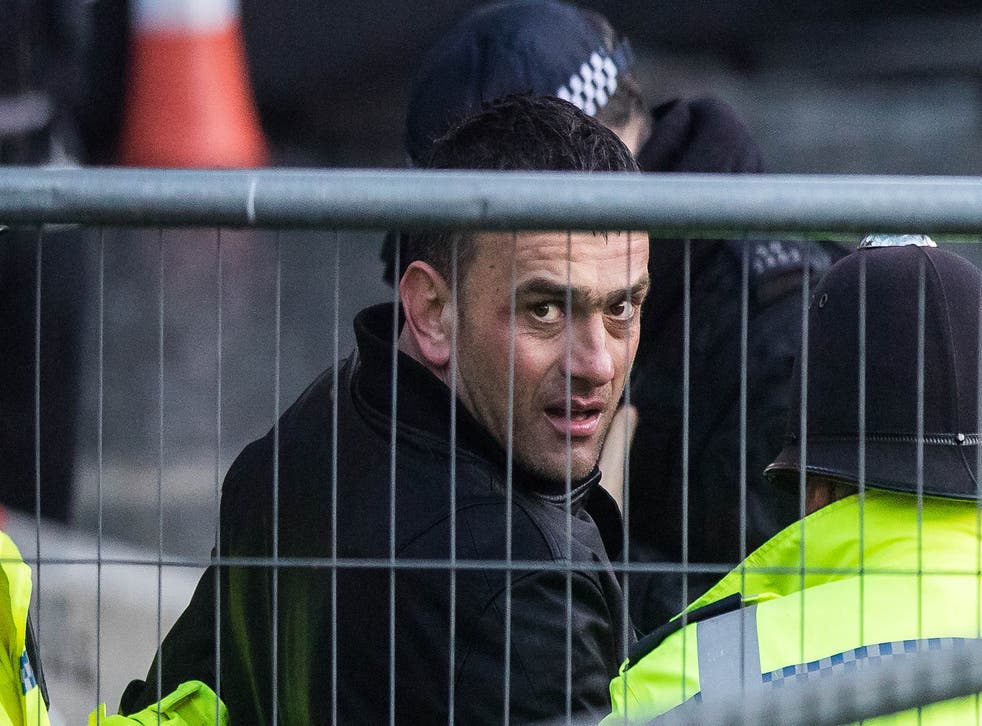 Parliament was hit by a major security breach after an intruder jumped a fence to gain access to the estate on Wednesday afternoon.
Armed police officers chased down the male suspect and wrestled him to the ground inside New Palace Yard before leading him away.
Officers bundled the man into the back of an arriving police van while he shouted "my rights" and "I need a lawyer".
One officer told The Independent the man accessed the yard by "jumping" a security fence at the Carriage Gates entrance used by Boris Johnson and other ministers.
The same entrance was where PC Keith Palmer was stabbed to death by terrorist attacker Khalid Masood while guarding the parliamentary estate in 2017.
The Metropolitan Police later said the man had been arrested on suspicion of "trespassing" on a protected site – but the incident was not terror related.
A spokesperson said: "At around 3pm on Wednesday, 1 December, a man was detained and arrested at Carriage Gates inside the Palace of Westminster on suspicion of trespassing on a protected site. The arrest is not terror related."
Elliot Keck, a parliamentary staffer, said he had seen the intruder "climb" the security fence to gain access to the estate before he was apprehended by police.
Labour MP Toby Perkins also said he saw the man "climb over the fence and break into parliament" as he was pulling up to the estate.
"He set alarms off and was quickly arrested, but still slightly worrying how easily he got in," the MP for Chesterfield tweeted.
The unnamed man – seen wearing jeans, a leather jacket and trainers – was pinned to the ground while police trained guns on him after he breached the fence around 3pm.
After sitting up to being searched and questioned, he was taken away around 30 minutes later.
The main gates were briefly put into lockdown during the security scare on Wednesday afternoon. Scotland Yard said enquiries are still being made into the circumstances of the security breach.
A House of Commons spokesperson said earlier: "We are aware of an incident on the parliamentary estate which is being attended by police and security staff."
Register for free to continue reading
Registration is a free and easy way to support our truly independent journalism
By registering, you will also enjoy limited access to Premium articles, exclusive newsletters, commenting, and virtual events with our leading journalists
Already have an account? sign in