PM vows war on gangs after riots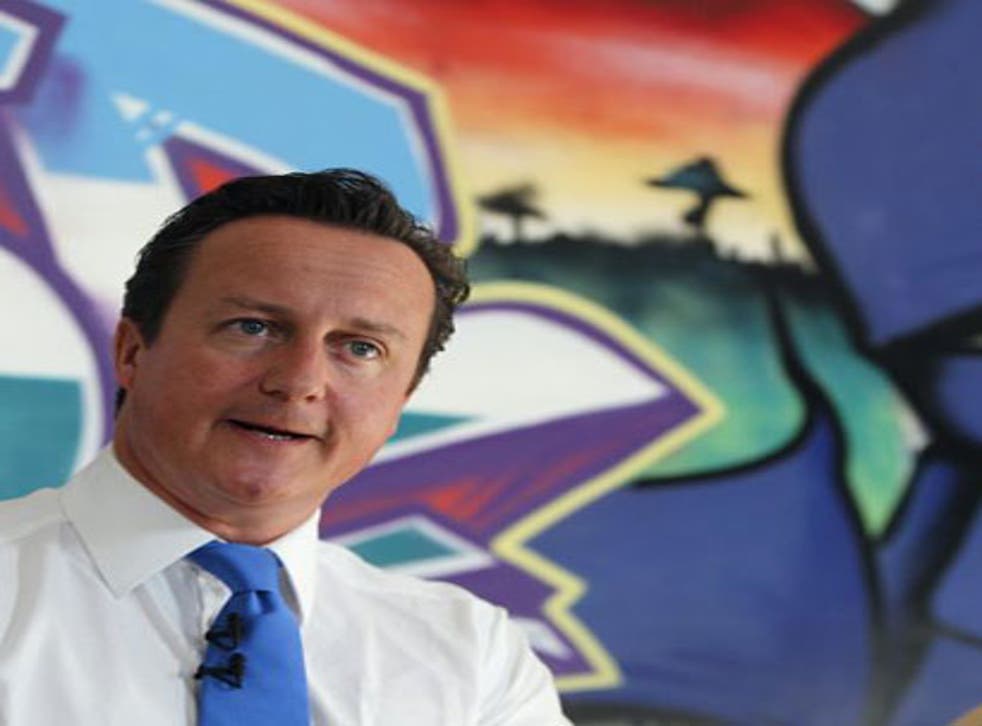 David Cameron declared "all-out war" on gangs today as the fragile political consensus over the response to the riots disintegrated.
The Prime Minister pledged to stamp out the criminal groups as he dismissed any link between last week's devastating violence and the coalition's austerity measures.
He also promised action to "turn around" 120,000 problem families known to disrupt neighbourhoods, as well as a renewed focus on encouraging responsibility and "moral" behaviour.
But Labour leader Ed Miliband accused Mr Cameron of offering "knee jerk" solutions, and warned that "finger-pointing" by ministers was undermining senior police officers.
The two men set out their competing visions in speeches as police continued to round up suspects from last week's riots and bring them before the courts.
In what was billed as a "fightback" address at a youth centre in his Witney constituency, Mr Cameron said although there had been local factors in the violence, "in large parts of the country this was just pure criminality".
"These riots were not about race: the perpetrators and the victims were white, black and Asian," he said.
"These riots were not about Government cuts: they were directed at high street stores, not Parliament.
"And these riots were not about poverty: that insults the millions of people who, whatever the hardship, would never dream of making others suffer like this.
"No, this was about people showing indifference to right and wrong, people with a twisted moral code, people with a complete absence of self-restraint."
The premier said politicians had to be braver in standing up for what was right, rather than sticking to the "risk-free ground of moral neutrality".
"We must fight back against the attitudes and assumptions that have brought parts of our society to this shocking state," he insisted.
"We know what's gone wrong; the question is, do we have the determination to put it right?
"Do we have the determination to confront the slow-motion moral collapse that has taken place in parts of our country these past few generations?"
Mr Cameron said mending the "broken society" was now at the top of his priority list, and coalition ministers would be reviewing all relevant policies, ranging from education to health and safety rules.
He stressed that police were already being given greater powers to help them deal with the issues, such as discretion to demand that face coverings are removed.
There will also be an "all-out war on gangs and gang culture", led by Home Secretary Theresa May and Work and Pensions Secretary Iain Duncan Smith. "It is a major criminal disease that has infected streets and estates across our country," Mr Cameron said.
But the Prime Minister again rejected calls from senior officers and Tory Mayor of London Boris Johnson for a rethink of planned cuts to police budgets.
He insisted that the Government's reforms - to be set out in more detail by Mrs May tomorrow - would reduce bureaucracy and allow a greater "police presence" on the streets.
"The point of our police reforms is not to save money, not to change things for the sake of it, but to fight crime," he said.
"Let me be clear: under this Government we will always have enough police officers to be able to scale up our deployments in the way we saw last week.
"To those who say this means we need to abandon our plans to make savings in police budgets, I say 'You are missing the point'.
"The point is that what really matters in this fight-back is the amount of time the police actually spend on the streets.
"For years we've had a police force suffocated by bureaucracy, officers spending the majority of their time filling in forms and stuck behind desks.
"This won't be fixed by pumping money in and keeping things basically as they've been."
Meanwhile, Mr Miliband urged the Government not to follow an "easy and predictable path" by blaming the riots on criminality "pure and simple".
He attacked Mr Cameron and Mrs May for claiming credit for tougher policing as forces across the country flooded trouble-hit streets with specialist officers.
It had been "so wrong" to try and blame the police for difficulties in getting to grips with the crisis, he added.
"Day by day the Prime Minister has revealed himself to be reaching for shallow and superficial answers, not the lasting solutions the country needs, based on the wisdom and insights of our communities," Mr Miliband said.
"Instant and simple judgments bring bad solutions.
"Of course, there is a demand for quick action but a new policy a day, knee-jerk gimmicks not thought through - they won't solve the problem."
Speaking at his old school, Haverstock Comprehensive in north London, the Labour leader linked the widespread looting and disorder to the banking crisis, MPs' expenses scandal and phone hacking.
The "sick behaviour" was "not confined to the so-called underclass", who lead parallel lives to the rest of society.
"Our whole country is held back by irresponsibility, wherever it is found," said Mr Miliband.
"It can only be solved by addressing the issues right across our society, from bonuses to benefits."
Repeating his calls for a public inquiry, Mr Miliband said that if the Government failed to launch an official probe, he would.
"The people leading this inquiry must include young people, those with experience of being in gangs, people from across the community," he added.
"It is right for the victims, it is right for the country. It is right to build the society we need."
PA