Police accused of 'stark errors' and 'cherry picking' in university rape case
A senior detective has been accused 'airbrushing out of the picture' anything that could have helped four men accused of raping a young woman at a college ball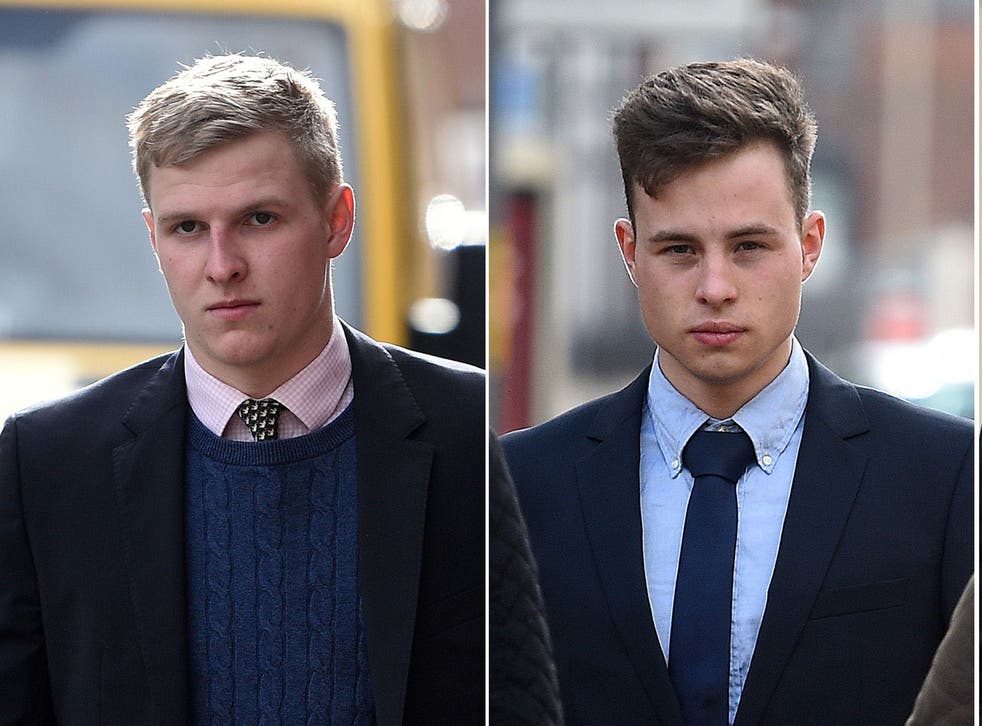 Police made "stark errors" during an investigation into four young men accused of gang rape, a court has heard.
A senior detective has been accused of "cherry picking" supporting evidence and "airbrushing out of the picture" anything that could have helped the men, after they were accused of raping a young woman at a college ball.
Thady Duff, 22, James Martin, 20, Leo Mahon, 22, and Patrick Foster, 22 were all studying at the Royal Agricultural University in Cirencester when they became involved in a sexual encounter with the woman at an end-of-year ball in May 2014, who later alleged they had raped her.
Parts of the sexual encounter were also recorded on video.
All four men were cleared of the charges when a Gloucester Crown Court case against them fell apart after evidence emerged from the alleged victim's mobile phone.
This included text messages sent by the complainant in the hours after the alleged incident and a conversation with a friend about what would happen if the video become known.
As the trial was due to begin police failed to disclose the complainant was a witness to an alleged rape on an Army base in October 2014 and there were inconsistencies in her evidence. The accused was a solider and he was cleared in a martial court.
Eleanor Laws QC, for the prosecution, criticised police for not fully downloading data from the complainant's mobile phone and told Judge Jamie Tabor QC that text messages sent after the alleged incident undermined the prosecution case as the complainant discussed "mundane things".
She also said it had been "unadvisable" for Detective Constable Ben Lewis to take roles of both investigator and disclosure officer during the investigation, which Judge Tabor said would be "unthinkable" in a major inquiry.
Miss Laws said Det Con Lewis "failed to disclose matters that undermined the complainant's credibility" and "failed to disclose material that undermined the prosecution case and assist the defence".
"This material taken together was so significant that in my submission there have been clearly stark errors in relation to matters that were taken into account in offering no evidence."
Fiona Elder, for the prosecution, said the decision to offer no evidence was for "cumulative reasons" and a result of lack of disclosure or further disclosure or of "bad faith" on the part of the police.
Mr Duff, Mr Mahon and Mr Foster returned to court this week to apply for a proportion of their legal costs to be paid by the prosecution.
Miss Laws said: "There are four young men whose lives have been on hold. It has been a living hell."
While the case was ongoing the men were reportedly barred from collecting their degrees from the college, rated the Oxbridge of agricultural studies
Judge Tabor will give his ruling on the costs application at a later date.
A Gloucestershire Police spokesperson said: "It would be inappropriate to comment before the judicial process is completed but we will respond in full once the Judge announces his findings.
"If he finds that there have been any failings on the part of the prosecution team we will of course seek to learn lessons from those."
Additional reporting by Press Association
Register for free to continue reading
Registration is a free and easy way to support our truly independent journalism
By registering, you will also enjoy limited access to Premium articles, exclusive newsletters, commenting, and virtual events with our leading journalists
Already have an account? sign in
Register for free to continue reading
Registration is a free and easy way to support our truly independent journalism
By registering, you will also enjoy limited access to Premium articles, exclusive newsletters, commenting, and virtual events with our leading journalists
Already have an account? sign in