Kill the Bill protests: Arrests of legal observers an 'intimidatory tactic', says Liberty
107 arrests were made during Saturday's protest in London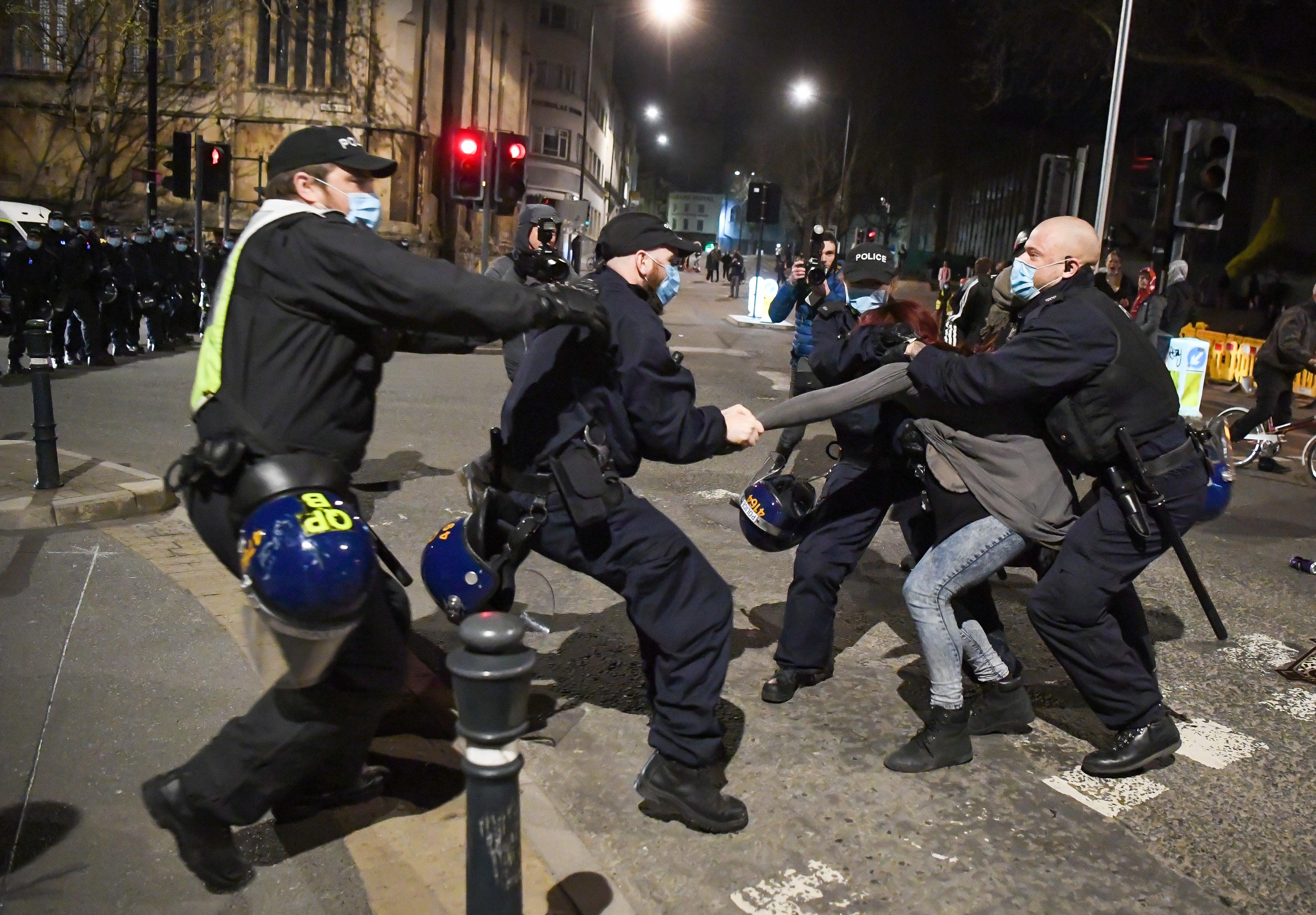 Rights charity Liberty says it is taking legal action against the Metropolitan Police, accusing the force of arresting legal observers at Kill the Bill demonstrations – a move it condemned as an "intimidatory tactic to deter protest".
Two legal observers from Black Protest Legal Support, a non-profit organisation, were detained during protests on Saturday, it said.
It follows the arrest of four others from the same organisation on 16 March.
All the arrests were made under Covid-19 regulations, which Liberty said should not apply to protest volunteers.
Sam Grant, head of policy and campaigns at Liberty, said: "Arresting legal observers is an intimidatory tactic to deter protest. Legal observers help to make sure protesters' rights are respected and police act within the law. If officers believe they are acting lawfully, they should welcome this scrutiny.
Read more:
"Liberty is already taking legal action against the Met for previous unlawful arrests of legal observers. Continuing to arrest independent monitors is a scandalous attack on the right to protest, and demonstrates exactly why people are taking to the streets against the government's plans to give the police even more powers."
A spokesperson from Black Protest Legal Support said: "An attack on legal observers is an attack on the ability to independently monitor the police.
"There is a lot of particularly egregious behaviour going on towards protesters, and we're there to provide legal support and to monitor police conduct, and it appears that they're actively preventing us from doing that by arresting us.
"There are real concerns about how this is playing out, with the ability of our legal observers to go to protests without being arrested at risk."
Videos posted to social media show the police using force against protesters during Saturday's demonstration in Parliament Square, London. In one, a Met Police officer appears to apply their knee to the neck of a protester, but the force said the officer was on the protester's back.
At least 107 people were arrested during Saturday's protest against the government's policing and crime bill, for offences including breach of the peace, violent disorder, assault on police, and breaches of Covid legislation.
Protesters in Bristol were faced with riot police and dogs.
The protests occurred across the country as members of the public sought to voice their concerns about the policing bill, which, if passed through the House of Lords, would raise police powers at protests, making it easier for arrests to be made.
According to Liberty, the bill would also "make the Traveller way of life harder" through the criminalisation of trespass. Stop and search powers would also be expanded as part of the legislation the bill would introduce.
The Met Police responded to a request for comment, saying: "At approximately 19:15hrs on Saturday, 3 April, a man and a woman were arrested in the Strand by officers as part of the policing operation for the protests in central London. Both were arrested under health protection regulations and reported for consideration for a fine. Both people arrested were acting as legal observers at the protest."