Police crack down on 'troublemakers' as royal wedding nears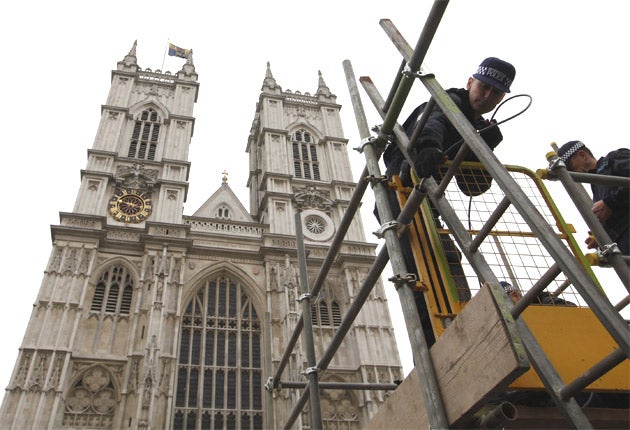 Police warned protesters that "robust" action would be taken against anyone planning to disrupt the royal wedding, with more activists expected to be arrested ahead of Friday's ceremony.
In the past nine days police have arrested six people wanted in connection with violence during last month's TUC march, amid fears that they might be planning similar protests along the wedding route.
Scotland Yard said it was expecting to make several more arrests this week as part of a serious covert investigation. More than 60 people arrested in recent demonstrations have already been banned from central London on Friday as part of their bail conditions.
Lynne Owens, the assistant commissioner in charge of the policing operation on the day, said: "We have to be absolutely clear. If anyone comes to London intending to commit criminal acts, we will act quickly, robustly and decisively." She said the Met was working with forces across the country and would use "spotters" to identify those causing trouble.
As police teams step up their process of "pre-event investigation" and "intelligence gathering", reports have come in from protesters that plain-clothed police are turning up at their homes to warn them against attending Friday's event.
"Officers came to my house when I was away and asked the people I live with to remind me that I should not attend any protests," said a 25-year-old who is facing aggravated trespass charges for her involvement with UK Uncut's occupation of Fortnum & Mason on 26 March.
Police have powers under the Serious Organised Crime Prevention Act to ban any major protest along the main route that Prince William and Kate Middleton will take. The Act allows officers to impose special conditions on a particular location.
Scotland Yard said it had heard from a number of groups who want to use the royal wedding as an excuse to protest. It is in discussion with the militant Islamist group Muslims Against Crusades, after initially rejecting its application to protest outside Westminster Abbey. On its website, the ultra-nationalist English Defence League had threatened counter-demonstrations.
A group called Reclaim the Royal Wedding, which has more than 1,500 attendees on Facebook, is also planning to meet at 9.30am on Friday at Trafalgar Square, despite not having applied for a legal permit to protest.
While Ms Owens said there was no intelligence to suggest a terrorist threat to the wedding, Scotland Yard could invoke the new section 47a of the Terrorism Act, if information gathered supported it. This would enable police to stop and search individuals without requiring evidence of wrongdoing. Up to 5,000 officers will be on duty on Friday.