Police 'ignored more than a dozen cries for help' from vigilante killing victim Bijan Ebrahimi
Court hears how disabled man called 999 to complain neighbour had assaulted him before being arrested himself
Paul Peachey
Crime Correspondent
Wednesday 11 November 2015 22:19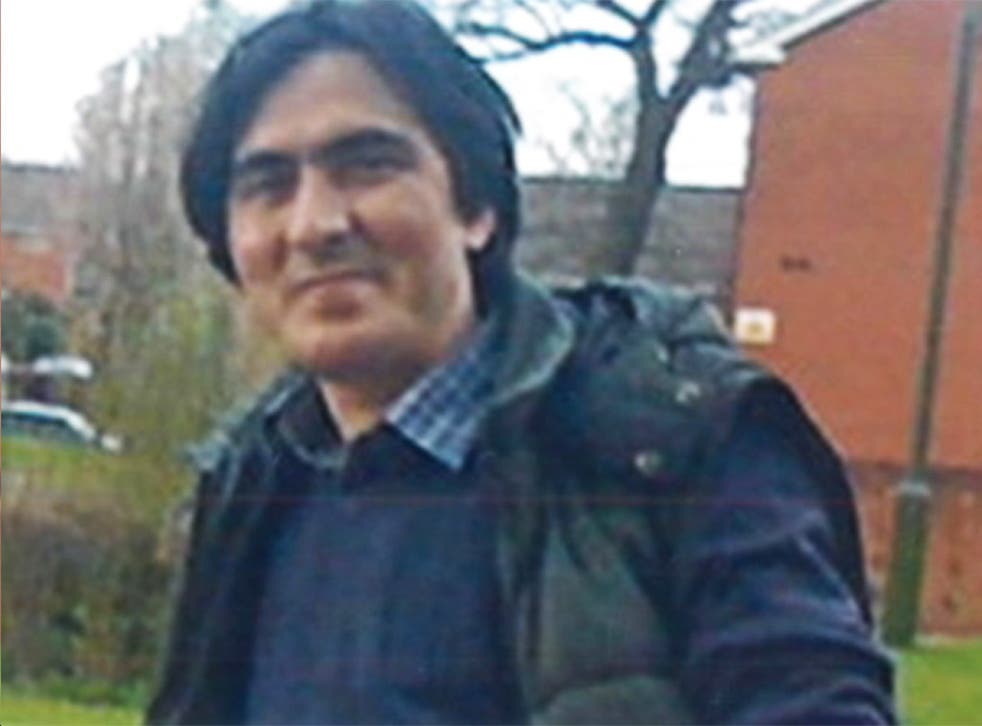 Police officers ignored more than a dozen cries for help from a disabled man before his murder by a neighbourhood vigilante who had wrongly identified him as a paedophile, a court heard
Bijan Ebrahimi called 999 to complain that the neighbour had assaulted him inside his Bristol home but was arrested while his attacker was left "foaming at the mouth" and vowing reprisals.
The neighbour, Lee James, told the officers that he was prepared to go to prison to protect his children and carried out the threat 48 hours later when he killed the vulnerable Mr Ebrahimi, Bristol Crown court heard.
A trial of three police officers and a community support officer heard that their treatment of Mr Ebrahimi, an Iranian national, went beyond "mere incompetence". Their dislike of the victim coloured the way that they dealt with a vigilante mob gathered outside his home, the court was told.
Mr Ebrahimi, 44, was released from police custody the day after his arrest and then called police 12 times asking for help. But the local beat manager – who dealt with anti-social behaviour – thought Mr Ebrahimi a liar and did little to help, the court heard. A community support office despatched to the area carried out little more than a routine patrol in his car around the estate in Brislington, Bristol.
Two days after Mr Ebrahimi was arrested, James punched and kicked Mr Ebrahimi unconscious before setting light to his body. James has since been jailed for life and another neighbour Stephen Norley was jailed for four years after he helped drag the body away and set it alight.
The four officers from Avon and Somerset police deny misconduct in public office over their alleged failure to help Mr Ebrahimi.
The court was told that constables Leanne Winter, 38 and Helen Harris, 40, responded to Mr Ebrahimi's 999 call in July 2013. "At the scene Lee James was so angry that he was later said by Pc Winter to be 'foaming at the mouth'," said Crispin Aylett QC, opening the case for the prosecution. "He was boasting he would 'do time to protect his children'. You may think that the degree of Lee James's anger and taking the law into his own hands could not be plainer.
"Worse still Lee James was not alone. A crowd had gathered outside Bijan Ebrahimi's flat and most, if not all of them, took Lee James's side. Put simply, vigilantism was in the air." Mr Ebrahimi was released the following day but the officers did nothing to properly investigate Mr Ebrahimi's original complaint, said Mr Aylett. "Lee James's ugly threat was simply overlooked."
After his release, Mr Ebrahimi repeatedly sought help from constable Kevin Duffy, 52, through his local police station. The officer was asked a number of times to call on Mr Ebrahimi but said he was busy and would see him "in his own good time", said Mr Aylett.
He never did, but sent community support officer Andrew Passmore, 55. Mr Passmore claimed to have patrolled the area for about an hour but he couldn't "have done more than drive around for a couple of minutes in his car," said Mr Aylett.
"The prosecution suggest had something been done, that Lee James would have realised they were at the very least keeping an eye on him. He must have thought he could simply do as he pleased," Mr Aylett added. The court heard that Pc Duffy had previously written a statement for a civil injunction sought by the city council in 2011 to stop Mr Ebrahimi from shouting at his neighbours. He set out complaints Mr Ebrahimi had made against various neighbours.
UK news in pictures

Show all 50
After Mr Ebrahimi's death, Pc Duffy was interviewed by the Independent Police Complaints Commission and he said that the experience of dealing with Mr Ebrahimi had "taught him to carefully evaluate all information... before creating a report".
"This isn't a case of mere incompetence and the prosecution suggests that it is clear that Pc Duffy, Pc Winter, Pc Harris just didn't like Bijan Ebrahimi and they allowed their dislike of him to... influence the way that they did deal with him," said Mr Aylett.
"Each of these four defendants is a police officer or a police community support officer of some years standing and no doubt each has a lot to be proud of during their years of service. On the other hand, the prosecution suggest, the failure of each of them fell far below that which the public are entitled to expect and that it amounts to the common law offence of misconduct in public office."
The case continues.
Register for free to continue reading
Registration is a free and easy way to support our truly independent journalism
By registering, you will also enjoy limited access to Premium articles, exclusive newsletters, commenting, and virtual events with our leading journalists
Already have an account? sign in