Police investigate claims Fayed sexually assaulted 15-year-old
Harrods owner accused of forcibly kissing teenage girl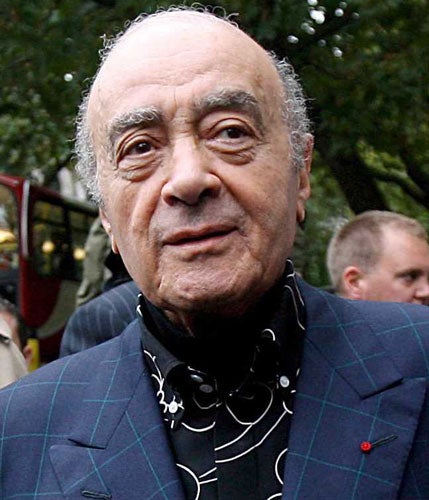 Mohammed Al Fayed has been questioned by police after a 15-year-old girl accused the Harrods owner of sexually assaulting her in the Knightsbridge store, by forcibly "French kissing" her in May.
The 75-year-old, who also owns Fulham Football Club voluntarily attended Twickenham police station with his solicitor yesterday and was questioned under caution. The Metropolitan Police said inquiries were continuing but stressed that no arrests were made. Mr Al Fayed's spokeswoman said he "vehemently denies" the claims.
Outside Harrods, she said: "We confirm that Mohamed Al Fayed today voluntarily attended an interview with police to categorically refute an allegation widely reported in the media. He did not attend under compulsion and the meeting lasted for less than half an hour. From the outset, details of this allegation have appeared in the media which they attributed to a police source, and indeed despite assurances that today's interview would be kept confidential, he is concerned that it was reported within one hour of its conclusion. Mr Al Fayed vehemently denies this allegation and is confident that his name will be cleared."
It has been claimed that MrAl Fayed first met the schoolgirl in May this year when she shopped with her mother in Harrods. He is alleged to have asked for her phone number and invited her back to the store. In her witness statement, the girl told police that when she returned she was invited to Mr Al Fayed's private office where she was sexually assaulted.
It is alleged he then kissed her on the lips and tried to force his tongue into her mouth.
The girl is said to have told her mother and they made a report to Surrey Police. But, as the offence is alleged to have happened in London, they were referred to the Metropolitan Police. Accompanied by her mother, the girl made a formal complaint at Notting Hill police station on 30 May.
A Scotland Yard spokesman said the investigation was being handled by Operation Sapphire, the sexual crimes unit, and added: "We can confirm that a man attended a West London police station by prior arrangement and was questioned under caution this morning. The man was questioned in relation to an allegation of sexual assault on a girl under 16 at a business premises in Central London. The allegation was received in May 2008. Enquiries are continuing and no arrests have been made."
Mr Al Fayed, born in Egypt in 1933, moved to Britain in the 1970s. But, despite living in Britain for decades, he has repeatedly been refused a UK passport. During his time in the country, he has frequently clashed with the British establishment and has repeatedly claimed that Diana, Princess of Wales, was killed by intelligence agents because she was pregnant with his son Dodi's child and they were about to announce their engagement.
He also claimed, without evidence, that a number of high-profile figures were involved in the plot, including her former husband, Prince Charles. But an inquest this year rejected those claims and returned a verdict of unlawful killing due to the gross negligence of driver Henri Paul, one of Mr Al Fayed's Paris hotel employees, and the chasing paparazzi.
Outspoken: Thoughts of Al Fayed
"I am not talking to you. You are bloody idiot. You are part of theestablishment. You work for MI6"
When asked by a BBC reporter about his evidence at the Diana inquest
"It's time to send him back to Germany from where he come... You want to know his original name? It ends with Frankenstein"
On Prince Philip
"This Dracula family"
On the Royal Family
"His crocodile wife"
On Prince Charles' new wife, Camilla