Police killed Blair Peach – then ensured no officer would ever face justice
Investigation into protester's death in 1979 was stymied by lies, report reveals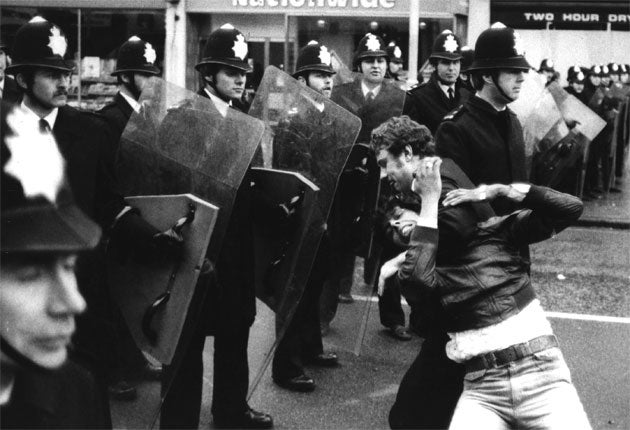 An anti-fascist protester was killed by the Metropolitan Police during a demonstration but the officer responsible was never brought to justice because his colleagues colluded and lied to hamper the investigation, a 30-year-old report released yesterday revealed.
The documents showed that 33-year-old Blair Peach, who died after receiving a blow to his head at a protest in Southall, west London, in 1979, was almost definitely killed by one of six riot police officers from a now-defunct Scotland Yard unit repeatedly implicated in claims of brutality, known as the Special Patrol Group (SPG).
The redacted report, released by Scotland Yard after a three-decade campaign by relatives of Mr Peach, said that 14 witnesses saw the special needs teacher being struck by an officer. The report, written by Commander John Cass in 1979, identified the likely killer by his pseudonym Officer E, but concluded that there was not enough evidence to mount a prosecution against him.
Commander Cass said that that was due to his investigation being frustrated by his colleagues' refusal to co-operate. And, while unable to recommend a murder or manslaughter charge, Commander Cass suggested that the officers who lied in an attempt to obstruct the case should be charged with perverting the course of justice. But the then Director of Public Prosecutions, Sir Thomas Hetherington, said at the time there was insufficient evidence to bring any charges.
The timing of the report is particularly poignant because it comes as the Metropolitan Police wait to discover whether any of its officers will face criminal charges over the death of Ian Tomlinson, who died after being pushed to the ground by a police officer during last year's G20 protests.
Releasing the documents after 31 years, Scotland Yard's Commissioner, Sir Paul Stephenson, apologised to the family of Mr Peach, saying that it was "a matter of regret" that the force was unable to collect the evidence to convict his killer. He added: "It might be 31 years ago but I have to say that the material published today makes for some uncomfortable reading.
"Uncomfortable because there is no definitive final answer to his family and friends, uncomfortable that no officer came forward to declare use of force in relation to Blair Peach. And I am uncomfortable with Commander Cass's conclusions that officers had not been truthful with his team."
As well as Commander Cass's 170-page report, the documents included every witness statement taken during the investigation. They amounted to more than 3,000 pages.
The release of the information after 31 years was welcomed by Mr Peach's family but it is almost certain that no one will ever be convicted of his death.
Despite the report's lack of firm conclusions, Mr Peach's partner Celia Stubbs said she was delighted finally to see it. "I never really believed we would get it," she said. "It is fantastic after 31 years. I feel that we have really been vindicated because we have always said that Blair had been killed by a policeman. I never really expected a prosecution. I am just pleased that we have the report so we can see what happened on the day."
Blair Peach was killed on 23 April 1979 after being struck on the head when trouble flared outside Southall Town Hall. Mr Peach was protesting against a National Front meeting taking place in the hall.
Commander Cass's report said that the killer had been narrowed down to one of six SPG officers, but he could not be sure which had struck the fatal blow. He wrote: "While it can reasonably be concluded that a police officer struck the fatal blow ... the present situation is far from satisfactory. The untruthfulness of some of the officers involved is a contributory factor."
The report was also unable to identify the weapon used to hit Mr Peach. It speculated that it could be a truncheon, a riot shield or a walkie-talkie.